ANTELOPE LANES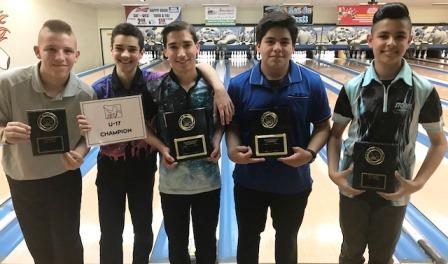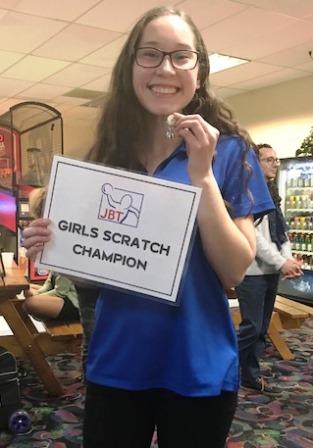 champs Ryan Perry & Luis Garcia with Brock Bivins, Solomon Salama, Cesar Padilla, Stefanny Toala
Ryan Perry and Luis Garcia captured JBT titles at Antelope Lanes in Prescott Valley in exciting JBT Arizona Conference action.
In the scratch division semifinals, Harley Sweigart escaped from Cristian Roque 238-226, while Perry stopped Solomon Salama 237-204. Roque's fine day also included an exciting 296 game in qualifying, the high game by far on a generally high scoring day,
As dominant as Sweigart has been at times this season, Perry seems to be his kryptonite. In the day's 'pick your poison' format, there was nobody else to pick, so Harley was stuck facing Ryan again, and for the third time, Ryan beat him for a title (once before in singles and once in doubles). This time, the 238-222 final was good for the 5th title of Perry's JBT career.
In the handicap division, Cesar Padilla outstruck CJ Todeschi 247-18 and Luis Garcia poured it on 252-191 against Keith Ylvisaker to set up the title match. Both bowlers, looking for their first titles, put on excellent performances, but in the end Garcia had enough for a 245-234 win and a long awaited first career JBT title.
Stefanny Toala escaped from Aileen Linares 163-159 for the day's Priority Girls Scratch subdivision win, while Solomon Salama returned to his winning form in the U17 event, defeating Brock Bivins for the day's win.
Big thanks to the team at Antelope for their usual great job hosting our Tour. Want in on all this action? Just check out our schedule and come on down!
Antelope Lanes- final results and scholarship winners
2/24/2018
Scratch Division
rank
bowler
prize
1
Ryan Perry
$250
2
Harley Sweigart
$211
3
Solomon Salama
$75
4
Cristian Roque
$50
5
Brock Bivins
$30
6
Kyle Gilbert
7
Aileen Linares

$25

8
Brandon Rouse
9
Kyle Reed
10
Keith Fung
11
Justin Song
$15
12
Josh Mabry
13
Christian Apolinio
$29
14
Zach Rapp
15
Stefanny Toala

$50

16
John Newton
17
Josh Fearing
18
Lucas Rabb
19
James Wilson
20
Matthew Garrett
21
Phillip Sauve
22
Rashaad Jordan
23
Kyle Thoma
24
Dante Rohe
Handicap Division
1
Luis Garcia
$200
2
Cesar Padilla
$100
3
Keith Ylvisaker
$60
4
CJ Todeschi
$40
5
Kyle Perry
$30
6
Gavin Holter
$25
7
Clifford Robbins
8
Kendall Bollea
$58
9
Noel Hernandez
10
Raymond Gaiser
11
Joshua Williams
12
Andrew Thomas
13
Destiny Johnson
$15
14
Payton Workman
$15
15
Abby Franklin
$15
16
Kaitlyn Hammer
17
Elijah Melchor
18
Mark Sauve
19
Yael Salama
20
Ryan Zent
21
William Robbins
22
Kyle Lawrence
23
Dawson Reese
24
Austin Dorsey
25
Jadeyn Mabry
26
Tarik McMaster
27
Michael McQuisten
Qualifying Leaders
Scratch
Handicap
1
Sweigart +240
K Perry +199
2
Salama +166
Padilla +168
3
Bivins +143
Ylvisaker +139
High Games
Scratch
Handicap
1
Roque 296
C Robins 276
2
Sweigart 279
J Williams 276
3
Sweigart 279
Holter 274
4
R Perry 277
Ylvisaker 273
5
Sweigart, Reed 276
Todeschi, W Robbins 272
Girls Scratch side event
1
Linares +64
2
Toala +2*
3
Johnson -93
4
Franklin -95
5
Hammer -134
U-17 scratch side event
1
Salama +166*
2
Bivins +143
3
Roque +101
4
Ylvisaker +59
5
Padilla +58
Round Leaders
Scratch
Handicap
1
Salama
Ylvisaker
2
Sweigart
K Perry
3
Sweigart
K Perry
4
Sweigart
K Perry
5
Sweigart
K Perry
TOTAL AWARDED THIS EVENT: $1,218