BOWL EL PASO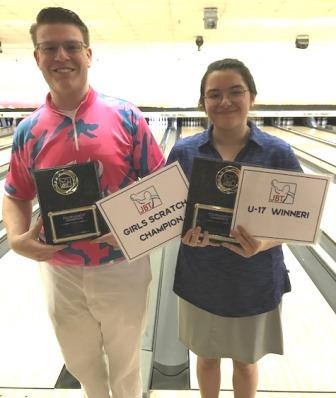 scratch champ Daniel Hall & everything else champ Kallista Fritts
Daniel Hall and Kallista Fritts captured JBT titles in exciting Texas-New Mexico Conference action at Bowl El Paso.
Nathan Nguyen began a climb up the scratch division stepladder with a 247-186 win over Rashaad Jordan. Nguyen then escaped from Harley Sweigart 212-204. Nick Myers then stopped Nguyen 207-174 to reach the title match.
Top seed Daniel Hall has been oh-so-close to that elusive first title, while Myers was enjoying great success in his first ever scratch division event. Hall's experience won out this time, as he cruised in the final game 240-172 to finally capture his first JBT title.
Kloey Kielich began the handicap stepladder with a 196-173 win over Antonio Lara. Kielich kept rolling along in game two, getting past Steven Stophel 239-143. Kallista Fritts then halted Kielich's run with a 260-128 win to advance to the title match.
Top seed Holly Redfearn had taken away the top seed from Fritts with a big semifinal round, and bowled very well in the title match too, but she could not stop the runaway train that Kallista was becoming. She defeated Redfearn 248-223 for the title, the fifth of her JBT career. However, she was just beginning her winning ways. She also beat Myers for the U17 title, and Lauren Jaramillo for the Priority Girls scratch title, becoming the first bowler to ever pull off that 'triple crown' in the same day- wow!
Big thanks to the team at Bowl El Paso for hosting us, Karl Kielich and John Murphy for helping to spread the word. Jala-Pin-Os Grill inside Bowl El Paso also donated pizza and pop to the high games of the qualifying round, which went to Nguyen and Jaramillo. Wantin on all this action? Just check out our schedule and come on down!
Bowl El Paso- final results and scholarship winners
10/14/2017
Scratch Division
rank
bowler
prize
1
Daniel Hall
$264
2
Nick Myers
$125
3
Nathan Nguyen
$75
4
Harley Sweigart
$50
5
Rashaad Jordan
$44
6
Chris Robles
$5
7
Donius Jeffries
$28
8
Will Davis
$14
9
Victoria Cruz
10
Deo Benard
$14
11
Mariano Paez
12
Nathan Sippel
13
Marco Lerma
14
Noah Martinez
15
Jonah Seawright
Handicap Division
1
Kallista Fritts
$250
2
Holly Redfearn
$125
3
Kloey Kielich
$175
3
Steven Stophel
$75
5
Antonio Lara
$50
6
Kara Thompson
$30
7
Lauren Jaramillo
$45
8
George Sandoval III
9
Elijah Melchor'
10
Christina Ward
11
Diego Pino
12
Gavin Allen
13
Danny Garza
14
Nathan Thompson
$45
15
Angela Romero
16
Toby Cdebaca
17
Luke Gartner
18
Alek Rakov
19
Daniella LaBier
20
Dusten Eichensher
$30
21
Katie McNeil
22
Luis Garcia
23
Maria Estrada
24
Sebastian Ontiveros
25
Sam Ramirez
$5
26
Faith Pinter
27
Audrey Campbell
28
Capri Bowe
29
Alex Thompson
30
Desiree Knott
$5
31
Josie Herson
32
Eric Gauna
33
Jay Heffer
34
Taylor Herson
35
Jeremy Bittner
36
Dale Case
37
Montana Cdebaca
38
Alyssa Williams
39
Ben Hindes
40
Alex Harmon
41
Taylor Stevens
High Games
Scratch
Handicap
1
Nguyen 274
Stophel 266
2
Robles 264
Jaramillo 264
3
Sweigart 248
Fritts 260
4
Nguyen 247
Fritts 257
5
Hall 236
K Thompson 256
G Sandoval 257
High Female
1
Fritts +59*
2
Jaramillo +11
3
Cruz -110
4
Garza -117
5
Romero -165
Qualifying Leaders
Scratch
Handicap
1
Sweigart -22
Fritts +184
2
Myers -32
Kielich +115
3
Robles -41
Redfearn +103
U-17
1
Fritts +59*
2
Myers -32
3
Jeffries -65
4
T Cdebaca -66
5
Davis -69
Round Leaders
Scratch
Handicap
1
Robles
Allen
2
Sweigart
Jaramillo
3
Sweigart
Fritts
4
Robles
Fritts
5
Sweigart
Fritts
6
Hall
Fritts
7
Myers
Fritts
8
Hall
Redfearn
Total Awarded This Event: $1,455