CAL BOWL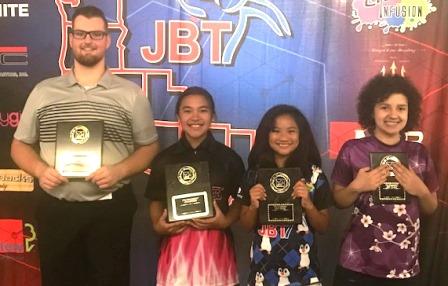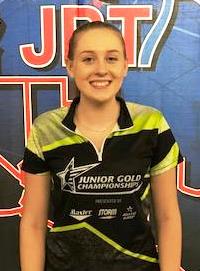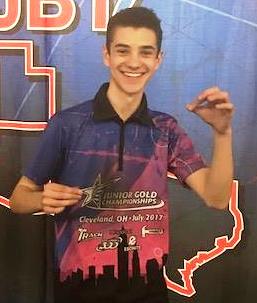 champs Harley Sweigart & Avery Domaguin; Aislinn Lubag, YAel Salama, Megan Carpenter, Solomon Salama
Harley Sweigart and Avery Domaguin put on dominant performances to capture JBT titles in exciting Southern California Conference action at Cal Bowl in Lakewood.
So Cal points leader Solomon Salama began the scratch division stepladder finals with a 226-159 win over Marquan Rivers. Salama then defeated Kevin Banaag 215-197, and followed with a 205-178 over Zack Long to advance to the title match.
Top seed Harley Sweigart led early and then regained the number one spot in the final game, and maintained the momentum in the title match. This battle of the two most dominant players on Tour this year was all Harley, and the win was good for the 35th JBT title of his illustrious career.
Two-time JBT champ Aislinn Lubag began a climb up the handicap division stepladder with a 197-186 squeaker over Kaitlynn Martin. Aislinn then turned it up in a 245-206 win over Erik Hagen, and followed with a 222-210 decision over Solomon's sister Yael Salama to advance to the title game.
Domaguin took over the tournament lead from Martin in game six and never looked back. She saved her best for last, in fact, blasting a 236 game on a very difficult condition to beat Lubag 263-187, and earn the 4th title of her JBT career.
Megan Carpenter earned the second seed for the Priority Girls Scratch title match by one pin over Domaguin, and took advantage of that with a 194-173 win over Ashley Wilcox for that subdivision's title. The U17 event went to Salama (as it often does), this time with a win over Rivers.
Thanks as always to the team at Cal for a great job hosting our Tour. Want in on all the fun for all ages and averages? Just check out our schedule and come on down!
Cal Bowl- final results and scholarship winners
6/2/2018
Scratch Division
rank
bowler
prize
1
Harley Sweigart
$293
2
Solomon Salama
$139
3
Zack Long
$118
4
Kevin Banaag
$50
5
Marquan Rivers
$40
6
Nolan Am-Khong
7
Megan Carpenter
$50
8
Kyle Reed
9
Kyle Gilbert
10
Louis Luna
11
Clifford Baltazar
12
Trevor Thompson
13
Noah Dotterman
14
Anthony Schanen
15
Marc Villalobos
16
Austin Sugarman
17
Gael Egana
18
Trevyr Geronimo
19
Garrett Lee
20
Kaylee Am-Khong
21
Tim Hill
22
Ricky Pollom
23
Matt Chesnut
24
Matt Alford
25
Matthew Carpenter
Handicap Division
1
Avery Domaguin
$225
2
Aislinn Lubag
$169
3
Yael Salama
$100
4
Erik Hagen
$75
5
Kaitlynn Martin
$80
6
Yairi Lubag
$83
7
Emily Schrider
$30
8
Gage Baker
$70
9
Hillari Hampton
$65
10
James McGough
$14
11
Michaela Buhain
$14
12
Adrian Yamanoha
13
Lindsay Greim
$30
14
Cameron Criss
$30
15
Kyle Perry
$58
16
Josh Williams
$15
17
Tanner Ferguson
18
Ashley Wilcox
$25
19
Ethan Chambers
20
Zach Greim
21
Timothy Kessler
22
Elias O'Hollaren
23
Jennifer Peterson
24
Ian Fiel
25
Jared Schiada
26
Dawson Reese
27
Krystopher Martin
28
Secilia Kalvelage
$15
29
Justin Phillips
30
Haylee Carlos
31
Simon Ortega
32
William Robbins
33
Cameron Lawrence
34
Connor Steelmon-Hill
35
Clifford Robbins
36
Elias Luna
37
Emily Cheesman
38
Caleb Rothstein
39
Lawrence Buhain
40
Silas Phillips
41
Leah Zweig
42
Nathan Chambers
43
Dewine Morre Jr
44
Dillon O'Neil
45
Brandon Criss
46
Brian Erickson
High Games
Scratch
Handicap
1
Banaag 259
K Martin 272
2
Sweigart 257
Domaguin 263
3
N Am-Khong 255
Y Salama 258
4
Rivers 247
Hagen 258
5
Sweigart 242
Schrider 256
High Female
1
Wilcox -43
2
Carpenter -65*
3
Domaguin -66
4
K Martin -89
5
M Buhain -102
Qualifying Leaders
Scratch
Handicap
1
Rivers +63
K Martin +101
2
Sweigart +61
Wilcox +77
3
Salama +47
Domaguin +69
U-17
1
Rivers +63
2
Salama +47
3
Banaag +23
4
N Am-Khong -25
5
Domaguin -66
Round Leaders
Scratch
Handicap
1
Salama
K Martin
2
Sweigart
K Martin
3
Sweigart
K Martin
4
Sweigart
K Martin
5
Rivers
K Martin
6
Rivers
K Martin
7
Banaag
Domaguin
8
Sweigart
Domaguin
Total Awarded This Event: $1,752