CAL BOWL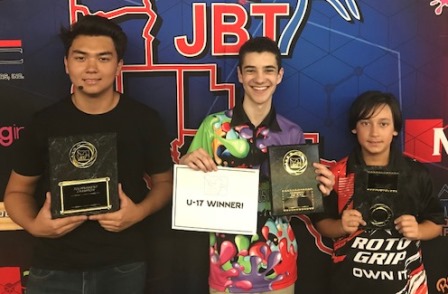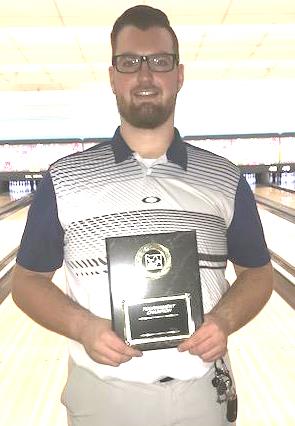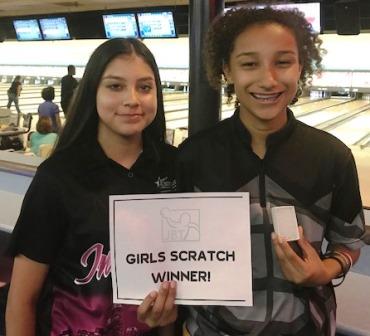 champs Timothy LeCount & Harley Sweigart; Solomon Salama, Elias O'Hollaren, Jaclyn & Allison Azvedo
Harley Sweigart completed a dominant weekend to tie a record, while Timothy LeCount survived to win his first JBT title, in terrific Southern California Conference action at Lakewood's Cal Bowl.
Bowlers competed in 'super survivor', where the low score and low overall totals are eliminated game by game. The scratch division was carved down to a final four, and in that game, Kyle Reed and Matt Chesnut were eliminated, leaving yesterday's finalists Sweigart and Solomon Salama to go at it again for the title.
Harley had shot 268 the game before, and Salama might have figured he wouldn't do that again. He didn't- instead, he blasted 279, and for the second straight day, all he could do is congratulate the bowler who has just tied the all tie JBT record for title by a lefty, with his 36th career JBT victory.
One thing Sweigart can't take from Salama is his U17 dominance, and Solomon did sweep that subdivision with a win over Kevin Banaag.
Eighteen handicap survivors were cut down to the final six, and ELias O'Hollaren, Zach Greim, and Timothy LeCount survived out of that round to reach the final three. In that game, Griem (183) bowed out while LeCount (208) and O'Hollaren (236) advanced to the final game. That final was all LeCount, as an early string was plenty to hold up against Elias, and earn him the first title of his JBT career.
In an all-sibling finale in the Priority Girls Scratch subdivision, Allison Azvedo outlasted sister Jaclyn 206-162 for that title.
Thanks as always to Cal for a great job hosting our Tour. Want in on all this fun for everyone? Just check out our schedule and come on down!
Cal Bowl-

final

results and scholarship winners
6/3/2018
Scratch Division
rank
bowler
prize
1
Harley Sweigart
$265
2
Solomon Salama
$154
3
Kyle Reed
$133
4
Matt Chesnut
$50
5
Gael Egana
$40
6
Kevin Banaag
7
Trevyr Geronimo
8
Leoj Chin
9
Marquan Rivers
10
Ricky Pollom
11
Ryan Lee
12
Garrett Lee
13
Noah Dotterman
14
Kyle Gilbert
15
Clifford Baltazar
16
Costa Gastouniotis
17
Allex Zieg
18
Louis Luna
19
Anthony Schanen
20
Austin Sugarman
21
Ben Dinenberg
22
Matthew Carpenter
23
Kaylee Am-Khong
24
Megan Carpenter
25
Nolan Am-Khong
26
Matt Alford
27
Marc Villalobos
28
Jacey Opiana
Handicap Division
1
Timothy LeCount
$200
2
Elias O'Hollaren
$100
3
Zach Greim
$89
4
Timothy Kessler
$50
5
Lathan Chin
$40
6
Marco Cuevas
$30
7
Elias Luna
$20
8
Yael Salama
9
Hillari Hampton
$15
10
Lindsay Greim
$58
11
Jaclyn Azvedo
$25
12
Tanner Ferguson
$58
13
Yairi Lubag
14
Kaitlynn Yukihiro
15
Theresa Miller
16
Secilia Kalvelage
17
Allison Azvedo
$50
18
Brandon Lim
$14
19
Preston Carrasco
20
Kyle Perry
21
Clifford Robbins
$20
22
Josh Williams
23
Connor Steelmon-Hill
$101
24
Brandon Criss
25
Aislinn Lubag
$22
26
Brian Erickson
27
Justin Phillips
28
Ardani Rodas
29
Leah Zweig
30
Silas Phillips
31
Emily Cheesman
32
Jacob McGough
33
Ethan Chambers
34
Dawson Reese
$5
35
Nathan Chambers
36
Cameron Criss
37
Emily Schrider
38
Travis Miller
39
William Robbins
40
Simon Ortega
High Games
Scratch
Handicap
1
Sweigart 290
O'Hollaren 312
2
Salama 280
Z Greim 296
3
Sweigart 279
Kessler 268
4
Reed 268
E Luna 263
5
Sweigart (2) 268
3 tied with 252
High Female
1
A Azvedo -72*
2
J Azvedo -78
3
Kalvelage -130
4
K Am-Khong -140
5
Meg Carpenter -159
Qualifying Leaders
Scratch
Handicap
1
Reed +179
O'Hollaren +181
2
Salama +124
LeCount +103
3
Sweigart +87
Kessler +91
U-17
1
Salama +124*
2
Banaag +47
3
O'Hollaren +6
4
Chin -11
5
Ferguson -11
Round Leaders
Scratch
Handicap
1
Sweigart
Kessler
2
Sweigart
Kessler
3
Sweigart
Kessler
4
Reed
O'Hollaren
5
Reed
O'Hollaren
Total Awarded This Event: $1,548