CERBAT LANES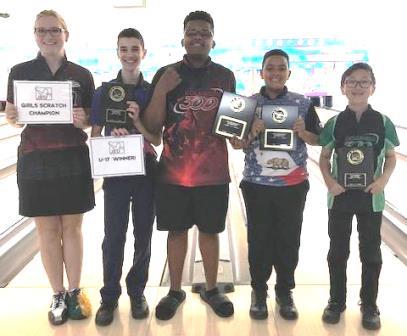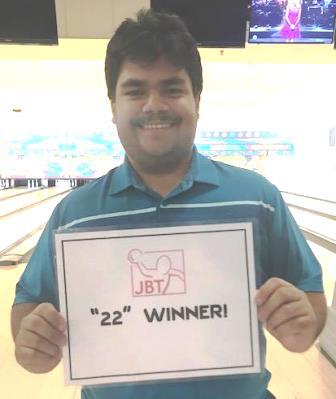 champs TJ Rock & Brandon Criss with Rachael Berg, Solomon Salama, Tyler Hedges, Kyle Reed
TJ Rock and Brandon Criss claimed big JBT titles in exciting dual conference action at Cerbat Lanes in Kingman.
Bowlers competed in the 'pick your survivor' format, where the low player was eliminated from each pair game by game, and with higher seeds choosing who bowled on each pair. Twelve scratch survivors were carved down to three, and in the semifinal match, Rock and Solomon Salama outpaced Josh Mabry, leaving two of the best U15 bowlers in the country to play for the title.
TJ has been close to a big breakthrough in JBT lately, and a huge win in an adult event earlier this month may have given him the confidence to do just that. He defeated Salama in the finale, good for the second title of his JBT career.
Eighteen handicap survivors were whittled down to the final three, and in that round New Mexico's Eric Gauna bowed out in third, while Criss and Tyler Hedges advanced to play for the title. It was a clash of red-hot bowlers, as both had won JBT titles in April. This time, Brandon came through for the win, earning JBT title #2 with the victory.
Rachael Berg returned home from UAB and showed off what she learned back east in a 264-210 win over Samantha Conti for the Priority Girls subdivision title. Hedges' fine day included his first trip to a U17 final, but Solomon Salama continued his dominance there, beating Tyler 243-202 for the win.
Thanks as always to the team at Cerbat for a great job hosting our Tour. Want in on all this fun for all ages? Just check out our upcoming schedule and come on down!
Cerbat Lanes- final results and scholarship winners
5/12/2018
Scratch Division
rank
bowler
prize
1
TJ Rock
$250
2
Solomon Salama
$153
3
Josh Mabry
$90
4
Joe Gerencser
$93
5
Ryan Perry
$85
6
Zack Long
7
Harley Sweigart
$28
8
Kyle Rendon
9
Joe Grondin
$26
10
Brock Bivins
11
Skyler McGowan
12
Kyle Gilbert
13
Josh Fearing
14
Rachael Berg
$50
15
Stefanny Toala
16
Tim Hill
$15
17
Lucas Rabb
18
Kyle Reed
$105
19
Jopfel Gafate
20
Austin Sugarman
21
Phillip Sauve
22
Dante Rohe
23
Kaylee Am-Khong
24
April McDonnell
Handicap Division
1
Brandon Criss
$228
2
Tyler Hedges
$105
3
Eric Gauna
$105
4
Elijah Melchor
$50
5
Zachary Gonzalez
$40
6
Alex Thompson
$45
7
Amelia Mosley
$20
8
Kara Thompson
9
Silas Phillips
10
Gavin Holter
$30
11
Brett McEachern
12
Hannah Davis
13
CJ Todeschi
14
Samantha Conti
$83
15
Jennifer Peterson
16
Kyle Perry
17
Ryan Zent
18
Andrew Thomas
19
Hayden Hull
20
William Robbins
$15
21
Yael Salama
22
Mark Sauve
23
Joshua Willams
24
Darren Fletcher
25
Leanna Orlando
26
Savanna Orlando
27
Afton Lords
28
Michael McQuisten
29
Destiny Johnson
30
Jadeyn Mabry
31
Cameron Criss
32
Kendall Bollea
33
Dawson Reese
34
Faythe Reid
35
Clifford Robbins
36
Sebastian Huffman
37
Kyle Lawrence
38
Raymond Gaiser
39
Justin Worthington
High Games
Scratch
Handicap
1
Gerencser 289
Hedges 303
2
Salama 279
Todeschi 288
3
Mabry 277
Melchor 262
4
Salama 276
A Thomas 262
5
Salama 265
Mosley, Holter 260
High Female
1
Conti +11*
2
Berg -13
3
Toala -15
4
Mosley -44
5
Peterson -77
Qualifying Leaders
Scratch
Handicap
1
Grondin +205
Hedges +216
2
Salama +190
Gauna +214
3
Perry +171
Melchor +139
U-17
1
Salama +190*
2
Hedges +96
3
Gauna +84
4
Rock +73
5
Holter +61
Round Leaders
Scratch
Handicap
1
Grondin
Todeschi
2
Grondin
Todeschi
3
Grondin
Hedges
4
Grondin
Hedges
5
Grondin
Hedges
Total Awarded This Event: $1,616
Cerbat Lanes-preliminary results and scholarship winners
5/12/2018
Scratch Division
rank
bowler
1
TJ Rock
2
Solomon Salama
3
Josh Mabry
4
Joe Gerencser
5
Ryan Perry
6
Zack Long
7
Harley Sweigart
8
Kyle Rendon
9
Joe Grondin
10
Brock Bivins
11
Skyler McGowan
12
Kyle Gilbert
13
Josh Fearing
14
Rachael Berg
15
Stefanny Toala
16
Tim Hill
17
Lucas Rabb
18
Kyle Reed
19
Jopfel Gafate
20
Austin Sugarman
21
Phillip Sauve
22
Dante Rohe
23
Kaylee Am-Khong
24
April McDonnell
Handicap Division
1
Brandon Criss
2
Tyler Hedges
3
Eric Gauna
4
Elijah Melchor
5
Zachary Gonzalez
6
Alex Thompson
7
Amelia Mosley
8
Kara Thompson
9
Silas Phillips
10
Gavin Holter
11
Brett McEachern
12
Hannah Davis
13
CJ Todeschi
14
Samantha Conti
15
Jennifer Peterson
16
Kyle Perry
17
Ryan Zent
18
Andrew Thomas
19
Hayden Hull
20
William Robbins
21
Yael Salama
22
Mark Sauve
23
Joshua Willams
24
Darren Fletcher
25
Leanna Orlando
26
Savanna Orlando
27
Afton Lords
28
Michael McQuisten
29
Destiny Johnson
30
Jadeyn Mabry
31
Cameron Criss
32
Kendall Bollea
33
Dawson Reese
34
Faythe Reid
35
Clifford Robbins
36
Sebastian Huffman
37
Kyle Lawrence
38
Raymond Gaiser
39
Justin Worthington