CERBAT LANES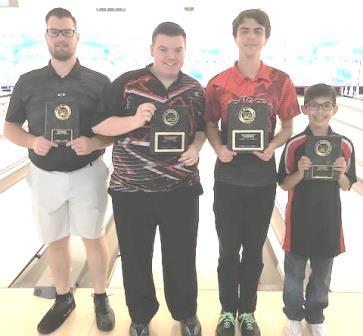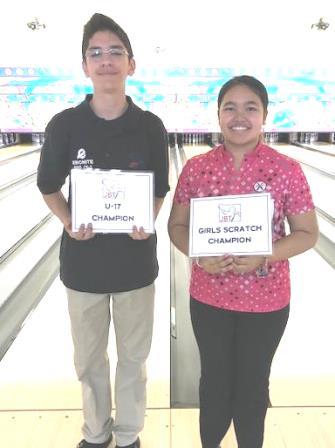 champs Josh Mabry & Darren Fletcher with Harley Sweigart, Juan Llamas, Andrew Guba, Kaylee Am-Khong
Josh Mabry found a way to win in his home state, while Darren Fletcher dominated handicap, capturing JBT titles in terrific action at Kingman's Cerbat Lanes.
Cerell Cardines began the scratch division finals with a 201-172 win over Joe Grondin, making a quick trip home from a great season at WSU. The next two matches featured great scoring by all, with Cerell getting by Skyler McGowan 238-226, followed by all-conference points leader Harley Sweigart stopping Cardines 242-231 to reach yet another title match.
Top seed Josh Mabry had been doing most of his damage this season in California, but the Tusconan put it together in Northwest Arizona, rolling a strong game to defeat Sweigart and claim his third career JBT title.
Justin Worthington's excellent spring continued with a 209-173 win over Utah's Afton Lords to begin the handicap stepladder finals. Flagstaff's Hayden Hull can strike a lot, and he did so on round two with a 255-215 win over Worthington. Juan Llamas then stopped Hull 236-185 to reach the title game.
Fletcher has been up and down with his results lately, but it was all up here, as he was brilliant all day, grabbing the lead in game three and never looking back. It was more of the same in the final, as he defeated Llamas 241-210 for the second title of his JBT career.
Kaylee Am-Khong kept her great season in the Priority Girls subdivision with a 213-163 win over Crystalene Pineda. Solomon Salama was handed a rare loss in the U-17 finale, as Andrew Guba got the best of him by a 246-183 final score.
Big thanks to the whole team at Cerbat for another great job hosting our Tour. Want in on all this fun for all ages and averages? Just check out our schedule and come on down!
Cerbat Lanes- final results and scholarship winners
5/12/2018
Scratch Division
rank
bowler
prize
1
Josh Mabry
$280
2
Harley Sweigart
$140
3
Cerell Cardines
$75
4
Skyler McGowan
$80
5
Joe Grondin
$40
6
Austin Muldoon
7
Solomon Salama
$30
8
Andrew Guba
9
Kyle Reed
$28
10
Kyle Gilbert
11
Kaylee Am-Khong
$50
12
Lucas Rabb
$15
13
Joe Gerencser
14
Brock Bivins
15
Tim Hill
$15
16
Stefanny Toala
17
Ryan Perry
18
Rachael Berg
19
Jopfel Gafate
20
Dante Rohe
21
April McDonnell
22
Josh Fearing
23
Sam Espiritu
24
Alex Seng
25
Zack Long
26
Phillip Sauve
Handicap Division
1
Darren Fletcher
$200
2
Juan Llamas
$100
3
Hayden Hull
$75
4
Justin Worthington
$50
5
Afton Lords
$83
6
Gavin Holter
$30
7
Clifford Robbins
$13
8
Crystalene Pineda
$25
9
Michael McQuisten
10
Jadeyn Mabry
$26
11
Tyler Hedges
12
Eric Gauna
$30
13
Ryan Zent
14
Zachary Gonzalez
15
Brett McEachern
16
Dawson Reese
$15
17
Brandon Criss
18
Kara Thompson
$15
19
CJ Todeschi
20
Cameron Criss
21
Raymond Gaiser
22
Sebastian Huffman
23
Leanna Orlando
24
Kendall Bollea
$23
25
Kyle Perry
26
Andrew Thomas
27
William Robbins
$15
28
Alejandro Aragon
29
Samantha Conti
$5
30
Silas Phillips
31
Mark Sauve
32
Alex Thompson
33
Destiny Johnson
34
Kyle Lawrence
$15
35
Yael Salama
High Games
Scratch
Handicap
1
Guba 279
Zent 296
2
Muldoon 269
Llamas 276
3
Mabry 268
Hull 275
4
Grondin 268
Fletcher 274
5
McGowan 267
Hull 271
High Female
1
Am-Khong +67
2
Pineda +42
3
Toala +25
4
Berry -2
5
Conti -28
Qualifying Leaders
Scratch
Handicap
1
Reed +199
Fletcher +197
2
Guba +185
Hull +153
3
Salama +170
Llamas +150
U-17
1
Guba +185
2
Salama +170
3
Fletcher +112
4
McGowan +103
5
C Robbins +49
Round Leaders
Scratch
Handicap
1
Mabry
Hull
2
Guba
Zent
3
Guba
Fletcher
4
Guba
Fletcher
5
Reed
Fletcher
6
Guba
Fletcher
7
McGowan
Fletcher
8
Mabry
Fletcher
Total Awarded This Event: $1,473