10-PIN ALLEY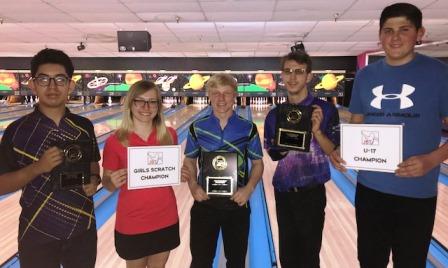 champs Will Davis & Luke Gartner; Juan Saldana, Jay Heffer, Logan Cain
Will Davis and Luke Gartner escaped the rising tide and claimed JBT titles in exciting NM-TX Conference action at Tenpin Alley in Las Cruces.
The scratch division came down to a thrilling match between Davis and Harley Sweigart. With 40 'lifeline' bonus pins on the line, Sweigart's total pinfall lead was not safe. Both bowlers came out striking, and after some frustrating bad carry, Harley put together a tenth frame strikeout. This put Davis in the odd situation of needing to double to win, because strike-spare would be a 237 tie game, which would split the lifeline and let Sweigart keep the total pinfall lead, which is all that matters in this format. All that went away when Davis threw a brilliant double, earning the 248-237 win, and with the bonus enough pins to catch Harley and earn his second career JBT title.
The handicap division saw six players left in round five, and in that round only Gartner and Juan Saldana escaped the quickly rising tide to reach the title match. 26 total pins separated them, so with the 60 pin lifeline bonus up for grabs, the winner of the next game would win the tournament. That final game turned out to be all Luke, as Saldana struggled a bit and Gartner took advantage to win the game and earn the second JBT title of his career.
It was two first time winners in the subdivisions, as Logan Cain beat Davis to win the U17 event, while Jay Heffer rolled by Kara Thompson for the Priority Girls scratch win.
Big thanks to the team at Tenpin, especially JBT family Ahkeen and Alyssa Williams, for a great job hosting us. Want in on all this fun and action? Just check out our schedule and come on down!
10pin Alley- final results and scholarship winners
3/24/2018
Scratch Division
rank
bowler
prize
1
Will Davis
$294
2
Harley Sweigart
$125
3
Zach Wojciechowski
$75
4
Benjamin Groves
$50
5
Logan Cain
$45
6
Dean Jackson Jr
7
Lorenzo Rodriguez
$45
8
Dante Uribarri
9
Deo Benard
10
Josue Rivera
11
Donius Jeffries
12
Jonathan Uribe
13
Nathan Sippel
14
Christopher Robles
15
Nick Myers
16
Rashaad Jordan
17
Jonah Seawright
Handicap Division
1
Luke Gartner
$200
2
Juan Saldana
$100
3
Coleton Rogers
$75
3
Alex Thompson
$70
5
Jayden Martinez
$50
6
Eric Gauna
$64
7
Clifford Robbins
$80
8
Carlos Estrada
9
Kara Thompson
$39
10
Alek Rakov
11
Marian Rivera
12
Jaedeon Castaneda
13
Kloey Kielich
$51
14
Jay Heffer
$50
15
Luis Garcia
16
Amiah Juarez
17
Dusten Eichensehr
18
Dominic Rodriguez
$14
19
Jonah Lujan
20
Josie Herson
21
Bronwyn Lujan
22
Kyle Perry
23
Danny Garza
24
Jose Tadeo Salazar
25
Maria Estrada
26
Jordan Womble
27
Manny Rivera
28
Faith Pinter
29
Kallista Fritts
30
Ella Gamache
31
Alex Harmon
32
Taylor Herson
33
Christopher Bennett
$15
34
Angela Romero
35
Kristina Casaus
36
Nathan Thompson
37
Areena Rogers
38
Sydney Candelaria
39
William Robbins
High Games
Scratch
Handicap
1
Sweigart 279
K Thompson 276
2
Davis 257
Heffer 274
3
Davis 248
Gauna 269
4
Cain 246
J Martinez 267
5
Jackson 246
Garcia 265
High Female
1
K Thompson -89
2
Heffer -98*
3
Fritts -103
4
Rivera -125
5
Garza -154
Qualifying Leaders
Scratch
Handicap
1
W Davis +95
Gartner +221
2
Sweigart +87
C Rogers +182
3
Wojo +60
K Thompson +126
U-17
1
Davis +95
2
Cain +3*
3
Uribarri -8
4
C Robbins -12
5
Benard -24
Round Leaders
Scratch
Handicap
1
Jackson
Gartner
2
Sweigart
Garcia
3
Sweigart
Gartner
4
Sweigart
Gartner
5
Sweigart
Gartner
Total Awarded This Event: $1,442