DESERT SKY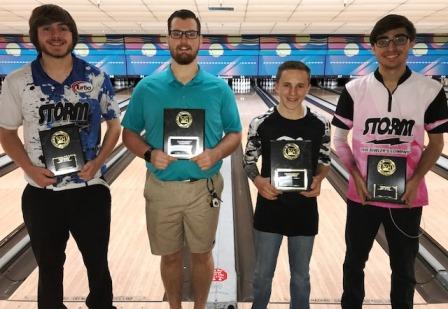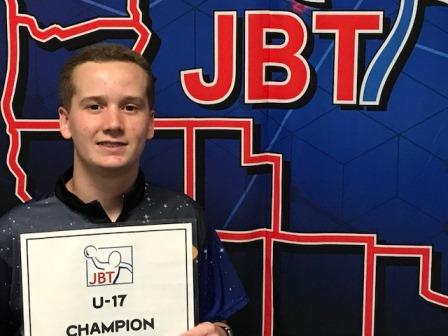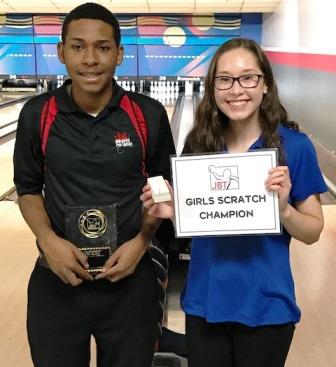 champs Harley Sweigart & Hayden Hull with Austin Muldoon & Justin Worthington; U17 winner Gavin Holter; Girls winner Stefanny Toala with Rashaad Jordan
Harley Sweigart continued his dominant season, while Hayden Hull caught the roll of his life at just the right time, in exciting JBT action at Desert Sky Lanes.
Cristian Roque, making his first finals in a while, began the scratch division stepladder with a 206-191 win over Rashaad Jordan. Sweigart then stopped Roque 223-171, and followed with a 237-181 victory over Keith Fung. Top seed Austin Muldoon, fresh off his Best In The West win, found himself at the number one spot again. This time though, Harley had a better look and strung the strikes in a 258-190 win over Austin for the 27th title of his outstanding JBT career.
Newcomer Cesar Padilla doubled in the tenth frame to do something nobody could do last week in Vegas- beat William Robbins- in a 233-230 victory. New Mexico's Alex Thompson then stopped Padilla 224-198. Justin Worthington then turned the tables on Thompson with a 218-166 win to move on to the title match.
Hayden Hull went from out of the finals to the top seed with a huge last game of round two. The first time in a title game can be intimidating, but Hayden showed no signs of that. Worthington bowled an excellent 231, but Hull came up 275 scratch game for a huge 313 total with pins, plenty for his first career JBT title.
Gavin Holter won his first U17 subdivision with a 193-158 win over Roque, and Stefanny Toala kept on rolling in the Priority Girls Scratch event with a 202-172 win over Brooke Collins.
Thanks to the team at Desert Sky for a great job hosting our Tour. Want in on the fun for all ages and averages? Just check out our schedule and come on down!
Desert Sky- final results and scholarship winners
11/18/2017
Scratch Division
rank
bowler
prize
1
Harley Sweigart
$264
2
Austin Muldoon
$125
3
Keith Fung
$75
4
Cristian Roque
$40
5
Rashaad Jordan
$30
6
James Wilson
$28
7
Josh Fearing
$24
8
Stefanny Toala
$50
9
Brooke Collins
$25
10
Brandon Rouse
$14
11
Lucas Rabb
12
Jacob Gaddam
13
John Newton
14
Marc Villalobos
15
Ryan Perry
16
Phillip Sauve
Handicap Division
1
Hayden Hull
$250
2
Justin Worthington
$125
3
Alex Thompson
$145
4
Cesar Padilla
$75
5
William Robbins
$65
6
Taylor Stevens
$50
7
Ryan Zent
$15
8
Gavin Holter
9
Payton Workman
10
Cj Todeschi
11
Darren Fletcher
12
Kendall Bollea
$30
13
Alejandro Aragon
14
Andrew Thomas
15
Dawson Reese
16
Oscar Llamas Jr
17
Jadeyn Mabry
$15
18
Joshua Williams
$10
19
Lexi Cassman
20
Kyle Perry
21
Destiny Johson
$14
22
Reagan Russ
23
Clifford Robbins
24
Silas Phillips
25
Kyle Lawrence
26
Mark Sauve
$45
27
Elijah Melchor
28
Johs Brown
29
Abby Franklin
$25
30
Brian Erickson
$15
31
Juan Llamas
32
Aislinn Lubag
33
Yairi Lubag
34
Sean Brackett
Round Leaders
Scratch
Handicap
1
Fung
K Perry
2
Roque
K Perry
3
Muldoon
K Perry
4
Roque
Todeschi
5
Muldoon
Todeschi/Worthington
6
Muldoon
Padilla
7
Muldoon
Worthington
8
Muldoon
Hull
High Games
Scratch
Handicap
1
Sweigart 258
Hull 313
2
Jordan 248
Hull 293
3
Muldoon 246
Stevens 280
4
Fung 246
Holter 276
5
R Perry 238
Holter 273
U-17
Girls Scratch
1
Roque +22
Toala -30*
2
Holter -2*
Collins -41
3
Fletcher -6
Mosley -60
4
Todeschi -8
Johnson -111
5
Reese -8
Franklin -138
Total Awarded This Event: $1,552