EVERGREEN LANES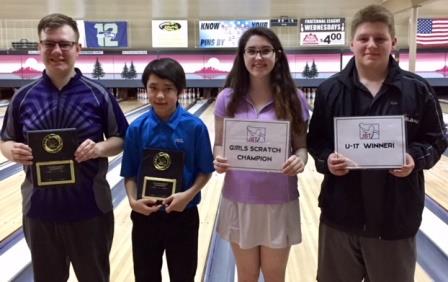 champs Kyle Adams and Paul Rosales; Regan Lorey and Tyler Coates
Two bowlers claimed their first JBT titles in exciting Pacific Northwest Conference action at Evergreen Lanes in Everett.
Ryan Nikolas and Jeremy Holman began the scratch division stepladder finals with a strike-fest in which Nikolas prevailed 277-256. Ryan continued with the strikes in another high scoring match from both players as he got by Tyler Coates 247-234.
Top seed Kyle Adams had struggled for most of the season, but put it all together here, grabbing the top seed and bowling a confident game in a 235-189 win over Nikolas for the Canadian's first career JBT title.
Another Canadian bowler, Maroun Rouhana, began the handicap division finals with a 228-199 win over Firebird champ Anna Gatlin. Rouhana then got by Colt Jance 224-220 in a squeaker to move on to the title game.
Top seed Paul Rosales has been much improved this year and knocking on the door of a big finish. He busted that door down here, rolling a great game and the 252-204 win was good for JBT title #1.
Reagan Lorey continued a great season in the Priority Girls scratch subdivision, beating Celeste Johnson 201-193 for that win. Coates got some vengeance with a 226-173 win over Hunter Bower to win the U17 event.
Huge thanks to Jason and the team at Evergreen for a great job hosting our Tour. Want in on the fun for all ages and averages? Just come on down to our next event, it's that simple!
Evergreen Lanes- final results and scholarship winners
3/24/2018
Scratch Division
rank
bowler
prize
1
Kyle Adams
$250
2
Ryan Nikolas
$155
3
Tyler Coates
$75
4
Jeremy Holman
$65
5
Hunter Bower
$50
6
Brian DeLuisa-Anderson
7
Isaac Richardson
8
Reagan Lorey
$55
9
Makana Wong
$30
10
Mark Rouhana
$15
11
John Malone
12
Kris Tomer
13
Tyler Boe
14
Preston Craig
15
Aidghan Ziegler
16
Celeste Johnson
$40
17
Malcom Jacobson
18
Mateo Segura
19
Jacob Frazier
$15
20
Simon Dyck
21
Andi Hicks
22
Niko Hawkins
23
Bradley Baltazar
24
Matt Lenox
25
Michael Creel
26
Alana Brown
27
William Ellis
Handicap Division
1
Paul Rosales
$215
2
Maroun Rouhana
$100
3
Colt Jance
$305
4
Anna Gatlin
$70
5
Ben Heisler
$60
6
Kalym Henry
$50
7
Michael Strothman
$40
8
Christiana Fogg
$5
9
Aiden Wong
10
Ryan Smerud
11
Silas LeBlanc
12
Alejandro Moser-Hernandez
$15
13
Lohrghan Ziegler
14
Paul Lemay
15
Kris Mace
16
Jacob Lennox
17
Evan Smith
18
John Durham
19
Trevor Born
$15
20
Lailani Wallin
21
Olivia Kolppa
22
Cosmo Castellano
23
Payton Bower
24
Stacy Griffith
25
Kailee Wilcox
26
Liam Hardman
27
Bryan Zeutenhorst
28
Quinn Shaner
29
Nathan Westfall
30
Kierra Wilcox
31
Audrey Harding
32
Derek Haight
33
Jonathan Lorey
34
Isaac Mailkoff
35
Hilary Zuniga
36
AJ Hooper
37
Tyler DeLorm
38
Hailey Lennox
39
Brooks Johnson
40
Avery Eelkema
41
Emma Waldroup
High Games
Scratch
Handicap
1
Nikolas 277
Heisley 317
2
I Richardson 269
Rosales 305
3
R Lorey 268
Rosales 272
4
R Nikolas 268
Heisler 267
5
Boe 266
Gatlin 269
Girls scratch side event
1
Lorey +111
2
Johnson -38
3
E Smith -65
4
Hicks -104
5
Fogg -115
U-17 scratch side event
1
Bower +108
2
Coates +106
3
DeLuisa-Anderson +90
4
Rosales +43
5
Malone +34
Round Leaders
Scratch
Handicap
1
Boe
M Rouhana
2
Coates
Rosales
3
Coates
Rosales
4
Adams
Rosales
5
Adams
Rosales
6
Coates
Rosales
7
Adams
Rosales
8
Adams
Rosales
TOTAL AWARDED THIS EVENT: $1,625