EVERGREEN LANES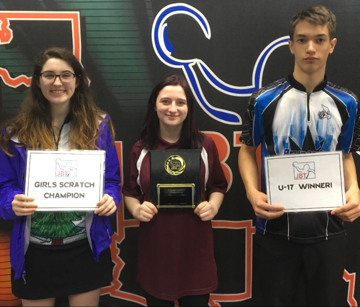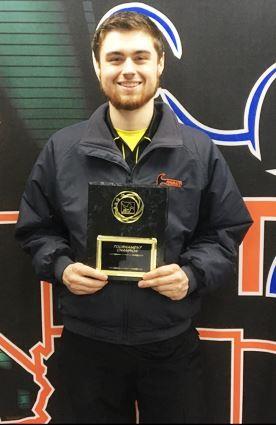 champs Crystal Doyle & Ryan Nikolas; Reagan Lorey, Preston Craig
Ryan Nikolas and Crystal Doyle took different paths to victory in exciting JBT Pacific Nothwest Conference action at Everett's Evergreen Lanes.
In the challenging 'rising tide' format, lower total pinfall bowlers are eliminated faster and faster until the 'tide' sweeps all but the winner away. Ryan Nikolas used a big game five in qualifying to jump into the lead as well as be the only bowler to average 200+ on the challenging pattern. He consolidated the lead during the rising tide rounds, and by the final game had a comfortable cushion, staying ahead of runner-up Aidghan Ziegler for the 17th title of his outstanding JBT career.
The handicap division picture was far more muddled, as four bowlers had a shot at the title as the final game began. It was newcomer Crystal Doyle who came up with the best game at the right time, adding the 'lifeline' bonus to sneak past Aiden Wong and win her first career JBT title.
Reagan Lorey swept the Priority Girls Scratch weekend with a win over Celeste Johnson, while Preston Criag won his fist U17 subdivision event with a win over Malcolm Jacobson.
Big thanks to Jason Hoff and his terrific team at Evergreen for another great hosting job. If you want in on all this fun, just come on down to the next JBT event!
Evergreen Lanes- final results and scholarship winners
3/25/2018
Scratch Division
rank
bowler
prize
1
Ryan Nikolas
$250
2
Aidghan Ziegler
$125
3
Tyler Boe
$150
4
Makana Wong
$50
5
Tyler Coates
$40
6
Malcom Jacobson
7
Celeste Johnson
$25
8
Jerry Jennings
9
Preston Craig
10
Hunter Bower
11
Niko Hawkins
12
Kyle Adams
13
Brian DeLuisa-Anderson
14
Reagan Lorey
$50
15
Jacob Frazier
16
Andrew Martin
17
Simon Dyck
18
John Malone
19
Daniel Johnson
20
Andi Valdez-Hicks
21
Brandon Lennox
22
William Ellis
Handicap Division
1
Crystal Doyle
$200
2
Aiden Wong
$115
3
Bryan Zeutenhorst
$90
4
Ben Heisler
$55
5
Cosmo Castellano
$40
6
Lailani Wallin
$30
7
Anna Gatlin
8
Derek Haight
$20
9
Hailey Lennox
10
Jonathan Lorey
$90
11
Michael Strothman
12
Jacob Lennox
13
Paul Rosales
$15
14
Olivia Kolppa
15
Kierra Wilcox
16
Liam Harding
17
Avery Eelkema
$30
18
Stacy Griffith
19
Silas LeBlanc
20
Emma Waldroup
21
Evan Smith
22
Matt Lennox
23
Tyler DeLorm
24
Payton Bower
25
Hannah Lennox
26
Kailee Wilcox
27
Aubrey Harding
28
AJ Hooper
29
Colt Jance
30
Isaac Mailkoff
31
Alejandro Moser-Hernandez
32
Ryan Smerud
33
Christiana Fogg
34
Kaylm Henry
High Games
Scratch
Handicap
1
Nikolas 269
Gtlin 264
2
Nikolas 267
Strothman 262
3
Boe 256
Zeutenhorst 259
4
Ziegler 236
Doyle 251
5
Ziegler 233
J Lennox 251
Girls scratch side event
1
Johnson -78
2
Lorey -149
3
Kolppa -156
4
E Smith -195
5
Hicks -230
U-17 scratch side event
1
Jacobson -68
2
Craig -83
3
Heisler -114
4
Coates -119
5
Bower -127
Round Leaders
Scratch
Handicap
1
Frazier
Wallin
2
Wong
Castellano
3
Wong
Gatlin
4
Wong
Gatlin
5
Nikolas
Gatlin
TOTAL AWARDED THIS EVENT: $1,425