MOJAVE INVITATIONAL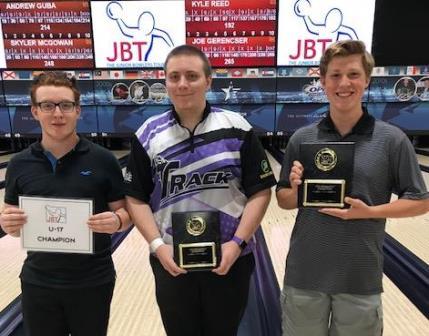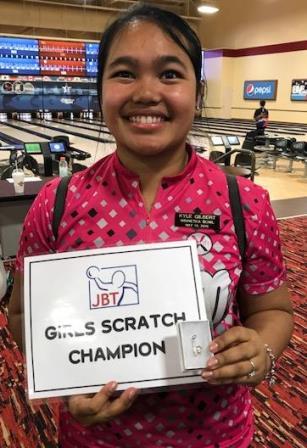 champs Joe Gerencser & Zach Greim, U17 winner Skyler McGowan; Priority Girls winner Kaylee Am-Khong
Champions were crowned in four events and over $6,000 in scholarships were awarded at the 2018 JBT Mojave Invitational tournament, held at Las Vegas' beautiful South Point Bowling Plaza.
After five qualifying games, 16 bowlers in each main division competed in exciting triple elimination matchplay. Top scratch division seeds performed extremely well, as the 1,2, and 3 seeds all reached the final four survivors. In that round #3 Skyler McGowan ousted top seed Andrew Guba, while #2 Joe Gerencser stayed alive by handing #8 Kyle Reed his first loss after he reeled off seven straight wins.
This left McGowan with a bye so Kyle and Joe played again, this time with Gerencser blasting 289 to give Reed loss #2. Still with three remaining, Gerencser then eliminated McGowan, setting up one more match between Gerencser and Reed for all the marbles. Joe's big strike ball was not to be stopped, and he cruised in the final game to with the Invite and its $1,000 top scholarship prize, while Reed was consoled with $500 for second.
Survivors were a bit more unconventional in the handicap division, as seeds ranging from #2 Zach Greim to #16 Dawson Reese made it to the final four, joined by #9 Tyler Hedges and #6 Avery Domaguin. In that round, Domaguin, who had already survived some amazing matches (two of which were against Clifford Robbins, eliminating him but still leaving Clifford with enough points to snag Bowler of the Year away from his brother), this time eliminated Hedges. In the other match, Reese handed Greim his first loss after a 7-0 start.
That gave Reese a bye while Greim bounced back to eliminate Domaguin. Now needing to beat Zach twice to win the title, Dawson looked for all the world like he would cruise to a game one win, but after four opens in the first five frames, Greim struck out from there, suddenly forcing Reese to come up with a strike to survive. He couldn't get the hit, and Zach finished off his amazing day with his first singles win, first major, and $1,000 top scholarship prize.
McGowan and Guba would face off again in the U17 Invitational finale, and it was the same result again as McGowan poured on the strikes for the win and $200 top prize. Priority Girl magazine made the Girls Scratch Invitational an even bigger deal that it already was with a generous contribution to both finalists. Kaylee Am-Khong earned a whopping $500 for the Invite win (as well as Bowler of the Year), while runner-up April McDonnell earned a sizable $300 prize for her excellent showing.
Huge thanks once again to the crew at South Point for a top notch experience, as well as everyone involved in another exciting season of Mojave Conference action. The top 20 point scorers now advance to the TPC, featuring $2,000 on top as the best of the best in JBT will square off at Strike Zone!
Mojave Invitational- final results and scholarship winners
6/10/2018
Scratch Division
rank
bowler
prize
1
Joe Gerencser
$1,000
2
Kyle Reed
$500
3
Skyler McGowan
$480
4
Andrew Guba
$250
5
Cortez Schenck
$178
6
Kyle Gilbert
$129
7
Marquan Rivers
8
Dominic Olivares
9
TJ Rock
10
Kaylee Am-Khong
$500
11
Sergio Torres
12
Solomon Salama
$193
13
Josh Mabry
14
Austin Sugarman
$50
15
Cerell Cardines
$50
16
Harley Sweigart
$50
17
April McDonnell
$300
18
Zack Long
19
Jopfel Gafate
20
Kevin Banaag
21
Daryus Alo
22
Devyn Patalina
23
Louis Luna
24
Nolan Am-Khong
25
David Galvan
26
Tim Hill
27
Trevyr Geronimo
28
Garrett Lee
29
Caleb Andrews
30
Sam Espiritu
31
Kyle Rendon
Handicap Division
1
Zach Greim
$1,044
2
Dawson Reese
$500
3
Avery Domaguin
$280
3
Tyler Hedges
$200
5
Brett McEachern
$150
6
Caleb Rothstein
$130
7
Dillon O'Neil
$50
8
Clifford Robbins
$50
9
Yael Salama
$15
10
Ryland Gregorich
$15
11
Tanner Ferguson
12
Emily Cheesman
$60
13
Cameron Criss
$75
14
Hillari Hampton
15
William Robbins
$65
16
Sebastian Huffman
$55
17
Kyle Perry
$14
18
Alayna Purdy
19
Silas Phillips
20
Connor Steelmon-Hill
$15
21
Afton Lords
$15
22
Darren Fletcher
23
Alexiz Bustamante
24
Faythe Reid
25
Aislinn Lubag
26
Leanna Orlando
27
Yairi Lubag
28
Noel Gregorich
29
Justin Worthington
30
Lindsay Greim
31
Hannah Davis
32
Gavin Holter
33
Katie Kipler
34
Brandon Criss
35
Eric Gauna
36
Zachary Gonzalez
37
Emi Leong
38
Joshua Alcaraz
39
Samantha Conti
40
Destiny Johnson
41
Crystalene Pineda
High Games
Scratch
Handicap
1
Gerencser 289
Reese 286
2
Gerencser 289
Y Salama 281
3
Mabry 289
Domaguin 272
4
Gerencser 279
Z Greim 272
5
Gilbert 269
Z Greim 269
High Female
1
Am-Khong +35*
2
McDonnell -13
3
Domaguin 065
4
Orlando -118
5
Purdy -134
Qualifying Leaders
Scratch
Handicap
1
Guba +184
Cheesman +135
2
Gerencser +180
Z Greim +133
3
McGowan +127
Y Salama +123
U-17
1
Guba +184
2
McGowan +127*
3
Salama +117
4
Rock +74
5
C Robbins -42
Round Leaders
Scratch
Handicap
1
Reed
Rothstein
2
Gerencser
Salama
3
Gerencser
Salama
4
Gerencser
Cheesman
5
Guba
Cheesman
Total Awarded This Event: $6,413
$20,000 in scholarships
MINIMUM GUARANTEED!
NM-TX: May 20, 9:30 AM, at Silva Lanes
Mojave: June 10, 9:30 AM, at South Point Plaza
Pac NW: June 24, 9:30 AM, at Narrows Plaza
Arizona: June 17, 9:30 AM, at Brunswick Mesa
So Cal: July 1, 9:30 AM, at Mira Mesa
ENTRY FEE: $50 scratch, $40 handicap
Includes all scholarships except $2 scholarship brackets in both divisions
Eligibility:
Each event is open to anyone making a top-5 finish in that Conference this season, OR the top 10 in the final regular season event in that Conference, OR the top 32 in season-long points in that Conference
Format:
-QUALIFYING: Bowl 5 games across 10 lanes. The top eleven 5-game totals, plus the top 5 season-long point scorers, advance to the triple-elimination finals! (If a top-5 player does not show or chooses to bowl in the opposite division, additional bowlers will be taken to complete a 16-player field)
-FINALS: Bowlers will play TRIPLE elimination match play (keep bowling until you lose 3 times), until a winner is determined
______________________________________________________________________________
GUARANTEED PRIZE FUNDS, each event:
1st-$1,000
2nd- $500
3rd- $250
4th- $150
5th- $100
Additional spots earn scholarships on a 1:6 ratio
PLUS The top 5 point scorers going into each Invite will have Invite winnings augmented to $50 minimum
EACH INVITATIONAL IS WORTH TRIPLE POSITION POINTS. THE TOP 20 IN EACH CONFERENCEíS POINTS AFTER THE INVITATIONAL ADVANCE TO THE 2018 TOURING PLAYERS CHAMPIONSHIP, JULY 26-29 AT STRIKE ZONE NEAR LAS VEGAS, WITH $2,000 FOR FIRST PLACE!
ALL OTHER JBT RULES APPLY. SEE YOU THERE, DONíT MISS IT!!!