NM-TX INVITATIONAL TOURNAMENT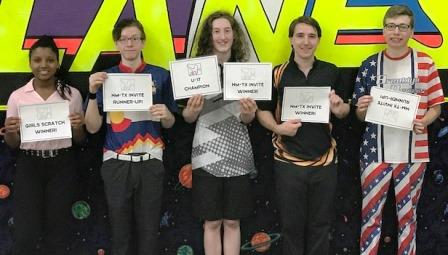 champs Deo Benard & Kyle Perry with Robin Prioleau, Gabriel Siegel, and Clifford Robbins
Deo Benard and Kyle Perry earned $1,000 scholarships as champions of the 2018 NM-TX Invitational Tournament, hosted by Alnuquerque's Silva Lanes.
Qualifiers rolled five games on a challenging pattern, with the top eleven scorers joining five bowlers who earned exemptions from their season-long performance, into the grueling triple-elimination matchplay finals. In the scratch division, Robin Prioleau continued her very impressive weekend by leading the qualifying round. Matchplay was a mixed bag for her though, and she bowed out in round six.
By round eight only four bowlers remained. In those matches, Gabriel Siegel remained alive by handing Deo Benard his second loss, while Adel Wahner eliminated Brad Harvey. That left three bowlers, earning #2 seed Deo a huge bye, while Siegel then eliminated Wahner, setting up a rematch for the title. In a back and forth final, Benard escaped with the win, earning the $1,000 top prize, fifth career title, and second career major already, having won the handicap TPC to finish last season!
Isaiah Sandoval had a brilliant qualifying round to grab the top seed for matchplay, but struggled in that part, bowing out in round four. That was good news for #2 Kyle Perry who got an early bye as a result. Meanwhile, fellow Arizonan Clifford Robbins needed no byes to keep his good fortune rolling, as he started 5-0 to put himself in great position. Down to four bowlers left in round eight, Robbins, still with only one loss, eliminated Kallista Fritts in third, and Perry stopped Luis Garcia in fourth, setting up a situation where Perry would need to beat Robbins twice for the title.
Kyle won the first game, and the decider stayed close. Needing a double, Clifford could not get the first strike, and Perry completed the comeback for the win, second career JBT title, and $1,000 scholarship windfall.
Deo's stellar day got even better with a 269-172 win over Robin Prioleau for a $200 bonus for winning the U17 Invitational. Priloeau, who made both subdivision finals for the second straight day, was exhausted but found enough for a 175-163 over defending champ Lauren Jaramillo for a $200 bonus as champ of the Priority Girls Scratch Invitational.
Big thanks to everyone at Silva for always doing a great job hosting our Tour. Well over $7,000 was awarded to all ages and averages on the weekend! Want a part of it? Just check out our schedules and come on down!
NM-TX Invitational- final results and scholarship winners
5/20/2018
Scratch Division
rank
bowler
prize
1
Deo Benard
$1,214
2
Gabriel Siegel
$500
3
Adel Wahner
$278*
4
Brad Harvey
$135
5
Daniel Hall
$152
6
Will Davis
$75
7
Robin Prioleau
$225
8
Christian Apolonio
9
Ben Stedman
10
Brandyn MacPhee
11
Matteo Bergonzi
12
Zach Wojciechowski
$64
13
Harley Sweigart
$92
14
Zach Harvey
15
David Jepsen
16
Donius Jeffries II
$50
17
Ryan Perry
18
Rashaad Jordan
19
Aileen Linares
20
Jonah Seawright
21
Ben Groves
22
Zack McFarlin
23
Christopher Robles
24
Noah Martinez
25
Elizabeth Romero
$100
26
Blayne Hurst
Handicap Division
1
Kyle Perry
$1,058
2
Clifford Robbins
$560
3
Luis Garcia
$250
4
Kallista Fritts
$150
5
Lucas Naaz
$125
6
Kloey Kielich
$115
7
John Green
$75
8
Eric Gauna
$50
9
George Sandoval
10
Kaitlin Meiers
11
Gerilynn Delegarito
$15
12
Isaiah Sandoval
13
Michael Jamael
14
Lauren Jaramillo
$75
15
Alex Harmon
$29
16
Alex Thompson
17
Josie Herson
18
Land Matthies
19
Jordan Womble
20
Montana Cdebaca
$30
21
Michael Newlon
$15
22
Faith Pinter
23
Toby Cdebaca
24
Holly Redfearn
25
William Robbins
26
Kara Thompson
27
Carlos Estrada
28
Alek Rakov
29
Taylor Herson
30
Jayden Martinez
31
Areena Rogers
32
Angela Romero
33
Christopher Bennett
34
Coleton Rogers
35
Jeremy Perlinski
36
Jay Heffer
37
Yarelis Alvarez
38
Kaylee Haynes
39
Luke Gartner
40
Justin Weddige
Qualifying Leaders
Scratch
Handicap
1
Prioleau +58
I Sandoval +136
2
Benard +54
K Perry +108
3
Hall +12
Harmon +97
High Games
Scratch
Handicap
1
Hall 297
Naaz 280
2
Benard 269
I Sandoval 257
3
B Harvey 269
I Sandoval 257
4
Benard 259
C Robbins 256
5
Wojo 246
K Perry 255
Priority Girls Scratch Invitational
1
Prioleau +58*
2
Jaramillo -28
3
Cdebaca -77
4
Linares -93
5
Alvarez -104
6
Fritts -113
7
Herson -169
8
E Romero -179
9
K Thompson -203
10
Heffer -289
U-17 Invitational
1
Prioleau +58
2
Benard +54*
3
Green +21
4
C Robbins -4
5
L Garcia -50
6
M Cdebaca -77
7
Jepsen -90
8
W Davis -92
9
Fritts -113
10
Jeffries -131
Round Leaders
Scratch
Handicap
1
W Davis
A Thompson
2
Benard
A Thompson
3
Benard
A Thompson
4
Benard
I Sandoval
5
Prioleau
I Sandoval
TOTAL AWARDED THIS EVENT: $5,432