ISLETA FUN CONNECTION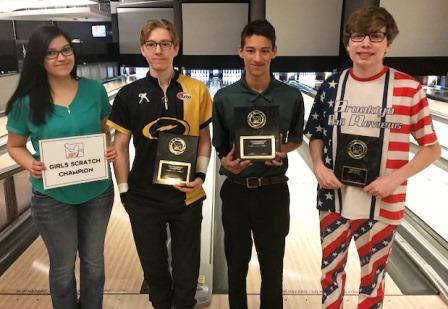 champs Gabriel Siegel & Michael Newlon; Elizabeth Romero, Clifford Robbins4
Two bowlers won their first career JBT titles in their second career starts, in exciting NM-TX Conference action at Isleta Fun Connection.
Deo Benard, part of the winning mix-it-up team the day before, began the scratch division stepladder with a win over Elizabeth Romero, who had opened the day with a tournament-high 280. Zach Wojciechowski then stopped Benard 193-179. Gabriel Siegel then ended Wojo's quest for his 10th title with a 258-201 win to get to the final game.
Top seed Harley Sweigart was looking to break a tie with Jakob Butturff for 6th on our all-time title list, but that would have to wait for another day as Harley never got comfortable on the final pair. Newcomer Siegel, visiting from Colorado, stayed in control the entire game for a 212-171 win and his first career JBT title.
Eric Gauna kept on his recent roll with a 222-207 win over Land Matthies to begin the handicap stepladder. Gauna then edged Sommer Gouviea 218-210. The next match was the most exciting of the day, as Eric and Michael Newlon tied at 186, forcing a rolloff which Mewlon won 31-24 to move on to the title game.
Top seed Clifford Robbins was dominant all day long, continuing a fantastic winter stretch Tour-wide. However, he could not get locked in for the final game, and Newlon became newly-won with a 221-183 win and his first career title.
Benard added to Robbins' frustration with a win over Clifford to win the U17 event. Priority Girls Scratch went to Lauren Jaramillo, capping off a terrific weekend with a win over Romero.
Big thanks as always to the team at Iselta for another great job hosting our Tour. Want in on all the fun? Just check out our schedule and come on down!
Isleta Fun Connection- final results and scholarship winners
3/11/2018
Scratch Division
rank
bowler
prize
1
Gabriel Siegel
$250
2
Harley Sweigart
$139
3
Zach Wojciechowski
$89
4
Deo Benard
$50
5
3lizab3th Rom3ro
$80
6
Will Davis
7
Christian Apolonio
8
Jonah Seawright
9
Brad Harvey
$42
10
Chris Ortega
11
Rashaad Jordan
12
John Green
13
Chris Furdek
14
Aileen Linares
15
Noah Martinez
16
Haley Winn
17
Donius Jeffries
18
Christopher Robles
19
Nathan Nguyen
Handicap Division
1
Michael Newlon
$230
2
Clifford Robbins
$160
3
Eric Gauna
$75
4
Sommer Gouviea
$40
5
Land Matthies
$45
6
Jeremy Perlinski
$20
7
Alex Thompson
8
Kloey Kielich
$45
9
Gerilynn Delegarito
$15
10
Kyle Perry
$15
11
Lauren Jaramillo
$25
12
Yarelis Alvarez
13
George Sandoval III
14
Kara Thompson
15
Kaylee Haynes
$15
16
Kallista Fritts
17
Josie Herson
18
Michael Jamael
19
Savannah White
20
Kristina Casaus
21
Angela Romero
22
Justin Weddige
23
Jayden Martinez
24
Lane White
25
Faith Pinter
26
Noah Negrette
27
James Huebner
28
Manny Rivera
29
Morgan Ellis
30
Taylor Herson
31
CJ Todeschi
$5
32
Dawson Reese
33
Jay Heffer
34
Jordan Womble
35
William Robbins
36
Alec Ortiz
Qualifying Leaders
Scratch
Handicap
1
Wojo +92
C Robbins +201
2
Benard +81
Newlon +148
3
Sweigart +77
Gauna +92
High Games
Scratch
Handicap
1
E Romero 280
Newlon 279
2
W Davis 278
Gauna 276
3
Apolonio 274
A Thompson 273
4
Wojo 268
C Robbins 267
5
Sweigart 264
Perlinski 264
Girls Scratch side event
1
E Romero +28*
2
L Jaramillo +4
3
Linares -90
4
Delegarito -102
5
Fritts -103
U-17 scratch side event
1
C Robbins +111
2
Benard +81*
3
Davis +18
4
Green -60
5
Furdek -79
Round Leaders
Scratch
Handicap
1
E Romero
Gauna
2
W Davis
A Thompson
3
Wojo
Newlon
4
Wojo
C Robbins
5
Wojo
C Robbins
6
Sweigart
C Robbins
7
Sweigart
C Robbins
8
Sweigart
C Robbins
TOTAL AWARDED THIS EVENT: $1,340