KEARNY MESA BOWL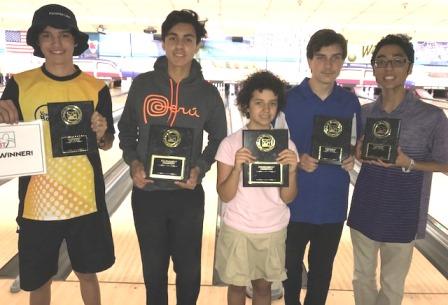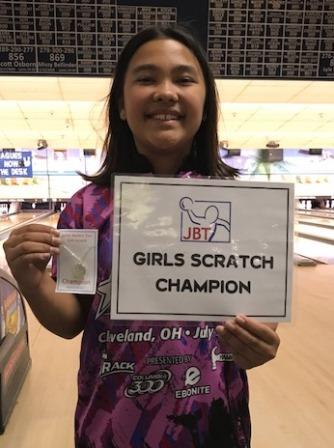 champs Marco Flores & Yael Salama with Richard Paul III, Sterling Lopez & Brandon Lim; Girls winner Avery Domaguin
Marco Flores and Yael Salama each earned their first JBT titles in exciting JBT Southern California Conference action at Kearny Mesa Bowl in San Diego.
Bowlers were challenged by a tricky short pattern that kept scores low most of the day, but the top scratch bowlers really started to figure it out towards the end, as the last few 'super survivors' really showed their talents. In the scratch division quarterfinal, Marco Flores rolled the second highest game of the event, a 276, and Solomon Salama was right behind with 252, joining qualifying leader Richard Paul, who "only" had 222 to form the final three. In that match, Flores blasted 256 and Richard fired 246, leaving Salama in third with 196. In the finale, it was Flores, untested in JBT title matches, sparing in the tenth to beat Paul, a northern California star with Team USA experience, 191-182, to earn his first career JBT title in style!
The handicap division was also eventually whittled down to three bowlers, and in that match, Sterling Lopez (247) and Solomon's sister Yael (226) advanced over Brian Lim (213) to set up the finale. In the title game, Lopez struggled a bit, while Yael finished with a flourish, doubling in the ninth and tenth for a 223-178 win over Lopez for her first career JBT title. If she keeps this up, they may start referring to Solomon as "Yael's brother" instead of the reverse!
The last thing Richard and Solomon wanted to do after their tough losses may have been to bowl again, but they put on a great show anyway in the U17 finale, with RPIII escaping 239-235, which also marked the first time Solomon has ever lost a U17 title match! In the Priority Girls scratch division, 10 year-old talent Avery Domaguin broke through with a 224-146 win over Ashley Wilcox for the first of what may be many girls scratch wins.
Huge thanks to MSC, Priority Girl, and Ebonite for significant contributions to the day's prize fund that help make So Cal JBT the place to be! Want in on all we have to offer? Just check out our schedule and come on down, that's all you have to do!
Kearny Mesa- final results and scholarship winners
11/4/2017
Scratch Division
rank
bowler
prize
1
Marco Flores
$300
2
Richard Paul III
$249
3
Solomon Salama
$125
4
Kyle Andrews
$100
5
Kevin Banaag
$80
6
Trevyr Geronimo
$60
7
Miguel Meraz
$50
8
Israel Ramirez
9
Michael Loera
10
Marc Villalobos
11
Garrett Lee
12
Harley Sweigart
$30
13
Axel Barajas
14
Jacob Camacho
15
Anthony Schanen
16
Trevor Thompson
17
Ryan Perry
18
Matt Chesnut
19
Brandon Millan
20
Ian Versaggi
21
Phillip Sauve
22
Gael Egana
23
Zack Long
24
Matthew Carpenter
$5
25
Austin Sugarman
26
Kennison Andrews
27
Kirk Chui
28
Marco Lerma
29
Marquan Rivers
30
Ryan Howiseon
$30
31
Tim Hill
32
Alberto Bernal
33
Ryan Lee
34
Renee Gentry
35
Jacey Opiana
Handicap Division
1
Yael Salama
$250
2
Sterling Lopez
$150
3
Brandon Lim
$125
4
Aleah Smith
$100
5
William Robbins
$80
6
Secilia Kalvelage
$60
7
Jared Gutgesell
$50
8
Braeden Phillips
$40
9
Dawson Reese
$75
10
Ashley Wilcox
$25
11
Amanda Hanson
$28
12
Manuel Aaron Gonzalez
13
Dillon O'Neil
14
Maheleah Potter
15
Hillari Hampton
$23
16
Avery Domaguin
$94
17
Mark Sauve
18
Clifford Robbins
19
Kara Templin
$30
20
Tyler Bodenhamer
21
Lexi Cassman
22
Justin Phillips Jr
23
Kyle Perry
24
Allison Azvedo
25
Katie Kipler
26
Jaclyn Azvedo
27
Yairi Lubag
28
James McGough
29
Joshua Abigania
30
Andrea Martinez
31
Kason Xayavong
32
Elias O'Hollaren
33
Aislinn Lubag
$15
34
Riley Christy
35
Cameron Criss
36
Katelyn Abigania
37
Patrick Sablan
38
Brian Erickson
39
Kaitlynn Yukihiro
40
Brandon Criss
41
Gage Baker
$5
42
Erik Hagen
43
Shane Howard
44
Emily Cheesman
45
Zach Greim
46
Silas Phillips
47
Caleb Rothstein
48
Simon Ortega
49
Lindsay Greim
50
Chris Hill
High Games
Scratch
Handicap
Paul 279
O'Neil 236
Flores 276
J Phillips 234
Paul 258
B Phillips 233
Flores 256
Lim 233
Salama 252
Wilcox 233
High Female
1
Domaguin -107*
2
Wilcox -173
3
Martinez -195
4
Kalvelage -200
5
A Azvedo -218
Qualifying Leaders
Scratch
Handicap
1
Paul +97
Lopez +45
2
Salama +80
O'Neil +37
3
Meraz +28
Domaguin +23
U-17
1
Paul +97*
2
Salama +80
3
Meraz +28
4
Flores -34
5
Reese -48
Round Leaders
Scratch
Handicap
1
Paul
W Robbins
2
Paul
W Robbins
3
Paul
W Robbins
4
Paul
Lopez
5
Paul
Lopez
Total Awarded This Event: $2,279