NM-TX DOUBLES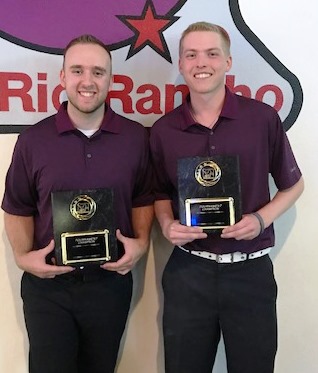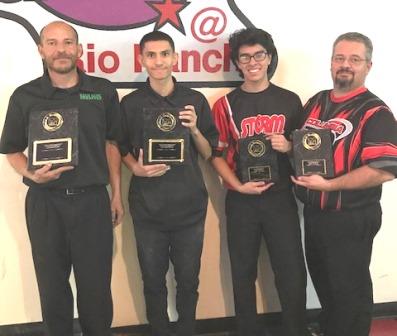 scratch champs Nick Devlin & Zach Wojciechowski; handicap champs JJ & Jayden Martinez & runners-up George Sandoval II and III
Two teams took different routes to the title in exciting action at the JBT NM-TX Conference Doubles Classic, hosted by Tenpins & More @ Rio Rancho.
Nick Devlin and Zach Wojciechoswki began a climb up the scratch division stepladder finals with a strike filled 265-259 win over the Colorado team of Cody Hanson and Dale Coffee. Zack and Nick were one pin worse the next game, but that was plenty for a 264-202 win over John Keller and Elizabeth Romero. The semifinal was a thriller, as Will Davis got the first hit but not the second one he needed, and Devlin and Wojo escaped 220-217 over Davis and Ken Clayton to get to the title match.
Top seeds Harley Sweigart and Marty Bedford cruised to the lead, thanks in big part to Harley being by far the individual leader of the day, highlighted by a 299 game in qualifying. However, all the carry they had enjoyed evaporated in the finale, and as a result Nick and Zach had an unexpected cruise in a 232-194 win, good for the 8th and 24th titles of their JBT careers respectively.
The brother duo of Bryce and Brandon Jensen began the handicap division stepladder finals with a 237-186 win over Dale Case and Christina Ward. The father-son team of George Sandoval II and III then escaped with a 225-219 round two victory. The Houdinis did it again in the semifinals, squeezing by Angela and Ronnie Romero 164-160 to advance to the title game.
Another father-son team, Jayden and JJ Martinez, took over the tournament with a big matchplay set. There would be no escape act for the Sandovals this time, as Jayden and JJ both remained strong in the title game, winning 203-179 for their first career JBT titles.
Big thanks to Steve Mackie and the team at Tenpins for another great job hosting our Tour. Over $2,600 in scholarships were awarded to bowlers of all ages and averages- want in on the fun? Just check out our schedule and come on down to the next JBT event, that's all you have to do!
NM-TX Doubles- final results and scholarship winners
12/22/2017
Scratch Division
rank
bowler
prize
bowler
prize
total
1
Zach Wojciechowski
$400
Nick Devlin
$400
2
Harley Sweigart
$212
Marty Bedford
$212
3
Will Davis
$186
Ken Clayton
$186
4
John Keller
Elizabeth Romero
$140
$140
5
Cody Hanson
$100
Dale Coffee
$100
6
Deo Benard
$12
Rick Benard
$12
7
Donius Jeffries II
Robert Barteau
8
Ben Stedman
JD Nance
9
Jonah Seawright
$35
Jacob Gill
$35
10
Carson Opela
Demos Quintana
11
Blayne Hurst
Tyler Albracht
12
Kyle Salazar
Brandon Jaramillo
$15
$15
13
Chris Payne
Tylor MacPhee
$19
$19
14
Justin Medina
Angel Ortega
15
Cole Poswiatowski
Billy Grant
16
Aileen Linares
Dana Miller-Mackie
17
Stephen Poswiatowski
Benjamin Groves
18
Paul Yoder
Michael Yoder
19
Corey Haught*
Dennis Helmick
20
Jake Helmick
Josh Helmick
21
Jacob Marquis
Richard Marquis
22
Joey MacPhee
Brandyn MacPhee
Handicap Division
rank
bowler
prize
bowler
prize
total
1
Jayden Martinez
$543
JJ Martinez
$543
2
George Sandoval III
$250
George Sandoval II
$250
3
Angela Romero
$200
Ronnie Romero
$200
4
Brandon Jensen
$75
Bryce Jensen

$75

$150
5
Dale Case
$50
Christina Ward
$50
$100
6
Kallista Fritts
$80
Duane Fritts
$80
7
Barbara Martinez
Jay Heffer
$80
$80
8
Josh Demick
Land Matthies
9
William Robbins II
William Robbins III
10
Autumn Vigil
Daniel Zelic
11
Montana Cdebaca
$45
Morgan Ellis
$45
12
Clifford Robbins
Kyle Perry
$60
$60
13
Yarelis Alvarez
Byron Alvarez
14
Hunter Newport
Brayden Clark
15
Carley Haught
Corey Haught
16
Katie McNeil
Kelly McNeil
17
Luis Garcia
Thomas Huerta
18
Gennamarie Martinez
Paul Carper
19
James McClung
Luke McClung
20
Paul Rieger
$29
Joseph Rieger
$41
$70
21
Lauren Jaramillo
Austin Eddington
22
Kara Thompson
Jordan Weber
23
James Huebner
Andy Huebner
24
Alex Harmon
Ronny Davis
25
Mariano Garcia
Nathan Ngyuen
26
Manny Rivera
Jerry Smith
27
Brian Erickson
David Erickson
28
Kloey Kielich
Karl Kielich
29
Eric Carriga
Michal Jamael
30
Eric Gauna
Matt Smith
31
Josie Herson
Tammy Luna
32
Conner Ziska
Taylor Ross
33
Alex Thompson
Don Thompson
34
Taylor Herson
Cassie King
35
Stephen Poswiatowski*
Matt Ross
36
Toby Cdebaca
Sara Vargas
37
Marc Herson
Josie Herson*
38
Gerilynn Delegarito
Geri Delegarito
39
Christopher Sanders
Marcus Sanders
High Games
Scratch
1
Sweigart 299
2
Sweigart 283
3
Hanson 275
4
Hanson 275
5
Opela 268
Sweigart 268
Handicap
1
Heffer 308
2
Sandoval 285
3
Jayden Martinez 277
4
L Garcia 271
5
Jordan Weber 266
Qualifying Leaders
Scratch
1
Benard-Benard +353
2
Davis-Clayton +307
3
Sweigart-Bedford +196
Handicap
1
Martinez-Martinez +208
2
Sandoval-Sandoval +177
3
Martinez-Heffer +173
Round Leaders
Scratch
1
Benard-Benard
2
Benard-Benard
3
Benard-Benard
4
Benard-Benard
5
Sweigart-Bedford
6
Benard-Benard
7
Sweigart-Bedford
Handicap
1
Newport-Clark
2
Martinez-Heffer
3
Martinez-Heffer
4
Martinez-Martinez
5
Martinez-Martinez
6
Martinez-Martinez
7
Martinez-Martinez
TOTAL AWARDED THIS EVENT: $2,697