PARKWAY BOWL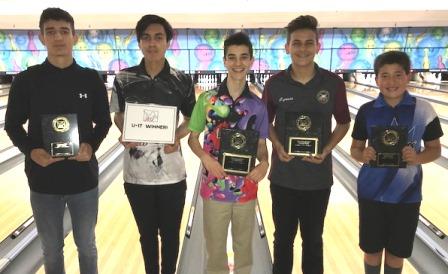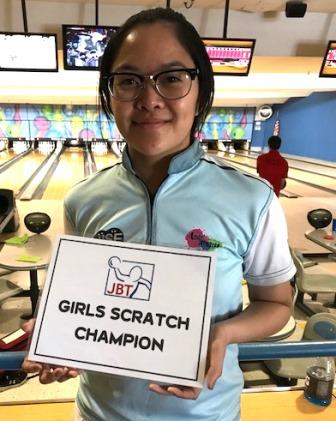 champs Solomon Salama & Cyruss Tehrani; Carlos Perez, Marco Flores, Zian Sasaki, Jacey Opiana
Everyone was visited by the Easter Bunny, but a JBT title is the ultimate easter egg, and Solomon Salama and Cyruss Tehrani earned that prize with exciting wins in JBT So Cal Conference action at Parkway Bowl.
Scores were high in both divisions, and the scratch division semifinals were commensurate with that, as Carlos Perez beat Miguel Meraz 247-225 in one semi, while Solomon Salama outstruck Cerell Cardines 279-257 in a brilliant match, to set up the finale.
In that final game, Salama was the bowler with the experience, and he used it to his advantage against first-time finalist Perez. He won the match 216-176, earning the 8th title of his still very young JBT career.
In the handicap division, Zian Sasaki escaped from Braeden Phillips 218-211 in one semifinal, while previous day's champ Cyruss Tehrani kept on rolling with a 224-196 win over Connor Steelmon-Hill, to set up the title game.
Tehrani's path to the finals was much tougher than yesterday, with a slow start and a lower handicap, but he just kept getting better as the day went on. He saved his best for last, beating Sasaki 279-224 in the championship game for his second consecutive victory. Zian, for his part, had more fun than any final game non-winner in recent history, watch the video on or YouTube to see!
Jacey Opiana won her first Priority Girls Scratch event, while Marco Flores took down Miguel Meraz to win the U17 subdivision.
Hundreds of dollars of bonus prizes were awarded in our annual easter egg hunt, and the Easter Bunnette made sure everyone went home with something- thanks to her and our other amazing sponsors and donors for making this the biggest and best hunt yet! Want in on all this unmatched fun> Just check out our schedule and come on down!
Parkway Bowl- final results and scholarship winners
4/1/2018
Scratch Division
rank
bowler
prize
1
Solomon Salama
$264
2
Carlos Perez
$125
3
Cerell Cardines
$75
4
Miguel Meraz
$50
5
Harley Sweigart
$147
6
Marco Flores
7
Jeff Rodda
8
Garrett Lee
9
Kyle Reed
10
Tim Hill
11
Matt Chesnut
12
Gael Egana
13
Zack Long
14
Costa Gastouniotis
15
Ricky Pollom
16
Jacey Opiana
$50
17
Matthew Carpenter
18
Leoj Chin
19
Nolan Am-Khong
20
Kyle Gilbert
$14
21
Trevyr Geronimo
22
Alberto Bernal
23
Bryce Gates
24
Zehv Dunster
25
Kaylee Am-Khong
26
Renee Gentry
27
Clifford Baltazar
28
Phillip Sauve
29
Dylan Ronk
Handicap Division
1
Cyruss Tehrani
$250
2
Zian Sasaki
$125
3
Braeden Phillips
$100
4
Connor Steelmon-Hill
$134
5
Lindsay Greim
$109
6
Silas Phillips
$40
7
Clifford Robbins
$30
8
Maheleah Potter
$80
9
Sterling Lopez
10
Carolina Alvarado
$25
11
Wade Macy
12
Kara Templin
$10
13
Simon Ortega
14
Nathan Chambers
15
Justin Phillips
$14
16
Cameron Criss
$60
17
James McGough
$29
18
Brad Erickson
19
Zach Greim
20
Hailey Shepherd
21
Brandon Rother
22
Ashley Wilcox
23
Kyle Perry
24
Yairi Lubag
$30
25
Secilia Kalvelage
26
Shane Howard
$5
27
Emily Schrider
28
Michaela Buhain
29
Avery Domaguin
30
Kody Kilber
$5
31
Dawson Reese
32
Brandon Criss
33
Jared Schiada
34
William Robbins
35
Brandon Lim
$15
36
Aislinn Lubag
$15
37
Tanner Ferguson
38
Yael Salama
39
Lawrence Buhain
40
Jacob McGough
41
Claudia Alvarado
42
Hillari Hampton
43
Parker Templin
44
Mark Sauve
45
Caleb Rothstein
46
Patrick Sablan
47
Ethan Chambers
48
Jazmine Wilson
49
Lathan Chin
High Games
Scratch
Handicap
1
Flores 290
Tehrani 313
2
Gastouniotis 279
Tehrani 297
3
Salama 279
S Phillips 294
4
Cardines 277
M Potter 290
5
Hill 270
S Lopez 285
High Female
1
C Alvarado +62
2
Opiana +32*
3
AM-Khong -26
4
Gentry -31
5
Wilcox -47
Qualifying Leaders
Scratch
Handicap
1
Sweigart +199
S Lopez +208
2
Cardines +148
C Alvarado +187
3
M Flores +146
B Phillips +182
U-17
1
Flores +146*
2
Meraz +113
3
Salama +93
4
C Robbins +93
5
Egana +73
Round Leaders
Scratch
Handicap
1
Flores
C Alvarado
2
Flores
C Alvarado
3
Flores
S Lopez
4
Cardines
S Lopez
5
Sweigart
S Lopez
Total Awarded This Event: $1,726