SAM'S TOWN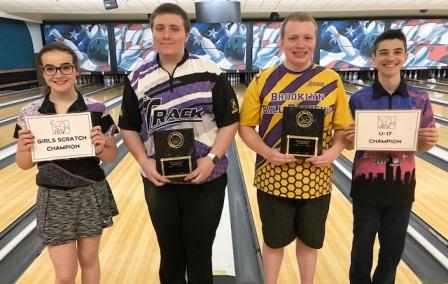 champs Joe Gerencser & William Robbins with Samantha Conti & Solomon Salama
Joe Gerencser and William Robbins scored big double points victories in excitng JBT Mojave Conference action at Sam's Town Bowling Center in Las Vegas.
Ryan Lee began the scratch division stepladder finals with a 226-211 win over all-conference points leader Harley Sweigart. Lee then kept the strikes coming in a 241-171 win over TJ Rock. Fellow Californian Solomon Salama, who had begun the day in perfect fashion with a 300 game good for a $1-00 bonus from Priority Girl Magazine, then stepped in and beat Lee 238-211 to advance to the title match.
Top seed Joe Gerencser had dominated the field, and this had all the makings of a high scoring title match on what's in theory a tough Rome pattern. Instead, it turned into one of our more intriguing title matches ever. They both rolled clean games filled with 9-counts, and Joes 3rd and 4th frame double proved to be the only one of the match. The 207-195 result was good for the 7th title of Gerencser's JBT career.
Dawson Reese continued his hot run this fall with a 269-184 win over Anthonie Pilcher-Zannone to begin the handicap division stepladder. Reese then defeated Crystalene Pineda who had a successful return to the Tour, 228-187. William Robbins then stopped Reese in a battle of 1-2 in the all-conference standings 216-201 to advance to the title game.
Top seed Destiny Johnson led the early rounds, then took back the lead in the last game from Robbins to earn the #1 spot. However, it was William with the better look in the finale, as he earned his fourth career JBT title with the win over Destiny.
Samantha Conti earned the day's Prioriy Girls Scratch title with a win over April McDonnell. The match of the tournament may have come in the U17 finale, as Solomon and TJ Rock exchanged strike for strike. A brutal solid-9 by Rock ended up being teh differene in teh game, as Solomon escaped 268-258 for another U17 win.
Big thanks to the team at Sams Town for their usual great job hosting our Tour. Want in on all the fun? Just check out our chedule and come on down, that's all you have to do!
Sam's Town- final results and scholarship winners
11/18/2017
Scratch Division
rank
bowler
prize
1
Joe Gerencser
$250
2
Solomon Salama
$282
3
Ryan Lee
$75
4
TJ Rock
$50
5
Harley Sweigart
$119
6
Cerell Cardines
7
Devyn Patalina
8
Kyle Reed
$5
9
Cristian Roque
10
Andrew Guba
11
Skyler McGowan
12
Zack Long
13
Ryan Perry
14
David Galvan
15
Jopfel Gafate
16
April McDonnell
$30
17
Kaylee Am-Khong
18
Daryus Alo
19
Kyle Wilson
20
Kyle Gilbert
21
Nolan Am-Khong
22
Kyle Rendon
23
Tim Hill
24
Jerod Walker
25
Kyle Andrews
26
Chris Tucker
27
Austin Sugarman
28
Phillip Sauve
Handicap Division
1
William Robbins
$200
2
Destiny Johnson
$100
3
Dawson Reese
$87
3
Crystalene Pineda
$50
5
Anthonie Pilcher-Zannone
$40
6
Kyle Perry
$10
7
Josh Harris
8
Caleb DeLosReyes
9
Hillari Hampton
$24
10
Clifford Robbins
11
Samantha Conti
$50
12
Kendall Bollea
13
Zachary Gonzalez
14
Darren Fletcher
15
Yael Salama
16
Dylan Mamer
17
Skylur Pinkus
18
Mark Sauve
$24
19
Brett McEachern
20
Alayna Purdy
21
Silas Phillips
22
Jason Aguon
23
Brandon Criss
24
Anthony Prevetti
$5
25
Sebastian Huffman
26
Camerin Criss
27
Noel Gregorich
28
Leanna Orlando
High Games
Scratch
Handicap
1
Salama 300
Conti 278
2
Cardines 279
Harris 269
3
Gerencser 278
Reese 269
4
Rock 266
W Robbins 266
5
Lee 265
DeLosReyes 265
High Female
1
Conti +1*
2
McDOnnell -37
3
AM-Khong -48
4
Pineda -65
5
Johnson -66
Qualifying Leaders
Scratch
Handicap
1
Salama +186
Pineda +109
2
Gerencser +183
Johnson +94
3
Rock +140
Conti +76
U-17
1
Salama +186*
2
Rock +140
3
Roque +60
4
Guba +50
5
Patalina -2
Round Leaders
Scratch
Handicap
1
Salama
Johnson
2
Salama
Johnson
3
Salama
Johnson
4
Salama
Conti
5
Salama
Pineda
6
Gerencser
Johnson
7
Gerencser
Robbins
8
Gerencser
Johnson
Total Awarded This Event: $1,300