SILVA LANES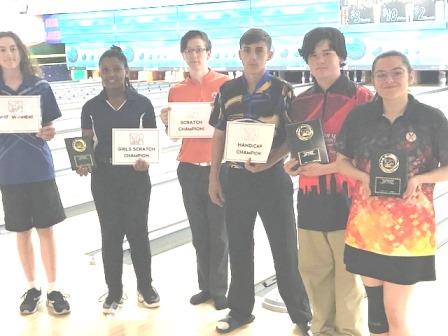 champs Gabriel Siegel & Alex Harmon with Deo Benard, Robin Prioleau, Isaiah Sandoval, Kallista Fritts
Gabriel Siegel and Alex Harmon claimed JBT titles to wrap up the NM-TX Conference regular season in exciting action at Silva Lanes in Albuquerque.
Robin Prioleau began the scratch division stepladder finals with a 212-171 win over Ryan Perry, who like Robin squeezed into tomorrow's Invitational with the top-5 finish. The next match was the first all-female scratch finals match in quite a while, and Priloeau was up for it, beating Adel Wahner, part of the national championship Vanderbilt team, with a big 265-212 score. Daniel Hall then continued his hot run lately with a 197-180 win over Prioleau to get to the title game.
Top seed Gabriel Siegel dominated the day, almost shooting 800 for the first three and never looking back. The finals pair proved to be tricky for both bowlers though, as they struggled to get a good look. Hall had a chance with a tenth frame double, but a stubborn 7-pin stoop on his first shot. The 187-171 final result was good for the second JBT title of Siegel's career.
Yarelis Alvarez began the stepladder finals with a 217-188 win over Michael Jamael. In a battle between good friends, Kallista Fritts then stopped Alvarez in a 216-215 thriller. Scores went way up in the semifinal match, with Isaiah Sandoval outdeuling Fritts 252-234 to move on to the final.
Alex Harmon has been paying his dues and improving all year, and it all came together for him here as he grabbed the top seed. He stayed just as strong in the finale, defeating Sandoval 240-205 to earn his first career JBT title.
Prioleau's excellent day continued with appearances in both subdivision finals. She went 1-for-2 in those, beating Wahner again for the Priority Girls Scratch win, and falling to Deo Benard in the U17 event.
Thanks as always to the terrific team at Silva for hosting our Tour. The field is now set for the NM-TX Invitational, with $1,000 top prizes up for grabs to the qualifiers!
Silva Lanes- final results and scholarship winners
5/19/2018
Scratch Division
rank
bowler
prize
1
Gabriel Siegel
$250
2
Daniel Hall
$125
3
Robin Prioleau
$75
4
Adel Wahner
$65*
5
Ryan Perry
$55
6
Deo Benard
$30
7
Will Davis
8
David Jepsen
$15
9
Brad Harvey
10
Ben Stedman
11
Matteo Bergonzi
12
Mariano Garcia
13
Aileen Linares
14
Zach Wojciechowski
15
Harley Sweigart
16
Carson Opela
17
Donius Jeffries
$28
18
Jon Walden
19
Blayne Hurst
20
Jonah Seawright
$15
21
Nathaniel Duran
22
Christopher Robles
23
Zach Harvey
24
Zack McFarlin
25
Christian Apolonio
26
Benjamin Groves
27
Rashaad Jordan
Handicap Division
1
Alex Harmon
$230
2
Isaiah Sandoval
$100
3
Kallista Fritts
$75
4
Yarelis Alvarez
$50
5
Michael Jamael
$55
6
George Sandoval
$30
7
Eric Gauna
$20
8
Christopher Bennett
$15
9
Lucas Naaz
$15
10
Gerilynn Delegarito
11
Josie Herson
12
John Green
13
Lane White
14
Alex Thompson
15
Areena Rogers
$20
16
Coleton Rogers
17
Taylor Herson
18
Kyle Perry
$45
19
Skyler Sorey
20
Luke Gartner
21
Carlos Estrada
22
Clifford Robbins
$45
23
Angela Romero
24
Jordan Womble
25
Alek Rakov
26
Olive Hooten
$15
27
Faith Pinter
28
Justin Weddige
29
Alec Ortiz
30
Kloey Kielich
$20
31
Luis Garcia
32
Kara Thompson
33
William Robbins
34
Jeremy Perlinski
35
Tylor MacPhee
36
Jayden Martinez
$10
37
Kaylee Haynes
38
Michael Newlon
39
Kyle Hodgkins
High Games
Scratch
Handicap
1
M Garcia 290
Harmon 293
2
Siegel 282
Gauna 287
3
Benard 268
Naaz 272
4
Benard 265
Bennett 264
5
Prioleau 265
G Sandoval 264
Girls Scratch side event
1
Prioleau +116*
2
Wahner +80
3
Linares +26
4
Alvarez +17
5
Linares +11
U-17 scratch side event
1
Benard +120*
2
Priloeau +116
3
Jepsen +53
4
M Garcia +38
5
W Davis +37
Round Leaders
Scratch
Handicap
1
Jepsen
Gauna
2
Siegel
Gauna
3
Siegel
Alvarez
4
Siegel
Fritts
5
Siegel
G Sandoval
6
Siegel
Harmon
7
Siegel
Harmon
8
Siegel
Harmon
TOTAL AWARDED THIS EVENT: $1,503