SOUTH POINT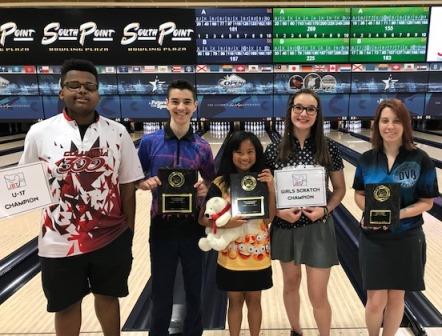 champs Solomon Salama & Aislinn Lubag with TJ Rock, Samantha Conti, Leanna Orlando
Two Californians continued outstanding seasons with big wins in JBT Mojave Conference action at the South Point Bowling Plaza.
All-Conference points leader Harley Sweigart had to pull a Houdini act just to make the cut (268 game 5), and again to make the ladder (279 game 8), and then took advantage with a brilliant climb up the ladder, starting with a 237-156 win over Zack Long. Harley then squeezed by 22-223, and then in a terrific match from both players, came back against all-time titles leader Cortez Schenck 247-246 to advance.
Whatever records Cortez has set and Harley is challenging, top seed Solomon Salama has every chance to smash them all. He has had trouble getting by Harley though, including being swept in title matches by him the week before in Lakewood. However, Solomon loves the Plaza, having won Main Event here in December, and he avenged last week's losses with a big 269-227 win, becoming the 42nd bowler in our history to earn 10 JBT titles- wow!
Leanna Orlando was busy simultaneously climbing the handicap stepladder, beginning with a 196-185 win over Zach Greim. Orlando then stopped Hillari Hampton 202-178, and followed with a 193-179 victory over Noel Gregorich to reach the title game.
Aislinn Lubag has already won two titles before turning ten years old, and was fantastic all day here trying to win a third. In a close game, she was able to do exactly that, holding off Orlando 217-207 for JBT title #3 in her young career. It was the first for her bear though.
Samantha Conti continued her success in the Priority Girls Scratch subdividion, with a 187-163 win over Orlando in that event. U17 was taken by TJ Rock, who in an entertaining match just squeezed by Salama 217-215.
Thanks as always to the crew at South Point for a great job hosting our Tour in this amazing facility. Want in on all this fun? Just check out our schedule and come on down!
South Point- final results and scholarship winners
6/9/2018
Scratch Division
rank
bowler
prize
1
Solomon Salama
$325
2
Harley Sweigart
$135
3
Cortez Schenck
$119
4
Cerell Cardines
$50
5
Zack Long
$70
6
Joe Gerencser
$30
7
Kevin Banaag
8
Tim Hill
9
TJ Rock
10
Dominic Olivares
11
Sergio Torres
12
Louis LUna
13
David Galvan
14
Kyle Reed
$15
15
Skyler McGowan
16
Kyle Gilbert
17
Joshua Mabry
18
April McDonnell
19
Nolan Am-Khong
20
Garrett Lee
21
Tyler Boe
22
Kaylee Am-Khong
23
Vanessa Fuzie
24
Gabriel Siegel
25
Austin Sugarman
26
Devyn Patalina
27
Jopfel Gafate
28
Daryus Alo
29
Kyle Rendon
30
Trveyr Geronimo
31
Christian Kindt
32
Ruben Mendoza
33
Clifford Baltazar
Handicap Division
1
Aislinn Lubag
$263
2
Leanna Orlando
$150
3
Noel Gregorich
$100
4
Hillari Hampton
$113
5
Zach Greim
$65
6
Yael Salama
$40
7
David Mendoza
$30
8
Ryland Gregorich
$50
9
Silas Phillips
10
Brandon Criss
11
Clifford Robbins
12
Caleb Rothstein
$15
13
Eric Gauna
$72
14
Zach Gonzalez
$100
15
Samantha Conti
$50
16
Alexis Lee
17
Jazmine Wilson
$30
18
Cameron Criss
$44
19
Nathan Chambers
20
Hannah Davis
21
Destiny Johnson
$14
22
Mark Luzanilla
23
Savanna Orlando
24
Sebastian Huffman
25
Emily Cheesman
26
Adrian Yamanoha
27
Dawson Reese
$15
28
Faythe Reid
29
Afton Lords
30
Mason Snow
31
Josh Weber
32
Josue DeAlba
33
Yairi Lubag
34
Connor Steelmon-Hill
$15
35
Gavin Holter
36
Tanner Ferguson
37
Brett McEachern
38
Lindsay Greim
39
Jadeyn Mabry
40
Kyle Perry
41
William Robbins
42
Zackary Gerkenstorn
43
Darren Fletcher
44
Tyler Hedges
$5
45
Justin Worthington
46
Crystalene Pineda
High Games
Scratch
Handicap
1
Schenck 297
C Robbins 265
2
Sweigart 279
N Gregorich 261
3
Salama 269
A Lubag 261
4
Sweigart 268
A Lubag 254
5
Salama 268
N Gregorich 249
High Female
1
Conti -19*
2
L Orlando -47
3
McDonnell -72
4
Fuzie -73
5
AM-Khong -91
Qualifying Leaders
Scratch
Handicap
1
Schenck +176
A Lubag +119
2
Salama +145
N Gregorich +94
3
Cardines +114
L Orlando +73
U-17
1
Salama +145
2
Rock +30*
3
Banaag -17
4
Conti -19
5
Luna -52
Round Leaders
Scratch
Handicap
1
Galvan
Y Lubag
2
Salama
A Lubag
3
Cardines
A Lubag
4
Salama
A Lubag
5
Schenck
A Lubag
6
Salama
N Gregorich
7
Cardines
A Lubag
8
Salama
A Lubag
Total Awarded This Event: $1,915