TEXAS STATION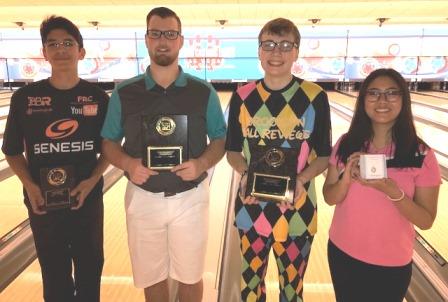 champs Harley Sweigart & Clifford Robbins with U17 winner Andrew Guba & Priority Girls Scratch winner Crystalene Pineda
One JBT bowler reached an elite milestone, while the other finally broke into the winners circle, in exciting Mojave Conference JBT action at Texas Star Lanes in North Las Vegas.
Garrett Lee got the scratch division stepladder finals off to a thrilling start with the first ten strikes in a 288-203 win over Andrew Guba. Cerell Cardines then turned the tables on Lee with a 247-216 win. Strikes kept raining down in the semifinals, as Joe Gerencser blasted ten of them in a 276-254 win over Cardines to advance to the title match.
So far, every winner in the ladder threw a big game to advance, only to have a huge game thrown against him in the next match, and fortunately for top seed Harley Sweigart, form held up in the title match as well. Sweigart, part of yesterday's winning doubles combo, fired ten strikes of his own in a 274-184 win over Gerencser for the title. The victory (and weekend sweep) makes him just the 7th bowler in JBT history to join the 30-title club- wow!
Ruben Mendoza was victorious in round one of the handicap finals, defeating early all-conference threat Dawson Reese 221-205. Caleb Rothstein then threw a big game to top Mendoza 241-181. Hannah Davis then made her first finals a success with a 227-172 win over Caleb to move on to the title match.
Clifford Robbins has been oh-so-close to that elusive first JBT title, including a doubles runner-up finish the day before. What's worse, big brother William has been winning everything in sight lately. However, nobody was cheering harder for Cliff than William himself, and the close-knit family finally got another brother in the victory column, as Robbins got the spare in the tenth he needed for a 201-196 victory and JBT title #1.
The Priority Gilrs Scratch winner of the day was Pineda, as she stopped Kaylee Am-Khong 194-183 in that final. Guba, who has been snakebit in regular finals, finally got a win in the U17 subdivision, beating Skyler McGowan 240-165.
Big thanks as always to the great team at Texas for hosting our Tour. Over $3,400 in scholarships were awarded- come on out to teh next JBT event to try to get your piece!
Texas Station- final results and scholarship winners
12/2/2017
Scratch Division
rank
bowler
prize
1
Harley Sweigart
$335
2
Joe Gerencser
$125
3
Cerell Cardines
$75
4
Garrett Lee
$50
5
Andrew Guba
$30
6
Jerod Walker
7
Skyler McGowan
8
Kyle Gilbert
9
Cristian Roque
10
Zack Long
11
Nolan Am-Khong
12
Dominic Olivares
13
Nolan Sepulveda
14
Sergio Torres
15
David Galvan
16
Kyle Reed
17
Sam Espiritu
18
Kaylee Am-Khong
$25
19
Daryus Alo
20
Devyn Patalina
21
Kyle Rendon
22
April McDonnell
23
Jopfel Gafate
24
Austin Sugarman
Handicap Division
1
Clifford Robbins
$200
2
Hannah Davis
$100
3
Caleb Rothstein
$103
3
Ruben Mendoza
$40
5
Dawson Reese
$44
6
Alayna Purdy
$20
7
Makenzie Derezotes
8
Brandon Criss
$14
9
William Robbins
$10
10
Noel Gregorich
11
Avery Domaguin
$30
12
Crystalene Pineda
$50
13
Zach Greim
$15
14
Kyle Perry
$50
15
Sebastian Huffman
16
Cameron Criss
$29
17
David Mendoza
18
Leanna Orlando
19
Katelyn abigania
20
Ryland Gregorich
$15
21
Marisol Ramirez-Buckles
22
Kendall Bollea
$19
23
Zachary Gonzalez
24
Faythe Reid
25
Anthony Prevetti
$15
26
Connor Steelmon-Hill
27
Destiny Johnson
28
Hillari Hampton
29
Darren Fletcher
30
Brett McEachern
31
Tanner Ferguson
32
Jason Aguon
33
Samantha Conti
High Games
Scratch
Handicap
1
Lee 288
Reese 258
2
Lee 277
Reese 257
3
Gerencser 276
C Robbins 252
4
Seigart 274
H Davis 248
5
Sweigart 268
W Robbins 244
High Female
1
Am-Khong -59
2
Pineda -87*
3
Domaguin -94
4
McDonnell -135
5
Derezotes -164
Qualifying Leaders
Scratch
Handicap
1
Sweigart +192
Reese +110
2
McGowan +109
R Mendoza +81
3
Guba +76
C Robbins +79
U-17
1
McGowan +109
2
Guba +76*
3
Reese +60
4
Lee +16
5
Roque +13
Round Leaders
Scratch
Handicap
1
Gerencser
C Robbins
2
Sweigart
C Robbins
3
Sweigart
C Robbins
4
McGowan
C Robbins
5
Sweigart
Reese
6
Sweigart
C Robbins
7
Sweigart
C Robbins
8
Sweigart
C Robbins
Total Awarded This Event: $1,394