TRIANGLE BOWL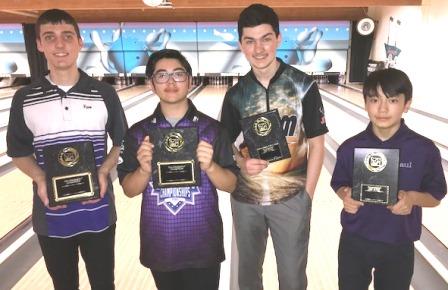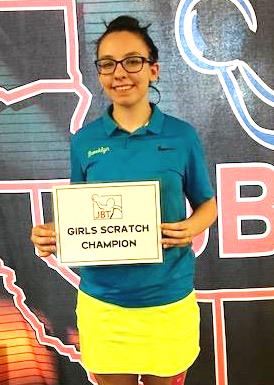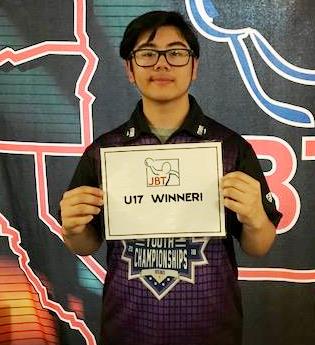 champs Ashton Yamasaki & Ryan Smerud with Hunter Bower, Paul Rosales, Brooklyn Boudreau, Yamasaki
Ashton Yamasaki and Ryan Smerud teamed up to win JBT titles in exciting Pacific Northwest Conference action at Triangle Bowl in Longview.
In our popular 'mix it up' format, scratch and handicap bowlers are paired up after qualifying to form doubles teams, who then compete together the rest of the way. Tommie McNeal and Lohrghan Ziegler began the baker format stepladder finals wioth a 174-161 win over Makana Wong and Cosmo Castellano. Tyler Bow and Isaac Maikolff then stopped McNeal and Ziegler 203-187. In a higher scoring semifinal, Yamasaki and Smerud halted Boe and Mailkoff 239-210 to move on to the title game.
Hunter Bower and Paul Rosales both had excellent qualifying rounds to become the top seeded team, and held on to that lead comfortably through round two. Neither team could get a whole lot going in the finale, but in the end Ryan and Ashton came through with the strikes for a 198-181 win over Hunter and Paul for the championship. It was Smerud's second win in a rown, and Yamasaki's first career JBT title.
Ashton continued to have Hunter's number in the U17 subdivision, beating him 213-123 for that event. Brooklyn Boudreau won her first Priority Girls Scratch event with a 242-166 win over Shannon Bliquez.
Big thanks to Beau and the whole team at Triangle for their usual fantastic hosting job. Want in on all this fun for all ages and averages? Just check out our schedule and come on down!
Triangle Bowl- final results and scholarship winners
5/12/2018
Mix-It-Up Finalists
rank
bowler
prize
1
Ashton Yamasaki ($250) & Ryan Smerud ($215)
$465
2
Hunter Bower ($135) & Paul Rosales ($115)
$250
3
Tyler Boe ($101) & Isaac Mailkoff ($75)
$176
4
Tommie McNeal ($50) & Lohrghan Ziegler ($50)
$100
5
Makana Wong ($66) & Cosmo Castellano ($40)
$106
6
Brian DeLuisa-Anderson & Ben Heisler ($44)
$44
7
Jake Mullen & Colt Jance ($15)
$15
8
John Malone ($14) & Jonathan Lorey
$14
9
Jacob Frazier & Jessica Holbrook ($29)
$29
10
Elijah Chin & Noah Sicard
11
Brooklyn Boudreau ($50) & Silas LeBlanc
$50
12
Reagan Lorey & Aiden Wong
13
Donovan Grubaugh & Shannon Bliquez
14
Tyler Coates & Aubrey Harding
Scratch Division other finishers
rank
bowler
15
Isaac Richardson
$5
16
Payton Edeards
17
Ryan Nikolas
18
Andi Valdez
19
Aidghan Ziegler
20
Collin Young
21
Preston Craig
Handicap Division other finishers
15
Gabriel Potter
$59
16
Olivia Kolppa
17
Bud Sicard
18
Hannah Johnson
19
Kailee Wilcox
20
Andrew Martin
$15
21
Michael Strothman
22
Anna Gatlin
23
Derek Haight
24
Bryan Zeutenhorst
25
Paul LeMay
26
Alejandro Moser-Hernandez
27
Colin Stoops
28
AJ Hooper
29
Alex Perini
30
Payton Bower
31
Quinn Shaner
$5
32
Tyler DeLorm
33
Mary Sicard
34
Hilary Zuniga
35
Peyton Freund
High Games
Scratch
Handicap
1
Yamasaki 279
Mailkoff 302
2
Bower 278
Rosales 284
3
Bower 268
LeBlanc 275
4
Mullen 255
Heisler 261
5
Wong 248
Smerud 257
Girls scratch side event
1
Boudreau -57*
2
Bliquez -74
3
Lorey -77
4
Holbrook -80
5
Kolppa -116
U-17 scratch side event
1
Bower +145
2
Yamasaki +40*
3
DeLuisa-Anderson +1
4
Chin -10
5
Frazier -16
Round Leaders
Scratch
Handicap
1
Chin
Smerud
2
Yamasaki
L Ziegler/Castellano
3
Bower
Mailkoff
4
Bower
L Ziegler
5
Bower
Rosales
6
Bower
Rosales
7
Bower
Rosales
8
Bower
Rosales
TOTAL AWARDED THIS EVENT: $1,323