TRIANGLE BOWL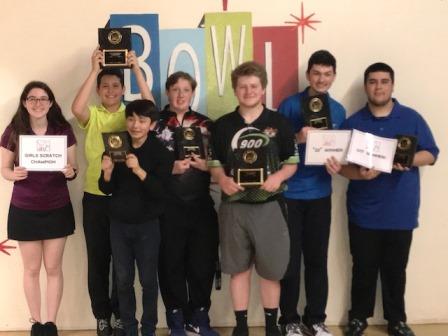 champs Tyler Coates & Alejandro Moser-Hernandez with Reagan Lorey, Paul Rosales, Michael Strothman, Hunter Bower, & Isaac Mailkoff
Tyler Coates claimed his first scratch title, while Alejandro Moser-Hernandez just keeps on winning in handicap, in exciting JBT Pacific Northwest Conference action at Longview's Triangle Bowl.
After five qualifying games, bowlers moved on to the 'pick your survivor' format, with the low bowler eliminated on each pair game by game, and those pairs chosen by the higher seeded players. Hunter Bower continued his great bowling at Triangle by cruising to the top scratch seed, and then getting by all his matches, including a 188 semifinal game that moved him on to the title match. Meanwhile Tyler Coates was getting stronger each game, and blasted a 236 on the challenging pattern to also advance, while John Malone bowed out in third with 154, still his highest career scratch finish.
As well as Hunter bowled all weekend, a victory eluded him, and unfortrunately for him it would continue to do so. Coates came out firing in the title game, and last season's handicap division Bowler of the Year completed his transition into scratch with a brilliant 235-152 win, and his first scratch division JBT title.
The handicap division was carved from 15 down to three survivors, and in that penultimate match which featured all three bowlers in the top five in points, Moser-Hernandez and Michael Strothman advanced, while points leader Paul Rosales bowed out in third. Down to the final two, both bowlers rolled well, but it was Alejandro, who has been successful at many events around the Northwest this season, add another JBT title to his career with a 224-207 win over Strothman.
Regan Lorey continued her dominant season in the Prioirty Girls Scratch subdivision with a win over Andi Valdez. A very entertaining U17 finale saw Isaac Mailkoff defeat Hunter Bower 235-230.
Beau and his staff at Triangle are so great for tournament bowling, and we appreciate the opportunity to visit once again! If you want in on all this fun, just check out our schedule and come on down!
Triangle Bowl- final results and scholarship winners
5/13/2018
Scratch Division
rank
bowler
prize
1
Tyler Coates
$250
2
Hunter Bower
$278
3
John Malone
$75
4
Jake Mullen
$65
5
Makana Wong
$40
6
Ashton Yamasaki
$30
7
Tyler Boe
$28
8
Tommie McNeal
9
Bradley Baltazar
10
Jacob Frazier
11
Aaron Althoff
12
Jerry Jennings
13
Isaac Richardson
$5
14
Brian DeLuisa-Anderson
15
Andi Valdez-Hicks
$25
16
Reagan Lorey
$50
17
Aidghan Ziegler
18
Brooklyn Boudreau
19
Elijah Chin
20
Payton Edwards
21
Christopher Lippy
22
Preston Craig
Handicap Division
1
Alejandro Moser-Hernandez
$200
2
Michael Strothman
$100
3
Paul Rosales
$60
4
Isaac Mailkoff
$40
5
Lohrghan Ziegler
$30
6
Alex Perini
$20
7
Tyler DeLorm
8
Ryan Smerud
$73
9
Colt Jance
10
Cosmo Castellano
11
Andrew Martin
$45
12
Aiden Wong
13
Payton Bower
$15
14
Aubrey Harding
$15
15
Silas LeBlanc
16
Jonathan Lorey
17
Bryan Zeutenhorst
$15
18
Hunter Setera
19
Lailani Wallin
$15
20
Olivia Kolppa
21
Jessica Holbrook
22
Hannah Johnson
23
Ben Heisler
24
Hilary Zuniga
25
Anna Gatlin
26
Derek Haight
27
Logan Setera
28
Shannon Bliquez
29
Paul LeMay
High Games
Scratch
Handicap
1
Bower 268
Castellano 260
2
Coates 265
Mailkoff 258
3
Baltazar 258
H Setera 255
4
Frazier 245
Castellano 255
5
Bower, Mullen 245
L Ziegler 253
Girls scratch side event
1
Valdez -108
2
Lorey -114*
3
Boudreau -157
4
Kolppa -169
5
Holbrook -195
U-17 scratch side event
1
Bower +181
2
Mailkoff +43
3
Coates +33
4
Fazier +25
5
Malone +9
Round Leaders
Scratch
Handicap
1
Frazier / Bower
Kolppa
2
Frazier
L Ziegler
3
Bower
DeLorm
4
Bower
Mailkoff
5
Bower
Mailkoff
TOTAL AWARDED THIS EVENT: $1,425