VICTOR BOWL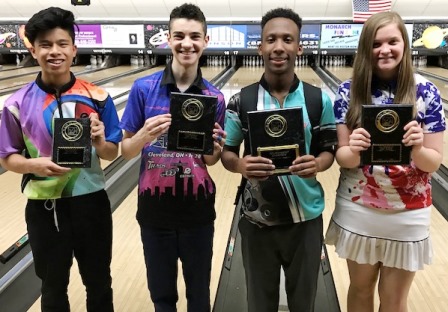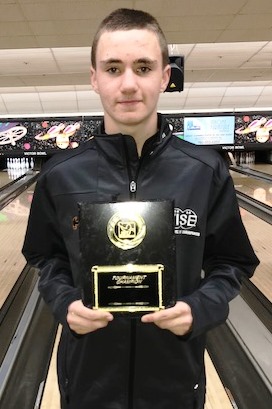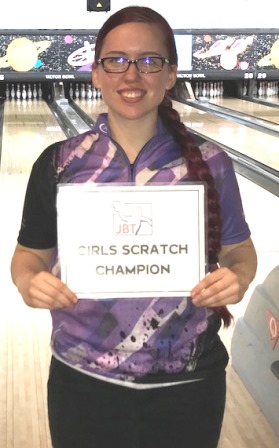 scratch champ Marquan Rivers with Leoj Chin, Solomon Salama, and Emily Cheesman; handicap champ Dawson Reese; Priority Girls Scratch winner April McDonnell
Marquan Rivers had to truly battle for his second win, while Emily Cheesman earned her first trip to the winner's circle, in exciting JBT dual conference action at Victor Bowl.
Emily began a run up the handicap division stepladder finals with a 221-203 win over Yairi Lubag. Cheesman then got past Sebastian Huffman 237-206, and followed with a 235-229 thriller over William Robbins to move on to the title game.
The man chasing William for the all-conference points lead, Dawson Reese, used a big semifinal set to grab the top seed. In a very well bowled match by both bowlers, Reese came up with a 252-242 win for the 5th title of his JBT career, and inched towards Robbins in what is sure to be a great season-long battle.
Scratch bowlers were tested by the popular but exhausting Battle Bag, a matchplay format where game by game, the winning bowler takes away a ball from the losers' arsenal. Twelve battlers were carved down to four, and in those matches #3 Solomon Salama got by #7 Louis Luna 242-151, while #8 Rivers, suffering from a very debilitating leg cramp, was able to get by #13 TJ Rock, who earlier fired a 299 for the high game of the event, 181-157, to set up the title match.
Aided by the 'mustard cure', Marquan recovered enough to continue at about half speed in the title match. In a brave effort, he was able to defeat Solomon 193-184 for the second title of his JBT career.
April McDonnell cruised to the day's Priority Girls scratch win with a 226-162 title match win over Samantha Conti. Salama found some measure of revenge with a win over qualifying leader Leoj Chin for the day's U17 crown.
Big thanks to the team at Victor for a great job hosting our event. Want in on all this fun for all ages and averages? Just come on down to the next JBT event, that's all you have to do!
Victor Bowl- final results and scholarship winners
3/3/2018
Scratch Division
rank
bowler
prize
1
Marquan Rivers
$250
2
Solomon Salama
$139
3
Louis Luna
$100
4
TJ Rock
$75
5
Leoj Chin
$60
6
Cerell Cardines
$50
7
Skyler McGowan
8
Nolan Am-Khong
9
Halrey Sweigart
10
Ryan Lee
11
Zack Long
$43
12
April McDonnell
$103
13
Gael Egana
14
Kyle Wilson
15
Ricky Pollom
16
Josh Mabry
17
Kaylee Am-Khong
18
Kyle Gilbert
19
Joe Geencser
20
Alberto Bernal
21
Sam Espiritu
22
Dominic Olivares
23
Matt Chesnut
24
Tim Hill
10
25
Cristian Roque
26
Daryus Alo
27
Trevyr Geronimo
28
Clifford Baltazar
29
Austin Sugarman
30
Phillip Sauve
31
Kyle Reed
32
Marco Lerma
$5
Handicap Division
1
Dawson Reese
$250
2
Emily Cheesman
$125
3
William Robbins
$100
4
Sebastian Huffman
$90
5
Yairi Lubag
$120
6
Crystalene Pineda
$50
7
Braeden Phillips
$40
8
Zachary Gonzalez
$30
9
Clifford Robbins
$49
10
Alayna Purdy
11
Nathan Chambers
12
Kendall Bollea
$44
13
Samantha Conti
$54
14
Avery Domaguin
$15
15
Erik Hagen
16
Miranda Emery
17
Brett McEachern
18
Haylee Carlos
19
Caleb Rothstein
20
Tyler Schriebman
21
Zach Greim
$7
22
Jason Aguon
23
Simon Ortega
24
Aislinn Lubag
25
Elias Luna
26
Lathan Chin
$7
27
Secilia Kalvelage
$15
28
Samantha Wiley
29
Dewine Moore Jr
30
Katie Kipler
31
Dillon O'Neil
32
Silas Phillips
33
Manuel Gonzalez
34
Amanda Hanson
$29
35
Cameron Criss
36
Madison Wellman
37
Lindsay Greim
38
Mark Sauve
39
Leanna Orlando
40
Macy Wells
41
Brian Erickson
42
Yael Salama
43
Justin Philips Jr
44
Ethan Chambers
45
Brian Baumgartner
46
Courtney Wells
47
Bryce Robinson
High Games
Scratch
Handicap
1
Rock 299
Cheesman 304
2
L Chin 279
Pineda 296
3
Egana 269
O'Neil 290
4
Luna 269
C Robbins 283
5
Lee, Sweigart 268
Schriebman 279
High Female
1
McDonnell +96*
2
Conti +62
3
Am-Khong +52
4
Pineda -39
5
Emery -60
Qualifying Leaders
Scratch
Handicap
1
Chin +196
W Robbins +199
2
Cardines +176
Reese +183
3
Salama +161
Huffman +164
U-17
1
Chin +196
2
Salama +161
3
Reese +143
4
Luna +121
5
Rivers +103
Round Leaders
Scratch
Handicap
1
Rock
B Phillips
2
Rock
B Phillips
3
Rock
Huffman
4
Salama
W Robbins
5
L Chin
W Robbins
6
W Robbins
7
Reese
8
Reese
Total Awarded This Event: $1,860