ACME BOWL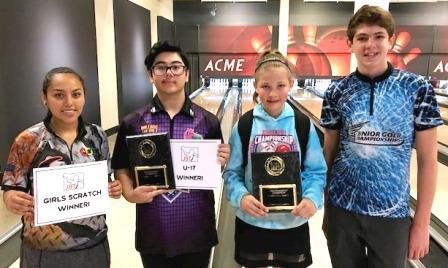 champs Ashton Yamasaki & Payton Bower with Evan Smith & Bud Sicard
Ashton Yamasaki remained red hot to start the new season, while Payton Bower joined her brother as JBT champs, in exciting Pacific Northwest Conference action at Acme Bowl in Tukwila.
Yamasaki was pretty dominant the day before at Secoma, but completely ran over the field on a totally different pattern here. After gaining the #1 seed in qualifying, he beat Bradley Baltazar and Brian DeLuisa-Anderson to return to the finals. He'd face Tommie McNeal, who recovered from a rough first game to qualify third, then beat Ethen Maxwell and Hunter Bower to reach the final.
In the title game, both bowlers opened early, but Yamasaki got the bigger string going after that, and his 234-206 win was good for his third career JBT win, and second straight to open the season.
Four non-champs reached the semifinals in the handicap division, and in those matches, Payton Bower beat Stacy Griffith, and Matthew Lennox stopped Ruth Magana to set up the title match,
Lennox bowled a very credible game in the finale, but Payton came up with a 209 scratch, her JBT career-high, to defeat Matthew and capture her first JBT title.
Evan Smith has started the Priority Girls season red hot as well, this time beating Samantha Strehle to win her second straight event. Yamasaki completed his dream day with a win over Bud Sicard for the U17 event win.
Big thanks to the team at Acme for hosting our Tour. Want in on all the fun and action for all ages? Just check out our schedule and come on down!
Acme Bowl- final results and scholarship winners
8/27/2017
Scratch Division
rank
bowler
prize
1
Ashton Yamasaki
$250
2
Tommie McNeal
$167
3
Brian DeLuisa-Anderson
$75
4
Hunter Bower
$60
5
Tyler Boe
$64
6
Makana Wong
$14
7
Ethen Maxwell
8
Bradley Baltazar
9
Jordan Jonker
10
Andrew Martin
11
Aidghan Ziegler
12
Tyler Coates
13
Michael Strothman'
14
Simon Dyck
$5
15
Evan Smith
$50
16
Liam McNamara
17
Jessica Holbrook
$10
18
Tyler DeNune
19
John Malone
20
Alejandro Moser-Hernandez
21
Isaac Mailkoff
22
Payton Edwards
23
Grace Gibbs
24
Paul Rosales
25
Sam Flaisig
Handicap Division
1
Payton Bower
$265
2
Matthew Lennox
$125
3
Ruth Magana
$100
4
Stacy Griffith
$75
5
Ryan Smerud
$132
6
Bud Sicard
$50
7
Mikayla Bumpus
$40
8
Madelyn San Soucie
$30
9
Aubrey Harding
10
Hailey Lennox
11
Cadin Cervine
$44
12
Bryan Zeutenhorst
$15
13
Lohrghan Ziegler
14
Hannah Johnson
15
Carter Humphries
16
Ben Heisler
17
Kierra Wilcox
18
Emily Strehle
19
Aiden White
20
Paul Lemay
21
Silas LeBlanc
22
Kailee Wilcox
23
Jacob Lennox
24
Hannah Hamilton
25
Dalton Mason
26
Shelby Unger
27
Joshua Iverson
28
Jasmine Emswiler
29
Samantha Strehle
$25
30
Lucas LeBlanc
31
Jaadyn Humphries
32
JT Taylor
33
Cosmo Castellano
34
Anna Gatlin
35
Colt Jance
36
Liam Hardman
37
Skyler Broussard
38
Lailani Wallin
39
Derek Haight
40
Jonathan Lorey
41
Noah Sicard
42
Guillermo Castaneda
43
Mary Sicard
44
Aiden Wong
45
Ashley Kay Nelson
46
Trevor Wodesky
Qualifying Leaders
Scratch
Handicap
1
Yamasaki +102
Smerud +174
2
Boe +53
B Sicard +156
3
McNeal +49
A Harding +154
High Games
Scratch
Handicap
1
Baltazar +279
A Harding 296
2
DeLuisa-Anderson 276
Smerud 295
3
Yamasaki 264
Taylor 275
4
Yamasaki 264
Broussard 273
5
J Jonker 253
Castellano 267
Girls Scratch side event
1
E Smith -100
2
S Strehle -111
3
Harding -126
4
Magana -133
5
Holbrook -142
U-17 scratch side event
1
Yamasaki +102*
2
B Sicard -9
3
DeLuisa-Anderson -22
4
Maxwell -22
5
Baltazar -42
Round Leaders
Scratch
Handicap
1
Yamasaki
B Sicard
2
Yamasaki
Smerud
3
Yamasaki
Smerud
4
Yamasaki
Smerud
5
Yamasaki
Smerud
TOTAL AWARDED THIS EVENT: $1,521