AZ DOUBLES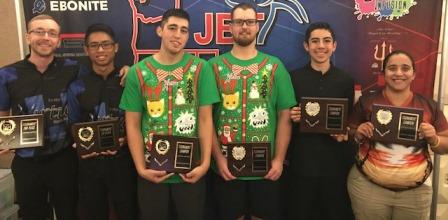 champs Eric Hatchett & Harley Sweigart, and Emily Ornelas & Ricardo Leyva
Three veterans and one rookie earned JBT titles in exciting action at the annual Arizona Conference JBT Doubles event, hosted by Glenfair Lanes.
The scratch division stepladder finals began with Craig Spencer and Justin Song defeating Chris Mayes and Josh Mullen 256-195. The next match was a thriller as Song and Spencer dueled to a 214 tie against Donovan Koff and Cameron Smith. Justin and Craig won the rolloff 10-5 to advance to the title game.
Top seeds Harley Sweigart and Eric Hatchett got stronger all day, and in a grindout title game, they won 197-171 for Sweigart's 41st title and Hatchett's 21st, not to mention their second in six days, having won the Mojave Doubles the week before.
AJ Imperial and Bugs Norbury squeezed out round one of the handicap finals 178-173 over Bryanna Cote and Breanna Feurerstock. Abby Franklin and Lexi Cassman then stopped AJ and Bugs 217-173 to reach the title game.
Rookie junior Ricardo Leyva teamed up with past JBT star Emily Ornelas to gain the top seed, and they were just as strong in the title game, winning 238-199 for the championship.
Craig. owner of Virtue Pro Shop, also donated big bonus prizes to our event, thanks Craig and all our terrific sponsors. Want in on all the fun and ecitement? Just check out our schedule and come on down!
AZ Doubles- final results and scholarship winners
12/15/2018
Scratch Division
rank
bowler
prize
bowler
prize
total
1
Harley Sweigart
$400
Eric Hatchett
$400
2
Justin Song
$200
Craig Spencer
$200
3
Donovan Koff
$150
Cameron Smith
$150
4
Chris Mayes
$115
Josh Mullen
$115
5
Josh Mabry
$80
Ben Canfield
$80
6
Stefanny Toala
Mathew Adragna
7
CJ Todeschi
Jim Pratt
8
Matthew Garrett
Keith Dommer
9
Sean Trzaskowski
Phil Hanna
10
Ryan Perry
Mike Mayes
11
Tim Hill
Clifford Robbins
12
Hunter Mayes
Riley Dempsey
13
Lucas Rabb
Alex Seng
14
Lauren Jaramillo
Aileen Linares
15
Josh Morin
$14
David Sevier
$14
16
Hayden Hull
Brian Gustafson
17
Josh Molloy
Sean Molloy
18
Josh Fearing
Bill Fearing
19
Max Premeau
Cedrick Bell
20
Madison Holman
Lyle Barnard
21
John Newton
Bas Ked-o-phas
22
Ryan Zent
John Conaway
23
Keith Ylvisaker
$5
Josh Moret
24
Kyle Perry
$5
Sandi Hacker
25
Darren Fletcher
Jon Fletcher
26
Phillip Sauve
Jeromie Frost
Handicap Division
1
Ricardo Leyva
$400
Emily Ornelas
$400
2
Abby Franklin
$100
Lexi Cassman
$100
$200
3
AJ Imperial
$210
Bugs Norbury
$210
4
Bryanna Cote
Breanna Feurstock
$100
$100
5
Mark Sauve
$94
Robert Ylvisaker
$94
6
Kloey Kielich
$58
Karl Kielich
$58
7
Kyle Lawrence
William Robbins
8
Corbin Hirsch
$30
Mike McQuisten
$30
9
Bailey Knight
Kaitlyn Hammer
$30
$30
10
Michael Goodman
Michael Friedichs
11
Josh Brown
William Brown
12
Cesar Padilla Jr
Cesar Padilla Sr
13
Stacey Lamb
Colin Walsh
14
Kendall Bollea
Jadeyn Mabry
15
Tyler Starr
Matthew Holmes
16
Christian Caron
Baylee Snow
17
Emily Cheesman
Katherine Hill
18
Jax Benavidez
Meryl Krich
19
Gavin Holter
Josh Williams
20
Leah Zweig
Matt Zweig
21
Ashley Lamb
Ryan Lamb
22
Connor Meliska
Kristen Meliska
23
Bob Larrick
Mackenzie Hammer
24
Seth Krich
Dave Inoshita
25
Alisabeth Rich
Dennis Klein
26
Noel Hernandez
Payton Workman
27
Raymond Gaiser
Silas Phillips
28
Caden Meliska
Mike Meliska
29
Ethan Young
Jason Gootzeit
High Games
Scratch
1
H Mayes 289
2
Rabb 278
3
Sweigart 269
4
Song 266
5
Adragna 259
Handicap
1
Leyva 299
2
Feuerstock 276
3
J Brown 271
4
Kielich 263
5
Cassman-Imperial 259
Qualifying Leaders
Scratch
1
C Mayes-Mullen +214
2
Song-Spencer +192
3
Mabry-Canfield +170
Handicap
1
Cote-Feuerstock +248
2
Imperial-Norbury +134
3
Leyva-Ornelas +118
Round Leaders
Scratch
1
Mabry-Canfield
2
Mabry-Canfield
3
C Mayes-Mullen
4
C Mayes-Mullen
5
Sweigart-Hatchett
6
Sweigart-Hatchett
7
Sweigart-Hatchett
Handicap
1
Cote-Feuerstock
2
Cote-Feuerstock
3
Cote-Feuerstock
4
Cote-Feuerstock
5
Leyva-Ornelas
6
Franklin-Cassman
7
Leyva-Ornelas
TOTAL AWARDED THIS EVENT: $2,082