BOWL EL PASO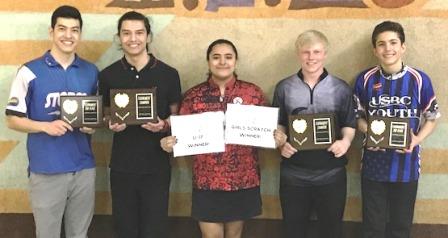 champs Will Davis & Dominic Rodriguez with Lorenzo Rodriguez, Yarelis Alvarez, Steven Stophel
Will Davis and Dominic Rodriguez picked up JBT titles in exciting TX-NM Conference action at Bowl El Paso.
Dominic's brother Lorenzo Rodriguez opened the scratch division stepladder finals with a 216-168 win over Josue Rivera. Lorenzo then got by all-conference points leader Harley Sweigart 223-207 to advance to the title game.
Top seed WIll Davis earlier thrilled the crowd with a big 299, and looked almost as good in the finale against first time finalist Lorenzo. Will's 244-167 victory was good for the third title of his JBT career.
Gerilynn Delegarito continued her good bowling of late with a 211-193 win over George Sandoval III. Stephen Stophel then came in and strung the strikes in a 273-219 win over Delegarito. Top seed Rodriguez took over the lead in round two, and in a battle of El Paso bowlers, came away with a 233-189 win, good for his first JBT title.
The subdivisions were dominated by Yarelis Alvarez. She won the Priority Girls Scratch event with a 197-175 win over Kallista Fritts, and doubled up with a 225-184 triumph over Davis for the U-17 win.
Big thanks as always to the team at Bowl El Paso for their usual great hosting job. Want in on the fun? Check out oir schedule and come on down, that's all there is to it!
Bowl El Paso- final results and scholarship winners
3/2/2019
Scratch Division
rank
bowler
prize
1
Will Davis
$292
2
Lorenzo Rodriguez
$153
3
Harley Sweigart
$75
4
Josue Rivera
$50
5
Yarelis Alvarez
$50
6
Nathan Nguyen
7
Ben Groves
8
Christian Apolonio
9
Rafael Chavez
10
Kallista Fritts
$25
11
Nathan Sippel
12
Eric Gauna
13
Alex Harmon
14
Jonah Seawright
15
Zach Harvey
16
Dante Uribarri
17
Daniela Garza Vargas
18
Lauren Jaramillo
19
Juan Saldana
20
Victoria Cruz
Handicap Division
1
Dominic Rodriguez
$265
2
Steven Stophel
$140
3
Gerilynn Delegarito
$175
4
George Sandoval
$148
5
Jordan Womble
$60
6
Aiden Othic
$50
7
Justin Weddige
$40
8
Antonio Navarette
$40
9
Santiago Navarette
10
Diego Pino
11
Taylor Herson
12
Eva Wilson
13
Jayden Martinez
14
Ariana Wilson
15
Fabian De LA Pena
16
Shaiden Raymond
17
Sadie Metzger
18
Jay Heffer
19
Jaylen Ybarra
20
Christopher Bennett
21
Samantha Ramirez
22
Michael Jamael
23
Brendon Etse
24
Zackary Othic
$100
25
Lamarr Damon
26
Jeremy Dominguez
27
Jared Basey
28
Daniella LaBier
29
Daniel Erives
30
Michael Goodman
$19
31
Faith Pinter
32
Josie Herson
33
Aleksandra Erives
34
Isaih Sandoval
35
Elliot Varela
36
Angela Romero
37
Brandon Etse
38
Sebastian Ontiveros
$10
39
Alexis Davis
40
John Bloom
41
Isabella Ramirez
42
Kloey Kielich
43
Shadha Ahmad
44
Jiovanni Adam Perez
45
Ian Seth Silva
46
Christobal Calancho Jr
High Games
Scratch
Handicap
1
W Davis 299
D Rodriguez 308
2
J Rivera 288
De La Pena 302
3
Groves 277
T herson 294
4
Sweigart 262
Weddige 288
5
W Davis 259
D Rodriguez 288
Girls Scratch side event
1
Alvarez +57*
2
Fritts +5
3
Delegarito -54
4
T Herson -67
5
D Garza Vargas -85
U-17 scratch side event
1
Davis +194
2
Alvarez +57*
3
R Chavez +36
4
J Martinez +20
5
Fritts +5
Round Leaders
Scratch
Handicap
1
Groves
Ybarra
2
Groves
De La Pena
3
Davis
T Herson
4
Davis
Delegarito
5
Davis
Stophel
6
Davis
Stophel
7
Davis
Rodriguez
8
Davis
Rodriguez
TOTAL AWARDED THIS EVENT: $1,691