BOWL EL PASO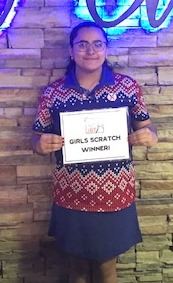 champs Will Davis & Ian Seth Silva with Nathan Sippel & Dante Uribarri; Yarelis Alvarez
Will Davis swept the scratch competition away, while Ian Seth Silva tasted victory for the first time, in exciting JBT TX-NM action at venerable Bowl El Paso.
Dominic Uribarri began the scratch division stepladder finals with a 201-129 win over Nathan Sippel. Toby Cdebaca, a former handicap division star, then made his first scratch title match by defeating Uribarri 2278-164.
The look Cdebaca had on what looked like a tricky pair deteriorated in the title match, and that was good news for top seed Will Davis. Will struggled with carry as well, but was able to fill the frames for a 187-139 win. It was his fourth JBT title, and completed his first ever weekend sweep of JBT events, in dominant fashion.
Silva climbed the handicap stepladder in three very close matches. He began with a 197-186 escape from John Bloom in round one, and followed that up with a 220-210 squeaker over Sadie Metzger to reach the final.
Top seed Jared Basey had looked wonderful all day, but found himself in a tough match against Silva in the finale. In the end, Ian's tenth frame mark was enough for a 203-199 win, earning him his first career JBT title.
Yarelis Alvarez also had the broom out, sweeping the Priority Girls Scratch weekend with a 207-188 win over Kallista Fritts. Will erased the odd stat of not having a U17 win yet by beating Uribarri 180-165 in that final.
Big thanks to the team at Bowl El Paso for their usual great hosting job. Want in on all the fun? Just check out our upcoming schedule and come on down!
Bowl El Paso- final results and scholarship winners
3/2/2019
Scratch Division
rank
bowler
prize
1
Will Davis
$250
2
Toby Cdebaca
$139
3
Dante Uribarri
$75
4
Nathan Sippel
$50
5
Zach Harvey
$5
6
Rafael Chavez
7
Christian Apolonio
8
Harley Sweigart
$52
9
Yarelis Alvarez
$50
10
Nathan Nguyen
11
Eric Gauna
$14
12
Kallista Fritts
$25
13
Jonah Seawright
$8
14
Montana Cdebaca
15
Alex Harmon
16
Ben Groves
17
Lauren Jaramillo
Handicap Division
1
Ian Seth Silva
$225
2
Jared Basey
$125
3
Sadie Metzger
$100
4
John Bloom
$75
5
Lamarr Damon
$60
6
Jaylen Ybarra
$50
7
Daniel Erives
$40
8
Kloey Kielich
$75
9
Aiden Othic
$5
10
Alex Thompson
$15
11
Angela Romero
12
Michael Goodman
$44
13
Nathan Thompson
$29
14
Taylor Herson
15
Jeremiah McClelon
16
Aleksandra Erives
17
Kara Thompson
18
Zackary Othic
19
Shaiden Raymond
20
Gerilynn Delegarito
21
Faith Pinter
22
Juan Saldana
23
Michael Jamael
24
Josie Herson
25
George Sandoval
26
Justin Weddige
27
Daniella LaBier
28
Dominic Rodriguez
29
Jayden Martinez
$50
30
Antonio Navarette
31
Jennifer Johnson
32
Christopher Bennett
33
David Johnson
34
Jay Heffer
35
Fabian De La Pena
36
Steven Stophel
37
Jordan Womble
High Games
Scratch
Handicap
1
T Cdebaca 254
T herson 275
2
Uribarri 233
Basey 267
3
Sippel 232
A Romero 259
4
Sweigart 231
A Thompson 258
5
T Cdebaca 227
A Othic 251
Girls Scratch side event
1
Alvarez -63*
2
Fritts -94
3
Delegarito -120
4
M Cdebaca -131
5
K Thompson -133
U-17 scratch side event
1
Uribarri +31
2
Davis -15*
3
T Cdebaca -17
4
Alvarez -63
5
Gauna -81
Round Leaders
Scratch
Handicap
1
Fritts
Bloom
2
Sippel
Damon
3
Sippel
Kielich
4
Uribarri
Kielich
(4)
Sippel
Bloom
6
Uribarri
Basey
7
Z Harvey
Basey
8
Davis
Basey
TOTAL AWARDED THIS EVENT: $1,561