CERBAT LANES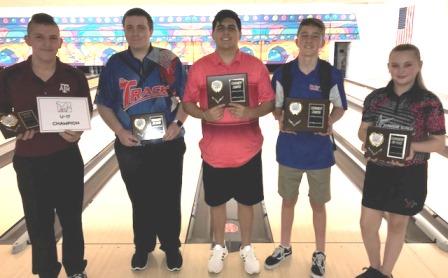 champs Sergio Torres & Josh Karney with Brock Bivins, Joe Gerencser, and Mackenzie Hammer
Sergio Torres and Josh Karney picked up JBT titles in exciting dual conference action at Kingman's Cerbat Lanes.
Joe Gerencser began the scratch division finals with a 225-194 win over rising star Brock Bivins. A thrilling second match on a tricky pattern resulted in Joe flushing a tenth frame double for a 257-248 win over Solomon Salama, to advance to the title game.
Top seed Sergio Torres has been absent from the Tour lately, but maybe he should show up more often, as he climbed to the lead in the last matchplay game, and outstruck Gerencser 244-192 for the title, the seventh of his excellent JBT career.
Josh Williams won a thriller to open the handicap stepladder, squeezing past Kathryn Shaffner 203-201. Karney then stopped Williams 220-201 to move on to the title match.
Top seed Mackenzie Hammer had been wonderful all day, but Josh was determined to break through for a first title after so many close calls this winter. The match came down to the final frame, with Hammer needing all three in the tenth. She got the first one but didn't get the second, and the 207-199 final gave a relieved Karney that elusive first career JBT title.
Aileen Linares snuck by Emily Cheesman 167-155 for the Priority Girls Scratch subdivision win, while Bivins got some revenge with a 233-217 win over Salama for the day's U17 win.
Big thanks to the team at Kingman for their usual great hosting job. Want in on the fun? Just check out our schedule and come on down!
Cerbat Lanes- final results and scholarship winners
3/9/2019
Scratch Division
rank
bowler
prize
1
Sergio Torres
$250
2
Solomon Salama
$170
3
Joe Gerencser
$75
4
Brock Bivins
$60
5
Cerell Cardines
$50
6
Lucas Rabb
7
Kyle Rendon
8
Zach Greim
9
Hunter Mayes
$59
10
Clifford Robbins
11
Rashaad Jordan
12
Darren Fletcher
13
Deo Benard
14
Chris Mayes
$15
15
Eric Gauna
16
Tim Hill
17
Aileen Linares
$50
18
Dante Rohe
19
Samantha Conti
20
April McDonnell
21
Skyler McGowan
22
William Robbins
23
Nolan Sepulveda
24
Harley Sweigart
25
Dillon O'Neil
26
Bas Ked-o-pas
27
Kyle Perry
28
Sebastian Huffman
29
Hayden Hull
30
Afton Lords
Handicap Division
1
Josh Karney
$225
2
Mackenzie Hammer
$139
3
Kathryn Shaffner
$75
4
Josh Williams
$74
5
Jordan Gil
$55
6
Emily Cheesman
$179
7
Ryan Zent
$15
8
Kendall Bollea
9
Faythe Reid
10
Zack Othic
11
Gavin Holter
12
Yael Salama
$57
13
Cesar Padilla
14
Avery Domaguin
$10
15
Baylee Snow
16
Alisabeth Rich
17
Samuel Nagel
18
Brett McEachern
19
Justyce McCoy
20
Silas Phillips
21
Kyle Lawrence
22
Noel Hernandez
23
Wyatt Linderman
24
Corbin Hiresch
25
Erika Kemp
26
CJ Todeschi
27
Kaitlyn Hammer
28
Payton Workman
29
Aiden Othic
30
Hailey Kroeger
31
Christopher Barboa
32
Lexi Cassman
33
Madison Holman
34
Megan Shaffner
35
Michael McQuisten
Qualifying Leaders
Scratch
Handicap
1
Gerencser +93
Cheesman +85
2
Cardines +85
Karney +75
3
Salama +84
Zent +67
High Games
Scratch
Handicap
1
Salama 279
Z Othic 271
2
Gerencser 268
Karney 257
3
Cardines 259
M Hammer 253
4
Gerencser 257
Gil 249
5
Rabb 253
Zent 241
Girls Scratch side event
1
Linares -53*
2
Cheesman -11
3
Conti -61
4
McDonnell -63
5
Domaguin -80
U-17 scratch side event
1
Salama +84
2
Bivins +47*
3
H Mayes +45
4
Greim +18
5
J Williams +11
Round Leaders
Scratch
Handicap
1
Rabb
Cheesman
2
Salama
Karney
3
Salama
Karney
4
Salama
Karney
5
Gerencser
Cheesman
6
Gerencser
Karney
7
Salama
Karney
8
Torres
Karney
TOTAL AWARDED THIS EVENT: $1,558