CERBAT LANES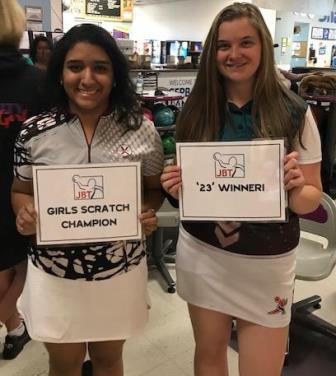 champs Joe Gerencser & Ryan Zent; Emily Cheesman, Hunter Mayes, Josh Williams, Jake Creek; Aileen Linares & Cheesman
Joe Gerencser and Ryan Zent claimed landmark titles of different types, in exciting Mojave and Arizona Conference action at Kingman's Cerbat Lanes.
After qualifying, bowlers competed in 'pick your poison', where higher seeded bowlers chose who they wanted to play in matchplay action. In the scratch semifinals, Gerencser eliminated Solomon Salama for the second straight day, 205-191 this time, while Hunter Mayes strung the strikes in a 246-204 win over Zach Greim to set up the finale.
Mayes is a budding superstar, but the veteran Gerencser has been striking for a long time on Tour, and with a convincing 246-204 win, he became the 44th bowler in JBT history to reach the 10-title plateau- congrats Joe!
Newcomer Jake Creek stopped Josh Karney's quest for back to back titles with a 227-202 win in one semifinal. In the other semi, Ryan Zent beat Michael McQuisten, who earlier fired a 284 (!) for the day's high game, 231-203, to set up the final match. Creek, making an impressive debut, more than held his own, while Zent struggled mightily in the early frames. However, in a spot where Ryan has fallen apart before, he regrouped and was brilliant the rest of the way, passing Jake and winning the game 209-195 for the title. It's the fifth of his career, but amazingly, the first since 2011- talk about perseverance!
Emily Cheesman earned her first Priority Girls Scratch win with a victory over Madison Holman, while Josh Williams picked up a U17 win for the first time with a 204-192 victory over Zent.
Big thanks to the team at Cerbat for another fine job hosting our Tour! If you want to be a part of all this fun, just check our schedule and come on down!
Cerbat Lanes- final results and scholarship winners
3/10/2019
Scratch Division
rank
bowler
prize
1
Joe Gerencser
$250
2
Hunter Mayes
$125
3
Solomon Salama
$174
4
Zach Greim
$89
5
Lucas Rabb
$60
6
Andrew Guba
$50
7
Deo Benard
$15
8
TJ Rock
9
Austin Muldoon
10
Brock Bivins
11
Devyn Patalina
12
Chris Mayes
13
Kyle Perry
14
Skyler McGowan
15
Alex Seng
16
Kevin Van Gordon
17
Clifford Robbins
18
Cerell Cardines
19
William Robbins
20
Nolan Sepulveda
21
Daryus Alo
22
Kyle Rendon
23
Eric Gauna
24
Harley Sweigart
25
Shawn Seng Jr
26
Aileen Linares
27
Samantha Conti
28
Hayden HUll
29
Dante Rohe
30
Rashaad Jordan
31
Darren Fletcher
32
Tim Hill
$5
33
Sebastian Huffman
34
Hailey Kroeger
Handicap Division
1
Ryan Zent
$297
2
Jake Creek
$125
3
Michael McQuisten
$100
4
Josh Karney
$89
5
Cesar Padilla
$60
6
Madison Holman
$75
7
Corbin Hirsch
$40
8
Kathryn Shaffner
$40
9
Josh Williams
10
Emily Cheesman
$55
11
Mackenzie Hammer
$30
12
Gavin Holter
$20
13
Miya Greene
14
Zack Othic
15
Jason Bardol
16
Ava McLaughlin
17
Audrey Andrews
18
Aiden Othic
19
Zack Gonzalez
20
Megan Shaffner
21
Kyle Lawrence
22
Kendall Bollea
$15
23
Alisabeth Rich
24
Noel Hernandez
25
Justyce McCoy
26
Alayna Purdy
27
CJ Todeschi
28
Baylee Snow
29
Bas Ked-o-pas
30
Afton Lords
31
Yael Salama
32
Faythe Reid
$15
33
Payton Workman
34
Brerr McEachern
35
Jordan Gil
36
Kaitlin Hammer
37
Lexi Cassman
38
Silas Phillips
39
Emma Downing
40
Aiden Gosselin
Qualifying Leaders
Scratch
Handicap
1
Rabb +138
Zent +194
2
Salama +98
Padilla +145
3
Z Greim +68
J Williams +124
High Games
Scratch
Handicap
1
Salama 279
McQuisten 295
2
Rabb 259
Padilla 289
3
Rabb 257
Zent 275
4
Guba 256
Zent 275
5
Muldoon 255
3 tied with 259
Girls Scratch side event
1
Cheesman -16*
2
Holman -30
3
Linares -88
4
Contio -98
5
M Hammer -106
U-17 scratch side event
1
Zent +109
2
Williams +109
3
Salama _98
4
Padilla +95
5
Z Greim +68
Round Leaders
Scratch
Handicap
1
Muldoon
Greene
2
Muldoon
Padilla
3
Salama
Zent
4
Salama
Zent
5
Rabb
Zent
TOTAL AWARDED THIS EVENT: $1,829