EASTMONT LANES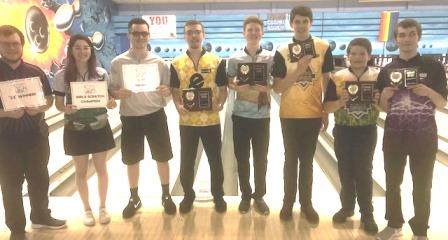 champs Tyler Boe & Jonathan Lorey; Kyle Adams, Reagan Lorey, Brian DeLuisa-Anderson, Bu Sicard, Noah Sicard, Joshua Iverson
Two veterans picked up JBT titles in exciting JBT Pacific Northwest Conference action in our first visit to Wenatchee's Eastmont Lanes.
Bowlers competed in the unique 'pick everyone's poison' after qualifying, where the highest seed bowling that round got to set up all the matches in their division. Down to four in the scratch division, top seed Tyler Boe chose to bowl Bud Sicard and that worked out with a 222-184 win, while in the other game Jacob Mullen ousted Kyle Adams to set up a title match between two long-time successful JBT competitors.
Jacob, back from a successful freshman college season, is looking to sneak into the JBT postseason, but Boe is in a Bowler of the Year race in his final trip around the Tour, and this time it was Boe coming up with the victory, the 8th title of his JBT career.
Top handicap seed Noah Sicard chose to bowl Lucas LeBlanc in his semifinal match, and won 217-202. In the other match, Jonathan Korey beat Trevor Wodesky 200-166 to set up the handicap finale. In that match, Lorey pulled ahead early and hung on for the win and his third career JBT title.
Brian DeLuisa-Anderson won the day's U17 event by beating Tyler Coates, while Jonathan's sister Reagan Lorey took Priority Girls Scratch with a victory over Mackenzie Theophilus. Two huge individual highlights on the day were Kyle Adams nailing the 23 jackpot for a quick $100 bonus, while Bud Sicard fired his first career 300 game during the qualifying, electrifying the packed house.
Big thanks to the crew at Eastmont for hosting our Tour for the first time! Want in on all the fun? Check out our schedule and come on down!
Eastmont Lanes- final results and scholarship winners
6/8/2019
Scratch Division
rank
bowler
prize
1
Tyler Boe
$321
2
Jacob Mullen
$125
3
Kyle Adams
$200
4
Bud Sicard
$75
5
Tyler Coates
$50
6
Tommie McNeal
$14
7
Simon Dyck
8
Daniel Rutter
9
Brian DeLuisa-Anderson
10
Jacob Mickelson
11
Jerry Jennings
12
AJ Hooper
13
Isaac Mailkoff
14
Michael Strothman
15
Mac Kaurin
16
Paul Rosales
17
Ryan Smerud
18
Reagan Lorey
$50
19
Duncan Whitaker
20
Aidghan Ziegler
21
Liam Hardman
$5
22
Noah Garrard
23
Hunter Bower
24
Payton Edwards
25
Tyler Denune
26
Jessica Holbrook
27
WendyJo LaTurner
Handicap Division
1
Jonathan Lorey
$200
2
Noah Sicard
$100
3
Trevor Wodesky
$75
4
Lucas LeBlanc
$60
5
Mackenzie Theophilus
$75
6
Sophia Johnson
$84
7
Toby Wills
8
Bryan Zeutenhorst
$15
9
Anna Gatlin
10
Matthew Lennox
11
Josh Williams
$10
12
Kierra Wilcox
13
Dalton Mason
14
Mary Sicard
15
Halie Martin
16
Hailey Lennox
17
Carter Humphries
18
Colt Jance
$15
19
Colby Hull
20
Jaadyn Humphries
21
Do Hoon Kwon
22
Silas LeBlanc
23
Kailee Wilcox
24
Payton Bower
25
Hannah Hamilton
26
Nathan Tang
27
Jaoshua Iverson
$15
28
Madison Flatin
29
Aubrey Harding
30
Hannah Johnson
31
Guillermo Castaneda
32
Hilary Zuniga
Qualifying Leaders
Scratch
Handicap
1
Boe +161
N Sicard +109
2
K Adams +114
Theohilus +98
3
Coates +48
S Johnson +90
High Games
Scratch
Handicap
1
B Sicard 300
N Sicard 292
2
Boe 268
M Sicard 263
3
Boe 265
Gatlin 255
4
Adams 257
Mason 252
5
Mullen 256
J Lorey 242
Girls Scratch side event
1
Theophilus -87*
2
R Lorey -130*
3
Gatlin -159
4
H Martin -169
5
M Sicard -197
U-17 scratch side event
1
Coates +48
2
DeLuisa-Anderson +42*
3
Williams +31
4
B Sicard +23
5
M Lennox -3
Round Leaders
Scratch
Handicap
1
Adams
J Lorey
2
Adams
N Sicard
3
Adams
N Sicard
4
Adams
N Sicard
5
Boe
N Sicard
TOTAL AWARDED THIS EVENT: $1,464