EASTMONT LANES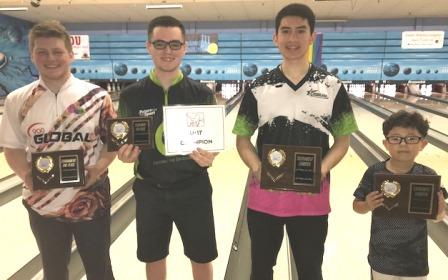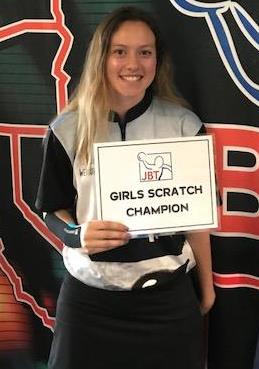 champs Duncan Whitaker & Do Kwon; Tyler Coates, Brian DeLuisa-Anderson; Jessica Holbrook
Duncan Whitaker and Do Kwon joined the JBT Champions club with exciting wins in Pacific Northwest Conference action at Eastmont Lanes in East Wenatchee.
Ethen Maxwell began the scratch division stepladder finals with a 190-187 escape from Brian DeLuisa-Anderson. Tyler Coates then stopped Maxwell to get to the title match. Coates has turned around his traditional slow starts by bowling fantastic all day lately, punctuated by a 289 second game here. However, top seed Duncan Whitaker was enjoying the best JBT result of his career. He turned a close match into a blowout with a late five-bagger, earning his first career JBT title with the 212-162 final score.
9 year-old Kwon has a game well beyond his years, and he showed it by climbing the handicap stepladder. He began with a 197-193 squeaker over Mackenzie Theophilus, and followed with a 218-178 win over Aubrey Harding. Top seed Carson Emerson was stuck behind the desk working yesterday, but was unleashed today and the relatively new bowler had a great day to get to the #1 spot. However, he struggled in the final game. Do slowed down as well, but had enough left for a 188-161 win, capturing the first title of his JBT career as well.
Keeping up theme, Jessica Holbrook earned her first Priority Girls Scratch win of the season with a win over Harding, and then skedaddled off to her graduation party! DeLuisa-Anderson swept the U17 events on the weekend, again beating Coates for that honor.
Big thanks to the team at Eastmont for hosting our Tour for the first time! Want in on all this excitement for all ages and averages Just come on out to the next JBT event that you can!
Eastmont Lanes- final results and scholarship winners
6/8/2019
Scratch Division
rank
bowler
prize
1
Duncan Whitaker
$265
2
Tyler Coates
$125
3
Ethen Maxwell
$100
4
Brian DeLuisa-Anderson
$90
5
Paul Rosales
$50
6
Jerry Jennings
7
Simon Dyck
8
Jacob Mullen
9
AJ Hooper
10
John Malone
11
Josh Alvareez
12
Bud Sicard
13
Michael Strothman
$5
14
Kyle Adams
15
Jacob Mickelson
16
Isaac Mailkoff
17
Liam Hardman
18
Tyler Boe
$44
19
Hunter Bower
20
Jessica Holbrook
$50
21
Ryan Smerud
22
Reagan Lorey
23
Noah Garrard
24
Payton Edwards
25
Tommie McNeal
26
Tyler Denune
27
Daniel Rutter
Handicap Division
1
Do Hoon Kwon
$200
2
Carson Emerson
$125
3
Aubrey Harding
$125
4
Mackenzie Theophilus
$75
5
Kierra Wilcox
$50
6
Hannah Hamilton
$40
7
Silas LeBlanc
8
Toby Wills
9
Jonathan Lorey
10
Noah Sicard
$5
11
Colby Hull
12
Hailey Lennox
13
Jaadyn Humphries
$14
14
Paige Harms
$15
15
Joshua Iverson
$5
16
Hilary Zuniga
$15
17
Dai-Lynn Thomas
18
Mary Sicard
19
Kailee Wilcox
20
Trevor Wodesky
21
Halie Martin
22
Matthew Lennox
23
Bryan Zeutenhorst
$28
24
Payton Bower
25
Colt Jance
26
Nathan Tang
27
Cadin Cervine
$15
28
Dalton Mason
29
Madison Flatin
30
Josh Williams
31
Guillermo Castaneda
32
Aydri Turnbull
Qualifying Leaders
Scratch
Handicap
1
Coates +181
Harding +215
2
DeLuisa-And. +168
Kwon +189
3
Jennings +168
Emerson +165
High Games
Scratch
Handicap
1
Coates 289
Harding 297
2
Mullen 279
Harms 275
3
DeLuisa-And. 268
Emerson 267
4
Whitaker 267
P Bower 266
5
Jennings 266
J Lorey 260
Girls Scratch side event
1
Harding even
2
Holbrook -28*
3
Harms -31
4
Lorey -39
5
Theophilus -60
U-17 scratch side event
1
Coates +181
2
DeLuisa-Anderson +140*
3
Rosales +136
4
Maxwell +63
5
Hooper +52
Round Leaders
Scratch
Handicap
1
Jennings
Harding
2
Mullen
Harding
3
Coates
Kwon
4
Coates
Kwon
5
Coates
Harding
6
Coates
Harding
7
Coates
Emerson
8
Coates
Emerson
TOTAL AWARDED THIS EVENT: $1,445