EVERGREEN LANES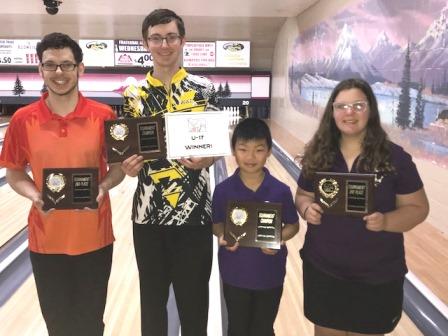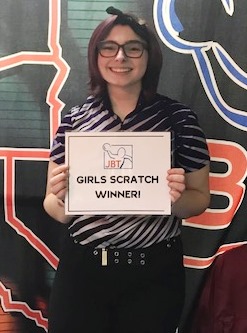 champs John Malone & Nathan Tang; Simon Dyck, Kierra Wilcox; WendyJo LaTurner
John Malone and Nathan Tang each captured their first career JBT titles, in exciting Pacific Northwest Conference action at Everett's Evergreen Lanes.
Malone got past Tyler Hogstrom in the semifinal match of 'march madness' style matchplay 208-167, while Simon Dyck got by Tyler Denune in the other to set up the title match. In the final, Dyck and Malone remained all even until a crushing 4-9 from Simon followed by a tripped 4-9 from John opened up the match in Malone's favor. The 237-212 final score was good for the long awaited first title of his JBT career.
Kierra Wilcox made her first career title match with a 235-185 win over Carter Humphries. Meanwhile, Tang pulled his second straight Houdini act, escaping 193-192 from Colt Jance, to move on to the final. The title game was close until 10 year-old Tang came up with a late frame turkey, blowing the game open. With his 238-194 win, Nathn earned his first career JBT title in his fist JBT event.
Malone completed the dream day with a win over Tyler Denune for the U17 subdivision crown. Priority Girls Scratch was won by WendyJo LaTurner, with a win over Evan Smith.
Big thanks to the team at Evergreen for hosting our Tour. Want in on the fun? Just check out our schedule and come on down!
Evergreen Lanes- final results and scholarship winners
3/23/2019
Scratch Division
rank
bowler
prize
1
John Malone
$250
2
Simon Dyck
$150
3
Tyler DeNune
$100
4
Tyler Hogstrom
$75
5
Isaac Mailkoff
$60
6
Tyler Coates
$50
7
Tommie McNeal
$12
8
Makana Wong
$36
9
WendyJo LaTurner
$50
10
Brian DeLuisa-Anderson
11
Michael Strothman
12
Jerry Jennings
13
Paul Rosales
14
Evan Smith
$25
15
Tyler Boe
16
Bradley Baltazar
17
Jacob Frazier
$17
18
Kalym Henry
19
Cosmo Castellano
20
Aidghan Ziegler
21
Liam Hardman
22
Alejandro Moser-Hernandez
23
Kyle Adams
24
Bud Sicard
25
Ryan Smerud
26
Andrew Martin
27
Brooklyn Boudreau
28
Payton Edwards
29
Lohrghan Ziegler
30
Nathan Westfall
31
Mac Kaurin
Handicap Division
1
Nathan Tang*
2
Kierra Wilcox
$225
3
Carter Humphries
$125
4
Colt Jance
$180
5
Silas LeBlanc
$75
6
Lailani Wallin
$50
7
Dalton Mason
$40
8
Hailey Mattson
9
Bryan Zeutenhorst
10
Aiden Wong
11
Hilary Zuniga
$30
12
Kailee Wilcox
13
Noah Sicard
14
Lucas LeBlanc
15
Jaadyn Humphries
$30
16
Vianne Daniels
$15
17
Adam Jodoin
18
Mikayla Bumpus
19
Toby Wills
20
Madison Flatin
21
Ruth Magana
22
Stacy Griffith
23
Mary Sicard
24
Guillermo Castaneda
25
Ben Heisler
26
Madeline Sage
27
Cadin Cervine
$14
28
Hailey Lennox
29
Skyler Broussard
30
Richard Smith
31
Riley Hoff
32
Matthew Lennox
33
Joshua Iverson
$5
34
Trevor Wodesky
Qualifying Leaders
Scratch
Handicap
1
Malone +77
Tang +69
2
Mailkoff +60
S LeBlanc +64
3
Denune +37
Kierra Wilcox +62
High Games
Scratch
Handicap
1
Malone 269
S LeBlanc 274
2
Dyck 268
Wallin 248
3
Mailkoff 262
Zeutenhorst 244
4
Strothman 257
M Sicard 244
5
Mailkoff, LaTurner 256
Jodoin 242
Girls Scratch side event
1
LaTurner -15*
2
E Smith -73
3
Boudreau -166
4
Magana -175
5
Kailee Wilcox -184
U-17 scratch side event
1
Malone +77*
2
Denune +37
3
Coates +3
4
LaTurner -15
5
DeLuisa-Anderson -48
Round Leaders
Scratch
Handicap
1
LaTurner
Zeutenhorst
2
Strothman
Mason
3
Strothman
Mason
4
Denune
S LeBlanc
5
Malone
Tang
TOTAL AWARDED THIS EVENT: $1,617