AMF FIREBIRD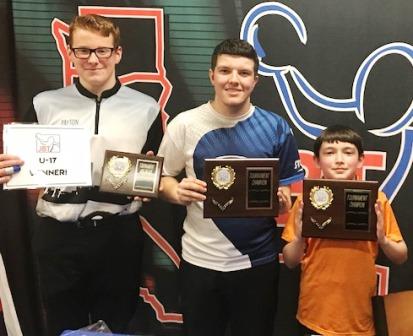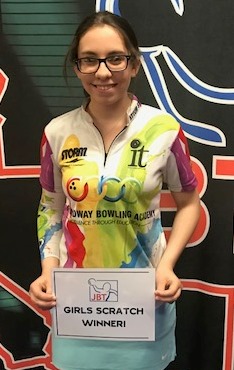 champs Jerry Jennings & Toby Mills; Payton Edwards, Brooklyn Boudreau
Jerry Jennings and Toby Wills picked up JBT titles in exciting Pacific Northwest Conference action at AMF FIrebird Lanes in Salem.
After qualifying, bowlers competed in 'pick your survivor' action, with the low bowler out pair by pair until only the last survivor stood. In scratch, Jerry Jennings blasted 268 to win one semifinal match over Payton Edwards' 211, while in a thriller, Bradley Baltazar escaped 212-211 from Tyler Boe to set up the title match. Jennings had totally dominated the day, but both he and Bradley could not find the carry in the final, grinding out spares and keeping things tight. In the end, Jennings squeezed out a 194-192 win, good for the fourth title of his JBT career.
Handicap semifinal matches featured Toby Wills defeating Lucas LeBlanc 187-175, while Halie Martin beat Peyton Freund 212-191, setting up a title match between two JBT non-winners. It was Toby who remained in control in the final, getting past Martin 191-174, to win the first title of his young JBT career.
Brooklyn Boudreau earned the day's Priority Girls Scratch subdivision win with a win over Martin, while Edwards just snuck out a U17 win over Tyler Coates 1-0.
Thanks as always to the team at Firebird for hosting our Tour. Want in on all the action? Just check out our schedule and come on down!
AMF Firebird- final results and scholarship winners
4/20/2019
Scratch Division
rank
bowler
prize
1
Jerry Jennings
$250
2
Bradley Baltazar
$125
3
Tyler Boe
$220
4
Payton Edwards
$75
5
Jacob Frazier
$50
6
Brooklyn Boudreau
$50
7
Tyler Coates
8
Simon Dyck
9
Kyle Adams
10
Cosmo Castellano
11
Michael Strothman
12
Paul Rosales
13
Isaac Mailkoff
14
Andrew Martin
15
Brian DeLuisa-Anderson
16
Ethen Maxwell
17
Hunter Bower
18
Makana Wong
19
Ryan Smerud
20
Tyler Denune
21
Jessica Holbrook
$30
22
Tyler Hogstrom
23
Bud Sicard
24
Joe Brooks
25
AJ Hooper
26
Tommie McNeal
Handicap Division
1
Toby Wills
$200
2
Halie Martin
$125
3
Lucas LeBlanc
$75
4
Peyton Freund
$50
5
Frank Fleener
$40
6
Kierra Wilcox
7
Silas Leblanc
8
Carter Humphries
$15
9
Aiden Wong
10
Colt Jance
11
Noah Sicard
12
Brooke Duvick
13
Jaadyn Humphries
$45
14
Jonathan Lorey
15
Mary Sicard
16
Cadin Cervine
$14
17
Kailee Wilcox
18
Dalton Mason
19
Douglas Bialza III
20
Do Kwon
21
Bryan Zeutenhorst
22
Audrey Harding
23
Joshua Iverson
24
Trevor Wodesky
25
Madeline Sage
Qualifying Leaders
Scratch
Handicap
1
J Jennings +45
L LeBlanc +64
2
Coates +44
Fleener +63
3
Adams +15
N Sicard +41
High Games
Scratch
Handicap
1
Adams 277
S LeBlanc 244
2
Jennings 267
L LeBlanc 243
3
Jennings 254
H Martin 240
4
Jennings 246
N Sicard 239
5
Frazier 241
Freund 233
Girls Scratch side event
1
Boudreau -99*
2
Martin -138
3
Holbrook -171
4
53Kierra Wilcox -2
5
Kailee Wilcox -276
U-17 scratch side event
1
Coates +44
2
Edwards -42*
3
Baltazar -84
4
Boudreau -99
5
Rosales -114
Round Leaders
Scratch
Handicap
1
Adams
L Leblanc
2
Adams
Freund
3
Adams
L Leblanc
4
Coates
L Leblanc
5
Jennings
L Leblanc
TOTAL AWARDED THIS EVENT: $1,464