AMF FIREBIRD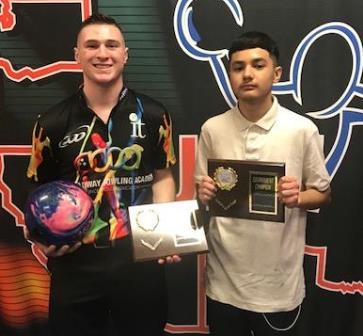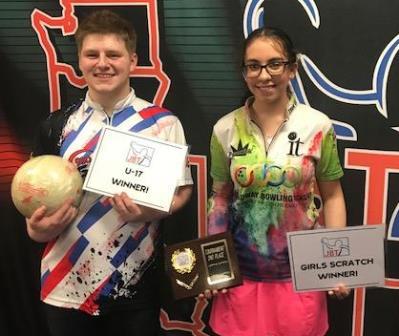 champs Tommie McNeal & Juan Garcia; Tyler Coates & Brooklyn Boudreau
Tommie McNeal and Juan Garcia put on dominant performances to capture JBT titles in terrific Pacific Northwest Conference action at Salem's AMF Firebird Lanes.
Brooklyn Boudreau began a climb up the scratch division stepladder with a 192-183 win over Michael Strothman. Brooklyn then stopped Kyle Adams to advance to the title match, making it an all-OBBA affair between her and top seed Tommie McNeal.
Tommie had massively outperformed his cousin's performance from the day before, leading after every round. He blasted 268 in the title game to earn the title of his JBT career, one of the few to achieve this milestone out of the Pac NW Conference.
Cadin Cervine won round one of the handicap stepladder finals 258-175 over Aiden Wong. IMpressive 9 year-old newcomer Do Kwon then stopped Cervine 236-217 to advance to the title game.
AMF Firebird- final results and scholarship winners
4/21/2019
Scratch Division
rank
bowler
prize
1
Tommie McNeal
$274
2
Brooklyn Boudreau
$125
3
Kyle Adams
$100
4
Michael Strothman
$75
5
Tyler Boe
$86
6
Makana Wong
$50
7
Tyler Coates
8
Brian DeLuisa-Anderson
9
Isaac Mailkoff
10
Simon Dyck
11
Hunter Bower
12
John Malone
13
Tyler Hogstrom
14
Andrew Martin
15
Tyler Denune
16
Bradley Baltazar
17
Jerry Jennings
18
Duncan Whitaker
19
Duke Knudsen
20
Paul Rosales
21
Payton Edwards
22
Jessica Holbrook
23
Cosmo Castellano
24
Jacob Frazier
$5
25
Ryan Smerud
26
Bud Sicard
27
Joe Brooks
28
Ethen Maxwell
Handicap Division
1
Juan Garcia
2
Do Kwon
$200
3
Cadin Cervine
$145
4
Aiden Wong
$75
5
Mary Sicard
$50
6
Joshua Iverson
$40
7
Anna Gatlin
8
Madeline Sage
9
Colt Jance
$49
10
Silas Leblanc
11
Noah Sicard
12
Kierra Wilcox
13
Jaadyn Humphries
14
Bryan Zeutenhorst
15
Halie Martin
16
Jonathan Lorey
$5
17
Kailee Wilcox
18
Aubrey Harding
19
Dalton Mason
20
Carter Humphries
21
Peyton Freund
22
Madison Flatin
23
Toby Wills
24
Leilani Wallin
25
Trevor Wodesky
26
Lucas LeBlanc
27
Guillermo Castaneda
28
Roger Nunez
29
Angel Ruiz
Qualifying Leaders
Scratch
Handicap
1
McNeal +194
Garcia +277
2
Adams +144
Kwon +206
3
Boudreau +120
A Wong +172
High Games
Scratch
Handicap
1
K Adams 279
Garcia 295
2
Boudreau 277
Jance 283
3
McNeal 275
Kwon 277
4
McNeal 268
Garcia 273
5
Boe 266
Iverson 271
Girls Scratch side event
1
Boudreau +120*
2
Holbrook -56
3
Gatln -127
4
M Sicard -130
5
H Martin -146
U-17 scratch side event
1
Boudreau +120
2
Coates +114*
3
DeLuisa-And. +75
4
Bower +44
5
Malone +43
Round Leaders
Scratch
Handicap
1
McNeal
M Sicard
2
McNeal
Kwon
3
McNeal
Garcia
4
McNeal
Garcia
5
McNeal
Garcia
6
McNeal
Garcia
7
McNeal
Garcia
8
McNeal
Garcia
TOTAL AWARDED THIS EVENT: $1,230