FOREST LANES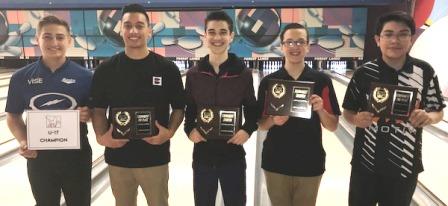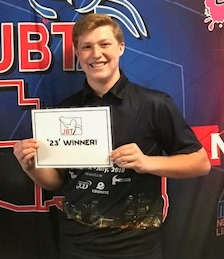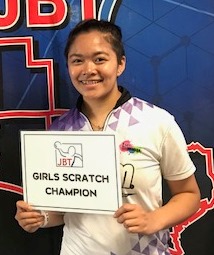 champs Solomon Salama & Braeden Phillips; Gael Egana, JT Diso, Manuel Gonzalez; Zach Greim; Jacey Opiana
Solomon Salama and Braeden Phillips earned JBT titles in exciting Southern California Conference action at Forest Lanes.
Tim Hill won round one of the scratch division stepladder finals 213-185 over Kyle Gilbert. Salama then stopped Hill 235-167 to reach the title match.
Top seed JT Diso had been absolutely brilliant all day, but missed a transition on the title match pair and got lost. That's a bad idea against Salama, who took full advantage for the win, and the 11th title of his rapidly burgeoning JBT career.
Nathan Chambers won round one of the handicap stepladder 215-206 over Caleb Rothstein. Manuel Gonzalez then defeated Chambers 237-204 to advance to his second career title match.
Top seed Braden Phillips has been through a lot the last month, as members of the tight-knit So Cal bowling community know all too well. It's not too much to think he may have had assistance all day, leading the event, and then finishing it off with a 247-218 win over Gonzalez for his first career JBT title.
The day's U17 subdivision went to Gael Egana, with a win over Ardani Rodas in that final, while the Priority Girls Scratch event went to Jacey Opiana, who squeaked by Avery Domaguin 184-180 in that finale.
Big thanks to the team at Forest for a great job hosting our Tour. Want in on all the fun? Just check out our schedule and come on down!
Forest Lanes- final results and scholarship winners
10/6/2018
Scratch Division
rank
bowler
prize
1
Solomon Salama
$324
2
JT Diso*
3
Tim Hill
$125
4
Kyle Gilbert
$75
5
Ardani Rodas
$60
6
Garrett Lee
$50
7
Gael Egana
8
Alberto Bernal
9
Kyle Reed
10
Nick Caner
11
Ryan Perry
12
Anthony Schanen
13
Ryan Lee
14
Joshua Abigania
15
Louis Luna
16
Daniel Hong
17
Harley Sweigart
18
Rodrigo De La O
19
James McGough
$15
20
Dawson Reese
21
Kyler Orosco
22
Nolan Am-Khong
$5
23
Dillon O'Neil
24
Jacey Opiana
$50
25
Marquan Rivers
26
Avery Domaguin
$25
27
Trevyr Geronimo
28
Zach Greim
$110
29
Ben Dinenberg
30
Austin Sugarman
Handicap Division
1
Braeden Phillips
$250
2
Manuel Gonzalez
$125
3
Nathan Chambers
$75
4
Caleb Rothstein
$75
5
Adrian Yamanoha
$50
6
Cyruss Tehrani
$40
7
Cameron Criss
$44
8
Hillari Hampton
$85
9
Zachary Gonzalez
10
Brandon Criss
11
Simon Ortega
12
Ryland Pimentel
13
Lindsay Greim
14
Zian Sasaki
15
Gage Baker
16
Gavin Holter
17
Elias O'Hollaren
18
Lawrence Buhain
19
Secilia Kalvelage
20
Elijah Melchor
21
Aislinn Lubag
22
Elias Luna
23
Raeden Pimentel
24
Yairi Lubag
25
Ethan Chambers
26
Robert Coulon
27
Yael Salama
28
Diego Lujan
29
Alexiz Bustamante
30
Miya Greene
31
Michaela Buhain
32
Sterling Lopez
33
Noah Hernandez
34
Ian Fiel
35
Katelyn Abigania
High Games
Scratch
Handicap
O'Neil 269
M Gonzalez 304
Reese 268
Yamanoha 273
Gilbert 268
Rithstein 268
Egana 265
N Chambers 256
Hill 265
M Gonzalez 251
High Female
1
Opiana -80*
2
Domaguin -99
3
Hampton -161
4
Kalvelage -164
5
Bustamante -207
Qualifying Leaders
Scratch
Handicap
1
Diso +216
B Phillips +170
2
Egana +135
M Gonzalez +133
3
Rodas +113
Z Gonzalez +133
U-17
1
Egana +135*
2
Rodas +113
3
Salama +111
4
G Lee +84
5
Bernal +58
Round Leaders
Scratch
Handicap
1
G Lee
Yamanoha
2
Bernal
Ry Pimentel
3
Diso
Yamanoha
4
Diso
C Criss
5
Diso
B Phillips
6
Diso
B Phillips
7
Diso
B Phillips
8
Diso
B Phillips
Total Awarded This Event: $1,583