GLENFAIR LANES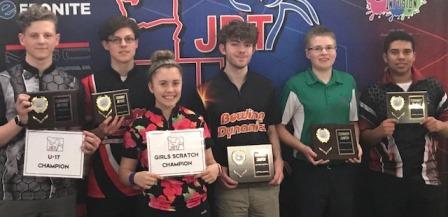 champs Lucas Rabb & Kyle Lawrence
Lucas Rabb and Kyle Lawrence captured JBT titles in exciting Arizona Conference action at Glendale's Glenfair Lanes.
Chris Mayes survived a low scoring opener to the scratch finals with a 166-164 win over Tim Hill. Chris then faced his brother Hunter, and this time it was Hunter squeezing out a close win, by a 216-212 margin. Top seed Lucas Rabb and Mayes then engaged in close title match, but in teh end Lucas, the defending Bowler of The Year, strung some strikes to pull away 224-208 and earn the 7th title of his JBT career.
The opening match of the handicap stepladder was won by Kaitlyn Hammer, 217-194 over Gavin Holter. AJ Imperial then stopped Hammer 207-193 to move on to the title game.
Top seed Kyle Lawrence has always had some of his best performances at Glenfair. He was brilliant again, but never better than the title game, where he blasted the strikes for a 268-184 win over Imperial, good for the 3rd title of his JBT career.
Abby Franklin doubled in the tenth frame to win a thrilling Prioirty Girls Scratch final 185-184 over Aileen Linares. Mayes rebounded with a 212-183 win over Holter for the U17 subdivision win.
Thanks as always to the team at Glenfair for hosting our Tour. Want in on the fun? Just check out our schedule and come on down!
Glenfair Lanes- final results and scholarship winners
12/16/2018
Scratch Division
rank
bowler
prize
1
Lucas Rabb
$250
2
Hunter Mayes
$167
3
Chris Mayes
$75
4
Tim Hill
$64
5
Aileen Linares
$25
6
Abby Franklin
$50
7
William Robbins
8
Gabriel Huerta
9
Josh Fearing
10
Ryan Perry
11
Lauren Jaramillo
12
Alex Seng
13
Harley Sweigart
14
Hayden Hull
15
Kyle Perry
16
Phillip Sauve
17
Clifford Robbins
18
Rachael Berg
19
Christian Caron
20
Rashaad Jordan
21
Darren Fletcher
Handicap Division
1
Kyle Lawrence
$250
2
AJ Imperial
$115
3
Kaitlyn Hammer
$105
4
Gavin Holter
$65
5
James Burke
$40
6
Kloey Kielich
7
Baylee Snow
8
Payton Workman
$19
9
Ryan Zent
$45
10
Elijah Melchor
11
Mackenzie Hammer
12
Madison Holman
13
Kevin Lu
14
Kendall Bollea
15
Josh Williams
16
Mark Sauve
$30
17
Carson Siems
18
Miya Greene
19
Emily Cheesman
20
Noel Hernandez
21
Raymond Gaiser
22
Alisabeth Rich
23
CJ Todeschi
24
Lexi Cassman
25
Seth Krich
26
Caden Meliska
27
Silas Phillips
$5
28
Michael Goodman
29
Jason Gootzeit
30
Bailey Knight
Qualifying Leaders
Scratch
Handicap
1
H Mayes +35
K Lawrence +86
2
T Hill +17
G Holter +37
3
C Mayes +7
Imperial +36
High Games
Scratch
Handicap
1
Rabb 278
Snow 293
2
Franklin 267
K Lawrence 268
3
Rabb 253
Lu 265
4
R Perry 248
Imperial 256
5
K Perry 236
Lu 250
Girls Scratch side event
1
Franklin -14*
2
Linares -57
3
Holman -89
4
L Jaramillo -105
5
Berg -138
U-17 scratch side event
1
H Mayes +35
2
Holter -38
3
Lu -45
4
Williams -70
5
Imperial -74
Round Leaders
Scratch
Handicap
1
W Robbins
Imperial
2
A Franklin
Snow
3
A Franklin
Snow
4
H Mayes
Imperial
5
H Mayes
K Lawrence
6
H Mayes
K Lawrence
7
H Mayes
K Lawrence
8
Rabb
K Lawrence
TOTAL AWARDED THIS EVENT: $1,295