HOLIDAY BOWL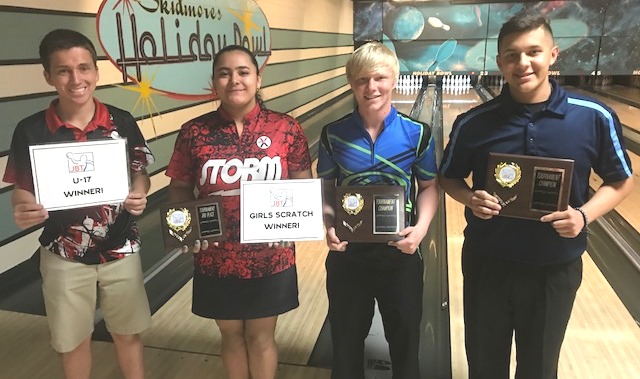 champs Will Davis & Jeremiah Martinez; Josh Williams, Yarelis Alvarez
Will Davis remained on a roll, while a rookie notched a win in his first attempt, in exciting JBT NM-TX Conference action at Holiday Bowl in Albuquerque.
Bowlers competed in 'pick your poison' after qualifying, where higher seeds choose the bowler they want to play against. Down to four bowlers in the scratch division, Davis ousted Zach Harvey 240-169, and Nathan Nguyen escaped from Yarelis Alvarez 184-179 to set up the final. The title game came down to the wire, with Nguyen needing to double for the title. Nathan didn't get the strikes, and that gave Will the win, 5th career JBT title, and third consecutive on his current tear through the conference.
In the handicap semifinals, Gabe Alvarado beat Antonio Ontiveros 239-209, and Jeremiah Martin stopped JD Messenger 209-179 to set up a rare all-rookie title game. Neither finalist performed like a rookie though, both coming up with big frames. In the end, Martinez' tenth frame spare locked up a 244-240 win and first JBT title for Jeremiah.
Josh Williams earned the U17 event with a win over Alvarez, but Yarelis was probably okay with that, as she not only beat Aillen Linares for the Priority Girls Scratch win, but also blasted a perfect 300 game in matchplay, the first of her career.
Big thanks as always to the team at the beautifully remodeled Holiday for hosting our Tour. Want in on all the fun for all averages and ages? There's still time this season, come on down!
Holiday Bowl- final results and scholarship winners
3/30/2019
Scratch Division
rank
bowler
prize
1
Will Davis
$293
2
Nathan Nguyen
$125
3
Yarelis Alvarez
$125
4
Zach Harvey
$64
5
Harley Sweigart
$14
6
Aileen Linares
$25
7
Robin Prioleau
8
Quirino Sanchez
$15
9
Lauren Jaramillo
10
Morgan Ellis
$5
11
Rashaad Jordan
12
Alex Harmon
$14
13
Kaitlinn Joslin
14
Hailey Winn
15
Kallista Fritts
16
Jonah Seawright
17
Montana Cdebaca
18
Chris Furdek
19
Dante Uribarri
20
Eric Gauna
21
Christian Apolonio
Handicap Division
1
Jeremiah Martinez
$225
2
Gabriel Alvarado
$125
3
JD Messenger
$100
4
Antonio Ontiveros
$80
5
Kara Thompson
$50
6
Justin Weddige
$40
7
Jayden Martinez
8
Illiana Ontiveros
9
Alex Thompson
$30
10
Joseph Gonzales
11
Josh Williams
$50
12
Kloey Kielich
$89
13
Santiago Navarette
14
Taylor Herson
15
AJ Navarette
16
Eliot Varela
17
Jordan Womble
18
Michael Jamael
19
Shaiden Raymond
20
Jeremy Perlinski
21
Jared Basey
22
Aiden Ruiz-Jimenez
23
Mean Alvarado-McDonald
24
Gerilynn Delegarito
25
Kolton Carpenter
26
Faith Pinter
27
Lamarr Damon
28
Jay Heffer
29
Michael Goodman
30
Harlee Wilson
31
Angela Romero
32
Josie Herson
33
Daniella LaBier
High Games
Scratch
Handicap
1
Alvarez 300
J Gonzalez 277
2
Davis 269
A Ontiveros 264
3
Sweigart 265
A Thompson 259
4
Nguyen 248
Jer Martinez 254
5
Davis 240
Messenger, Williams 250
Girls Scratch side event
1
Alvarez +33*
2
Linares -5
3
Prioleau -21
4
L Jaramillo -88
5
M Ellis -92
U-17 scratch side event
1
J Williams +63
2
Y Alvarez +33
3
Prioleau -21
4
Jay Martinez -30
5
Davis -40
Round Leaders
Scratch
Handicap
1
Sweigart
Messenger
2
Sweigart
Messenger
3
Alvarez
Kielich
4
Sweigart
J Williams
5
Alvarez
Jer Martinez
TOTAL AWARDED THIS EVENT: $1,469