HOLIDAY BOWL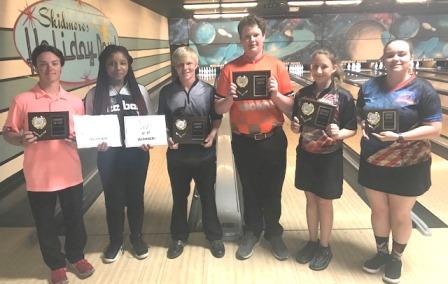 champs Will Davis & TJ Thalman; Zach Harvey, Robin Prioleau, Kara Thompson, Taylor Herson
Will Davis just kept on rolling, while a fellow Artesian joined him in the winner's circle, in exciting JBT NM-TX Conference action at Albuquerque's Holiday Bowl.
After qualifying, bowlers competed in 'super survivor', where the low score and low overall total are eliminated game by game. With four bowlers left in scratch, Zach Harvey blasted 264 to lock his place in the title game, Dante Uribarri bowed out with 168, and Davis snuck into the title match by just staying ahead of Harley Sweigart in total pins, +129 to +114. Zach looked to be on his way to ending Davis' three tournament winning streak, but a tenth frame split opened the door for Will. Needing a mark and fill, Davis flushed ten back for his fourth consecutive JBT win, and sixth career JBT title. He could equal Dallas Leong's record of six straight wins in Pojoaque next month- stay tuned!
TJ Thalman earned a huge pinfall lead by the time four handicap bowlers remained, and avoided the low game pitfall to reach the finale. Kara Thompson emerged from a group of three closely packed ladies, staying ahead of Taylor Herson and Angela Romero to reach the title game. Kara bowled a very nice clean 200 in the title game, but TJ was only a little behind that, and the handicap difference was plenty to overcome Thompson and earn him his first career JBT title, joining his high school state champ teammate Will as JBT champs!
Robin Prioleau was clutch in the subdivisions, doubling in the tenth to shut out Josh Williams 200-197 for the U17 win, and doubled in the tenth to beat Morgan Ellis 175-172 to win the Priority Girls Scratch event!
Big thanks to the whole team at the spectacular new-look Holiday for their usual great hosting job. Want in on the fun? Just come on down to the next JBT event!
Holiday Bowl- final results and scholarship winners
3/31/2019
Scratch Division
rank
bowler
prize
1
Will Davis
$264
2
Zach Harvey
$188
3
Harley Sweigart
$104
4
Dante Uribarri
$50
5
Christian Apolonio
$50
6
Morgan Ellis
$25
7
Robin Prioleau
$50
8
Toby Cdebaca
9
Brandyn MacPhee
10
Yarelis Alvarez
11
Kallista Fritts
12
Tylor MacPhee
13
LaMarr Damon
14
Nathan Nguyen
15
Jonah Seawright
16
Alex Harmon
$5
17
Chris Furdek
18
Aileen Linares
19
Lauren Jaramillo
20
Quirino Sanchez
21
Christian Apolonio
22
Hailey Winn
23
Kaitlin Joslin
24
Eric Gauna
25
Montana Cdebaca
Handicap Division
1
TJ Thalman
$200
2
Kara Thompson
$115
3
Taylor Herson
$60
4
Angela Romero
$50
5
Justin Weddige
$40
6
Josh Williams
$58
7
JD Messenger
$14
8
Michael Jamael
9
Alex Thompson
$44
10
Jay Heffer
11
Josie Herson
12
Jordan Womble
13
Shaiden Raymond
14
Meah Alvarado-McDonald
15
AJ Navarrette
16
Nicco Bacoccini
17
Gabe Alvarado
18
Gerilynn Delegarito
19
Elliot Varela
20
Jared Basey
21
Jayden Martinez
22
Faith Pinter
23
Kloey Kielich
24
Kameron Bowers
25
Santiago Navarrette
26
Faith Pinter
27
Lamarr Damon
28
Jay Heffer
29
Michael Goodman
30
Harlee Wilson
31
Angela Romero
32
Josie Herson
33
Daniella LaBier
High Games
Scratch
Handicap
1
Uribari 266
Thalman 278
2
Z Harvey 264
G Alvarado 277
3
Davis 259
Thalman 272
4
M Ellis 257
Weddige 267
5
Sweigart 256
K Thompson 265
Girls Scratch side event
1
Prioleau -+29*
2
M Ellis +24
3
Yarelis -50
4
Fritts -53
5
Linares -114
U-17 scratch side event
1
J Williams +94
2
Priloeau +29*
3
Weddige +28
4
Uribarri +6
5
T Cdebaca -3
Round Leaders
Scratch
Handicap
1
M Ellis
Thalman
2
M Ellis
Thalman
3
Apolonio
Thalman
4
Apolonio
Thalman
5
Z Harvey
Thalman
TOTAL AWARDED THIS EVENT: $1,317