23rd ANNUAL ARIZONA INVITATIONAL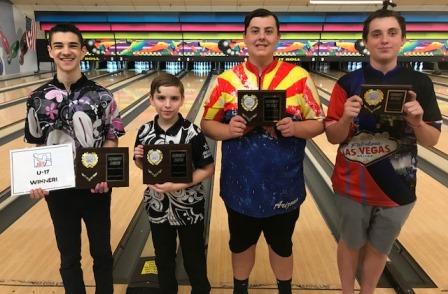 champs Solomon Salama & Bailey Knight; Zack and Aiden Othic
Solomon Salama and Bailey Knight earned $1,000 top scholarship prizes each as champions of the 23rd annual JBT Arizona Conference Invitational tournament, held at Phoenix's Let It Roll.
After five games of qualifying, bowlers competed in triple elimination matchplay, ten rounds of tension until a winner emerges. Cortez Schenck, on his quest for 100 titles, dominated the qualifying round, but thumb issues contributed to a round seven exit in matchplay. With four players left in round eight, Salama eliminated Joshua Molloy, while Lucas Rabb eliminated Hunter Mayes, setting up a scenario where Lucas would have to beat Solomon twice to win the title.
The first game appeared to be all Salama, but Rabb made a fantastic comeback in the late frames. However, Solomon shut the door in the tenth, and the incredible portsider claimed the title, making it over $2,500 earned in JBT events in the last 30 days. It's the 19th title of his JBT career. Rabb's runner-up finish was enough to hold off a charging Harley Sweigart and earn his second consecutive AZ Bowler of the Year honors.
In the handicap division final four, Kyle Lawrence stayed alive by giving Zack Othic his second loss, while Knight ousted Zack's brother Aiden Othic. That left three bowlers and gave Zack a bye, while Knight eliminated Lawrence in third place (but enough to snag handicap Bowler of the Year) to move on to a one-game final.
Knight had been an 'Othic slayer' all day, handing both brothers losses earlier, and he had one more in him, bowling a solid game to defeat a good effort from Zack and claim the Invitational title, his first but second for the family, joining big brother Taylor as champs.
Salama completed his day with the U17 win over 11 year old up-and-comer Jason Gootzeit, earning a $200 bonus. $200 also went to Abby Franklin, the Priority Girls Scratch winner over Aileen Linares.
Big thanks as always to Let It Roll for a great hosting job, Ebonite for their unparalleled season-long sponsorship, and everyone involved in amazing 23rd season of action. Season 24 kicks off with the Desert Open, August 10-11 in Glendale. Spread the word and see you there!
AZ Invitational- final results and scholarship winners
6/16/2019
Scratch Division
rank
bowler
prize
1
Solomon Salama
$1,200
2
Lucas Rabb
$500
3
Hunter Mayes
$294
4
Joshua Molloy
$150
5
Cortez Schenck
$154
6
Dawson Reese
$100
7
Mathew Adragna
8
Cerell Cardines
9
Harley Sweigart
$153
10
Abby Franklin
$200
11
Kyle Perry
12
Justin Song
13
Josh Mabry
14
Clifford Robbins
$50
15
Rashaad Jordan
16
Brock Bivins
$50
17
Chris Mayes
18
Aileen Linares
$50
19
Alex Seng
20
Deo Benard
21
Tim Hill
22
Keith Ylvisaker
$5
23
Eric Gauna
24
Josh Fearing
25
Phillip Sauve
26
Ryan Perry
27
Hayden Hull
28
William Robbins
Handicap Division
1
Bailey Knight
$1,074
2
Zach Othic
$515
3
Kyle Lawrence
$250
4
Aiden Othic
$150
5
Miya Greene
$125
6
Kendall Bollea
$110
7
Payton Workman
$50
8
Jason Gootzeit
$64
9
Mackenzie Hammer
10
Gavin Holter
$28
11
Ryan Zent
$50
12
Cesar Padilla
$50
13
Max Premeau
14
Cesar Padilla
15
Silas Phillips
16
Alisabeth Rich
$28
17
Caden Meliska
$5
18
Darren Fletcher
19
Jadeyn Mabry
20
Yael Salama
21
Baylee Snow
22
Kaitlynn Hammer
23
Josh Williams
24
CJ Todeschi
25
AJ Imperial
26
Noel Hernandez
27
Corbin HIrsch
High Games
Scratch
Handicap
1
Reese 257
Z Othic 269
2
Schenck 256
Knight 267
3
Sweigart 255
Gootzeit 266
4
Sweigart 248
Fletcher 253
5
Salama 247
Knight 249
Todeschi 249
Priority Girls Scratch
1
Franklin -47*
2
Linares -107
3
Cheesman -127
4
M Hammer -142
5
K Hammer -215
Qualifying Leaders
Scratch
Handicap
1
Schenck +175
Gootzeit +136
2
Sweigart +99
S Phillips +96
3
Salama +69
Greene +79
U-17
1
Salama +63*
2
Gootzeit +21
3
Padilla +2
4
H Mayes -34
5
Reese -52
Round Leaders
Scratch
Handicap
1
Salama
Gootzeit
2
Schenck
Phillips
3
Schenck
Phillips
4
Schenck
Gootzeit
5
Schenck
Gootzeit
Total Awarded This Event: $5,383