SO CAL INVITATIONAL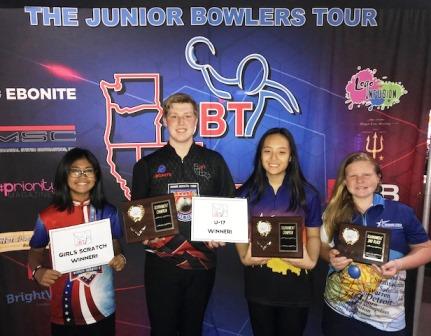 champs Zach Greim and Stephanie Hong (center) with Katelyn Abigania and Lindsay Greim
Zach Greim and Stephanie Hong each earned $1,000 top scholarships as champions of the 2019 Junior Bowlers Tour So Cal Invitational, held at Bowlium Lanes in Montclair.
After five qualifying games, sixteen bowlers in scratch and handicap divisions played nerve-wracking triple elimination matchplay. Greim had earned the top seed with a blistering opening set, and was able to get through eight rounds of matchplay with two losses. That earned him a second bye, while Las Vegas star Cerell Cardines eliminated Kyle Reed, setting up the title match.
Cerell, a 13-time champ, could have shut out Zach with a tenth frame strike, but left a stunning split which he almost but didn't convert, giving Greim a chance at a win with a strike. He came through with the hit to earn the title, $1,000 top prize, and 6th career JBT title.
Zach's sister Lindsay Greim has blossomed into a JBT star in her own right this season, and was in position to add Invite champ to her resume with only one loss through nine rounds. However, Hong, another quickly rising female star, had other ideas. Needing to win twice to take the title, Stephanie squeaked by game one, and then blasted 246 scratch in the final to win her second JBT title and $1,000 top scholarship prize.
Katelyn Abigania completed a dominant season in the Priorty Girls Scratch subdivision, beating Avery Domaguin for the $200 top prize, and here ninth Girls win this season. Greim completed his dream day with a $200 win over Katelyn's brother Joshua Abigania in teh U17 side event, helping boost him to $1,230 in earnings in just one day!
In all, $5,383 was earned by bowlers of all averages age 21 and under. They qualified for this bonanza by having two top-4 JBT finishes throughout the season, or finishing in the top 32 in the season-long points. The top 20 in points now advance to the Touring Players Championship to play against the best from all nine JBT states for over $20,000! Start your journey towards these big bucks by bowling JBT events all year when season 24 begins in September. Check out dates, locations, and much more at www.bowljbt.com!
So Cal Invitational- final results and scholarship winners
6/30/2019
Scratch Division
rank
bowler
prize
1
Zach Greim
$1,230
2
Cerell Cardines
$500
3
Kyle Reed
$309
4
Anthony Schanen
$153
5
Ryan Lee
$200
6
Joshua Abigania
$125
7
Dawson Reese
8
Leoj Chin
9
Garrett Lee
$5
10
Trevyr Geronimo
11
Tim Hill
12
Michael Marmolejo
13
Kyler Orosco
14
Harley Sweigart
$55
15
Allex Zieg
16
Marquan Rivers
17
Daniel Hong
18
Louis Luna
19
Austin Sugarman
20
Elias O'Hollaren
21
Nolan Am-Khong
22
Zack Long
23
Ardani Rodas
24
James McGough
Handicap Division
1
Stephanie Hong
$1,000
2
Lindsay Greim
$515
3
Justin Redfield
$250
4
Josh Karney
$200
5
Katelyn Abigania
$393
6
Cyruss Tehrani
$125
7
Alexis Lee
$100
8
Maikayla Villa
9
Nathan Ginsburg
10
Hillari Hampton
$15
11
Emily Cheesman
$14
12
Connor Steelmon-Hill
$60
13
Avery Domaguin
$50
14
Brandon Criss
$50
15
Elias Luna
16
Cameron Criss
$14
17
Emily Schrider
18
Yael Salama
$30
19
Caleb Rothstein
20
Akayla Orosco
21
Jacob Johnson
22
Secilia Kalvelage
23
Josh Williams
$10
24
Ryland Pimentel
25
Ryan Bass
26
Raeden Pimentel
27
Adrian Yamanoha
28
Nathan Chambers
29
Gavin Holter
30
Dante Villa
31
Peter Ruiz
High Games
Scratch
Handicap
1
R Lee 300
Steelmon-Hill 288
2
G Lee 290
S Hong 279
3
Z Greim 289
Cheesman 274
4
Reed 279
Karney 272
5
K Orosco 279
Tehrani 271
High Female
1
K Abigania +58*
2
Domagun -23
3
Cheesman -26
4
J Azvedo -29
5
A Azvedo -81
Qualifying Leaders
Scratch
Handicap
1
Greim +243
Steelmon-Hill +206
2
Reed +219
Redfield +144
3
J Abigania +162
E Luna +143
U-17
1
Z Greim +243*
2
J Abigania +162
3
G Lee +145
4
Reese +128
5
K Orosco +21
Round Leaders
Scratch
Handicap
1
Reese
Steelmon-Hill
2
J Abigania
Steelmon-Hill
3
Zieg
Steelmon-Hill
4
Reed
Steelmon-Hill
5
Greim
Steelmon-Hill
Total Awarded This Event: $5,383