NM-TX INVITATIONAL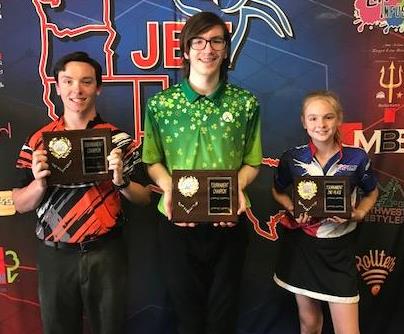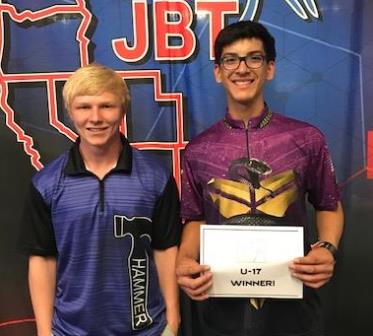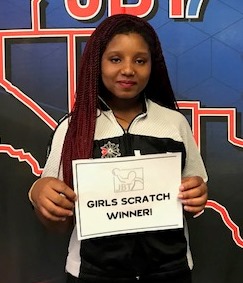 champs Brad Harvey & JD Messenger; Kloey Kielich; Will Davis & Dante Urribari; Robin Prioleau
Brad Harvey and JD Messenger captured JBT major titles as champions of the 2019 JBT NM-TX Invitational, hosted by Silva Lanes in Albuquerque.
In the scratch division, Will Davis completely dominated the qualifying round, including a terrific 299 game, but lost the look in the triple elimination finals, going 1-3 to bow out in 12th place. #2 Zach Harvey filled that gap, starting 5-0 before Bowler of the Year Harley Sweigart gave him his first loss. Meanwhile, Brad Harvey, who snuck in as the 16th seed, was racing through the field, starting with a 268 to beat Davis and staying alive with a round seven win over his brother.
Down to four players left, Tylor MacPhee, having his best event of the season, eliminated Zach, while Brad beat Sweigart with a huge tenth frame double to stay alive. That didn't hurt Harley much as he got the next bye, and waited as Harvey eliminated MacPhee to set up a single game final. In that finale, Sweigart struggled towards the end, and a determined Harvey came through with a 234-174 win, good for the first JBT of any kind in his career, and the $1,000 top scholarship prize.
Veteran Gerilynn Delegarito was brilliant in qualifying to grab the top handicap seed, but was up and down in matchplay, bowing out in round six to finish a solid fifth. With four players remaining, Kloey Kielich eliminated Jeremy Perlisnki (who slipped into TPC with the excellent weekend), while Jared Basey stayed alive with a win over Messenger. That gave JD a valuable bye, and he watched as Kielich eliminated Basey in third, setting up a one game title match.
The final game stayed close, but in the end Messenger won the match, avenging a title match loss to Kloey here in November, and capture JBT title #1 and the $1,000 top payday as Invitational champ. Yarelis Alvarez dominated the season long race to earn Girls Bowler of the Year.
Robin Prioleau capped off an excellent season by beating Lauren Jaramillo for the Priority Girls Scratch Invitational championship. Dante Uribarri broke through for the U17 Invite win by beating Davis. Will's big qualifying round was enough to push him over the top into U17 Bowler of the Year however.
Huge thanks to the team at Silva for a great hosting job and being great supporters of our Tour for all these years. The top 20 in points now advance to the TPC, where they'll play the best of the best for the $2,000 top prizes!
NM-TX Invitational- final results and scholarship winners
6/2/2019
Scratch Division
rank
bowler
prize
1
Brad Harvey
$1,000
2
Harley Sweigart
$514
3
Tylor MacPhee
$250
4
Zach Harvey
$163
5
Blayne Hurst
$173
6
Robin Prioleau
$200
7
Nathan Nguyen
8
Dante Uribarri
$200
9
Lauren Jaramillo
$50
10
Yarelis Alvarez
$50
11
Toby Cdebaca
12
Will Davis
$123
13
Brandyn MacPhee
$14
14
Zach Wojciechowski
15
Donius Jeffries II
16
Christian Apolonio
17
Carson Opela
18
AIleen Linares
19
Kallista Fritts
20
Morgan Ellis
$14
21
Alex Harmon
22
Kaitlinn Joslin
23
Quirino Sanchez
24
Eric Gauna

25

Jonah Seawright
Handicap Division
1
JD Messenger
$1,014
2
Kloey Kielich
$500
3
Jared Basey
$250
4
Jeremy Perlinski
$135
5
Gerilynn Delegarito
$175
6
Angela Romero
7
Alex Thompson
8
Justin Weddige
$50
9
Shaiden Raymond
$50
10
Isaiah Sandoval
11
Jayden Martinez
$50
12
Kara Thompson
13
Santiago Navarrette
14
Taylor Herson
$50
15
Josh Williams
$30
16
Michael Goodman
$15
17
TJ Thalman
$1,000
18
Josie Herson
19
Ivan John
20
Isaac John
21
AJ Navarrete
22
Faith Pinter
Qualifying Leaders
Scratch
Handicap
1
Davis +224
Delegarito +103
2
Z Harvey +82
Basey +84
3
Nguyen +74
K Thompson +63
High Games
Scratch
Handicap
1
Davis 299
Basey 263
2
B Harvey 267
K Thompson 261
3
Nguyen 259
Goodman 252
4
Hurst 256
Messenger 247
5
Jeffries 248
2 tied at 245
Girls Scratch side event
1
Prioleau +40*
2
Ljaramillo -17
3
Alvarez -19
4
Delegarito -21
5
K Thompson -49
U-17 scratch side event
1
Davis +224
2
Uribarri +59*
3
Williams +46
4
Priloeau +40
5
Alvarez -19
Round Leaders
Scratch
Handicap
1
Davis
J Herson
2
Davis
J Herson
3
Davis
Basey
4
Davis
Basey
5
Davis
Delegarito
TOTAL AWARDED THIS EVENT: $6,070