PAC NW INVITATIONAL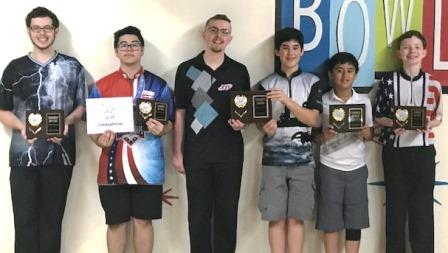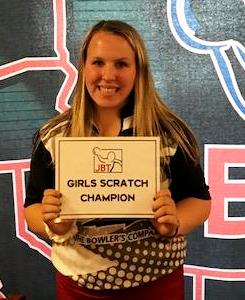 champs Tyler Boe & Jaadyn Humphries; Simon Dyck, Ashton Yamasaki, Aiden Wong, Colt Jance, Mackenzie Theophilus
Tyler Boe wrapped up an amazing JBT career with a major win, while Jaadyn Humphries kickstarted his own young career with a victory, as champions of the 2019 JBT Pacific Northwest Invitational, hosted by Longview's Triangle Bowl.
After qualifying, 11 survivors joined five exempt players to bowl triple elimination matcplay until only one survivor stood. In the scratch division, six bowlers remained after seven rounds, and in round eight #3 Boe handed top qualifier Ashton Yamasaki (who blasted 296 earlier) his second loss, #9 Simon Dyck eliminated #5 Isaac Mailkoff, and #8 Duncan Whitaker eliminated #6 Jerry Jennings. With four now left, Dyck beat Boe to stay alive, while Yamasaki eliminated Whitaker, who wrapped up an impressive June in fourth. That gave Boe a bye, while Dyck eliminated Yamasaki in third, leaving him to face Boe again in a one game title match. In that game, despite big scores the last few rounds, Simon could not get zeroed in, and the veteran Boe took advantage for the win. It's his ninth JBT title, and a storybook ending for the last bowler to be active who bowled our first season of Pac NW events.
In the handicap division, six survivors were suddenly narrowed to three as Aiden Wong eliminated Noah Sicard, Humphries stopped Mackenzie Theophilus, and Colt Jance eliminated previous day's champion and top seed today Joshua Iverson. That gave Aiden a bye, and when Jaadyn eliminated Jance, that left a scenario with he and Wong both with only one loss, forcing a head to head, two of three match for the title. Humphries won the first game, and in the middle of the second, Aiden's sore thumb finally gave out. He bravely finished the game no-thumb and managed to keep it close, but Jaadyn pulled ahead to win game two and the title. He (and Boe) earned $1,000 for the win, and his second career JBT title.
The subdivisions played for big bucks too. Mackenzie Theophilus beat Jessica Holbrook for the Girls Scratch title, and Ashton Yamasaki edged Hunter Bower for the U17 crown, each picking up $200 prizes for the wins.
The top 20 in points now move on to the TPC in Henderson, competing for $2,000 top prizes. Huge thanks to Beau and Triangle for their usual great hosting job, all our sponsors, and every family who takes the time to bowl with us. Season 24 starts in August, be loking for full schedules soon!
Pac NW Invitational- final results and scholarship winners
6/22/2019
Scratch Division
rank
bowler
prize
1
Tyler Boe
$1,037
2
Simon Dyck
$515
3
Ashton Yamasaki
$514
4
Duncan Whitaker
$150
5
Isaac Mailkoff
$125
6
Jerry Jennings
$100
7
Jacob Mullen
8
Paul Rosales
9
John Malone
10
Tommie McNeal
$50
11
Hunter Bower
$50
12
Bud Sicard
13
AJ Hooper
14
Lohrghan Ziegler
15
Tyler Coates
$50
16
Jacob Frazier
17
Jessica Holbrook
$65
18
Brian DeLuisa-Amderson
19
Ryan Smerud
20
Andrew Martin
21
Michael Strothman
22
Payton Edwards
23
Makana Wong
24
Tyler Denune
25
Evan Smith
26
Kyle Adams
27
Cosmo Castellano
28
Brooklyn Boudreau
$5
29
Ethen Maxwell
Handicap Division
1
Jaadyn Humphries
$1,000
2
Aiden Wong
$500
3
Colt Jance
$265
4
Joshua Iverson
$150
5
Noah Sicard
$125
6
Mackenzie Theophilus
$300
7
Lailani Wallin
$56
8
Aubrey Harding
$50
9
Bryan Zeutenhorst
10
Kierra Wilcox
11
Do Hoon Kwon
12
Ben Heisler
13
Carter Humphries
$28
14
Silas LeBlanc
$50
15
Guillermo Castaneda
16
Dalton Mason
17
Anna Gatlin
18
Trevor Wodesky
19
Sienna Stoner
20
Kailee Wilcox
21
Matthew Lennox
22
Cadin Cervine
23
Lucas Le Blanc
24
Payton Bower
25
Jonathan Lorey
26
Hilary Zuniga
27
Ruth Magana
28
Hannah Hamilton
$5
29
Mary Sicard
Qualifying Leaders
Scratch
Handicap
1
Yamasaki +226
Iverson +179
2
McNeal +116
N Sicard +169
3
Boe +99
Wallin +119
High Games
Scratch
Handicap
1
Yamasaki 296
Theohilus 283
2
Jennings 279
Harding 265
3
Dyck 279
Iverson 264
4
Dyck 278
Iverson 261
5
6 tied with 269
Jance 261
Girls Scratch Invitational
1
Holbrook -39
2
Theophilus -100*
3
Lorey -125
4
Smith -136
5
Harding -153
U-17 scratch side event
1
Yamasaki +226*
2
Bower +87
3
Malone +54
4
Coates -2
5
B Sicard -27
Round Leaders
Scratch
Handicap
1
Yamasaki
Iverson
2
Dyck
Castaneda
3
Yamasaki
Castaneda
4
Yamasaki
Iverson
5
Yamasaki
Iverson
TOTAL AWARDED THIS EVENT: $5,190