KEYSTONE LANES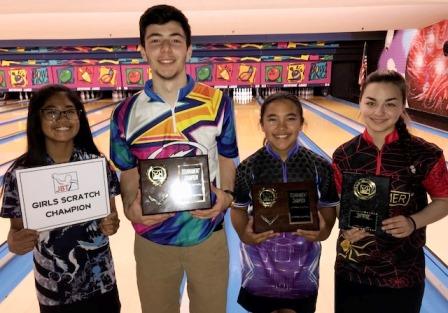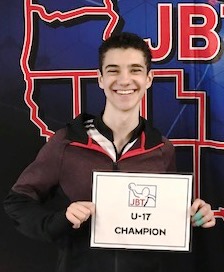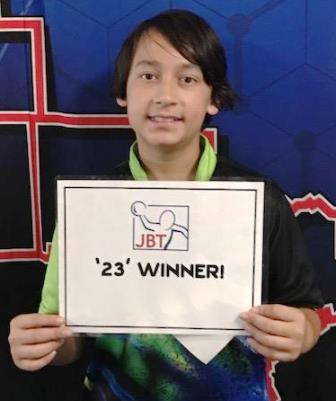 champs Anthony Schanen & Avery Domaguin; Kateyln Abigania, Emily Schrider; Solomon Salama; Elias O'Hollaren
Anthony Schanen enjoyed a breakthrough win, while Avery Domaguin just keeps on winning, earning titles in exciting JBT Southern California Conference action at Keystone Lanes in Norwalk.
Bowlers competed in the exciting Super Survivor format: after qualifying, the low overall game and the lowest overall totals are eliminated game by game until only the champ remains. In the scratch division, twelve survivors were carved down to three, and in that high scoring round, Garrett Lee (241) and Schanen (237) eliminated Ryan Lee (228) to set up the title game.
Schanen has made numerous finals without a win, while Lee is an up and coming star with the east coast JBT's Vegas Open win under his belt. The match remained close throughout, but in the end Anthony had just enough left to mop up the win and finally savor that long awaited first career JBT title.
``` A whopping 24 handicap survivors were eventually carved down to four, and that ensuing round couldn't have been more exciting. Nathan Chambers rolled 201 but had to bow out with the low game. Emily Schrider went from last in pinfall to a brilliant 295 game to jump to second at +281, Avery Domaguin barely held on to her pinfall lead at +298, leaving Stephanie Hong, who despite a 254 game that included five in a row on her lower average, could 'only' get to +266, thus eliminated on low total pinfall. After that tenth game, only 32 pins separated first to last- wow!
That left Emily and Avery to battle it out for the title, and the two young ladies put on another excellent show, with Domaguin's tenth frame spare eventually enough to defeat a great effort from Schrider, and capture the 5th title of her still very young JBT career.
The day's Priority Girls Scratch subdivision event went to U12 National Champ Katelyn Abigania, who got by Domaguin 214-210 in another terrific final match. Solomon Salama completed another solid day with a win over Garrett Lee for the day's U17 title.
Big thanks to the team at Keystone for another great job hosting our Tour. Want in on all the fun? Just check out our schedule and come on down!
Keystone Lanes- final results and scholarship winners
10/7/2018
Scratch Division
rank
bowler
prize
1
Anthony Schanen
$265
2
Garrett Lee
$125
3
Ryan Lee
$75
4
Solomon Salama
$146
5
Kyle Reed
$50
6
Nolan Am-Khong
7
Joshua Abigania
$15
8
Daniel Hong
9
Dawson Reese
10
David Schneider
$28
11
Nick Caner
12
Ben Dinenberg
13
Ryan Pwrry
14
Andrew Chan
15
Allex Zieg
16
Elias O'Hollaren
$100
17
Leoj Chin
18
Costa Gastouniotis
19
Louis Luna
20
Trevyr Geronimo
21
Tim Hill
22
Gael Egana
23
Harley Sweigart
24
Austin Sugarman
25
Alberto Bernal
26
Zach Greim
27
Jacey Opiana
28
Clifford Baltazar
29
Rodrigo De La O
30
Kyler Orosco
Handicap Division
1
Avery Domaguin
$354
2
Emily Schrider
$200
3
Nathan Chambers
$125
4
Stephanie Hong
$100
5
Jessica Handa
$75
6
Katelyn Abigania
$110
7
Christopher Schaffer
$79
8
Emily Cheesman
$105
9
Shane Howard
$84
10
Amanda Hanson
$40
11
Allison Azvedo
12
Kaitlynn Yukihiro
$30
13
Lindsay Greim
$10
14
Elias Luna
15
Elijah Melchor
16
DJ Soperanaz
17
Cameron Criss
$15
18
Sarah Lee
19
Henry Lee
20
Timothy LeCount
21
Hailey Shepherd
$30
22
Yairi Lubag
23
Ethan Chambers
24
Justin Redfield
25
Justin Barriga
26
Cyruss Tehrani
27
Connor Steelmon-Hill
28
Secilia Kalvelage
29
Gavin Holter
30
Kaitlynn Martin
31
Haylee Carlos
32
Timothy Kessler
33
Jared Schiada
34
Ian Fiel
35
Tyler Handa
36
Manuel Gonzalez
37
Patrick Sablan
38
Jace Barnes
39
Ailslinn Lubag
40
Jaclyn Azvedo
41
Caleb Rothstein
42
Raeden Pimentel
43
Hillari Hampton
$15
44
RJ Davis
45
Tanner Ferguson
46
Peter Ruiz
47
Krystopher Martin
48
Brandon Criss
49
Zian Sasaki
50
Ryland Pimentel
51
Adrian Yamanoha
52
Ryan Bass
53
Lathan Chin
54
Yael Salama
55
Reymar Santos
56
Mirella Barrisa
57
Martin Velasco
High Games
Scratch
Handicap
G Lee 279
Schneider 295
K Reed 278
N Chambers 291
Salama 267
Schneider 287
R Lee 258
Cheesman 281
A Chan 257
N Chambers 274
High Female
1
Domaguin +41
2
K Abigania +39*
3
Cheesman +22
4
Hanson -62
5
A Azvedo -74
Qualifying Leaders
Scratch
Handicap
1
Schanen +127
K Abigania +169
2
R Lee +124
A Domaguin +151
3
G Lee +123
Cheesman +142
U-17
1
G Lee +123
2
Salama +112*
3
Am-Khong, N +56
4
Reese +43
5
Domaguin +41
Round Leaders
Scratch
Handicap
1
A Chan
Schiada
2
G Lee
K Abigania
3
Salama
K Abigania
4
Salama
K Abigania
5
Salama
K Abigania
Total Awarded This Event: $2,176