KINGPINS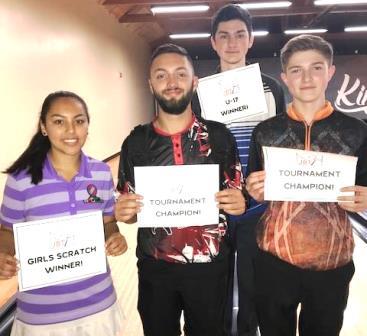 champs Tyger Miller & AJ Hooper; Evan Smith; Hunter Bower
Tyger Miller and AJ Hooper earned JBT titles in exciting Pacific Northwest action at Kingpins Portland.
Simon Dyck rolled the high game of the day for a 275-184 win over Hunter Bower to begin the scratch division stepladder finals. Dyck cooled off in teh next game and Miller took advantage for a 187-154 win and a trip to the title match.
Top seed Ashton Yamasaki continued his romp through the Tour this season by leading again. However, he could not get locked in on the championship pair. Tyger, conversely, was able to string the strikes, and the 236-195 win was good for the second title of his JBT career.
Newcomer Abbie Kay began the handicap stepladder with a 233-221 win over Joshua Iverson. Kay remained hot in a 219-195 win over Silas LeBlanc to reach the title game.
Top seed AJ Hooper dominated the event right from round one, way ahead of the field after the semifinals. However, you still have to win the last game, and it came down to the final frame. Needing a tenth frame spare, AJ calmly converted a 10-pin for a 210-200 win over a great effort from Abbie, good for his first career JBT title.
Hunter Bower finally broke through for a U17 win with a victory over Yamasaki. The Evan Smith Express rolled on in Priority Girls scratch, as she won her third straight event to open the season, this one over Jessica Holbrook.
Big thanks to the team at Kingpins for hosting our event. Want in on the fun for all ages and averages? Just check out our schedule and come on down!
Kingpins- final results and scholarship winners
9/22/2018
Scratch Division
rank
bowler
prize
1
Tyger Miller
$250
2
Ashton Yamasaki
$161
3
Simon Dyck
$112
4
Hunter Bower
$75
5
Evan Smith
$100
6
Jacob Frazier
7
Lohrghan Ziegler
8
Isaac Mailkoff
9
Tucker Kaus
10
Tyler Coates
11
Aidghan Ziegler
12
Tyler Boe
$12
13
Makana Wong
$100
14
Brian DeLuisa-Anderson
15
Alejandro Moser-Hernandez
16
Ethen Maxwell
17
Kyle Adams
18
Tyler Denune
19
Cosmo Castellano
20
Andrew Martin
21
Jessica Holbrook
$25
22
Dodge Miller
23
Michael Strothman
24
Sam Gritzke
25
Joe Brooks
26
Sam Flaisig
27
Liam Hardman
28
Elijah Chin
29
Victorya White
30
Paul Rosales
Handicap Division
1
AJ Hooper
$225
2
Abbie Kay
$185
3
Silas LeBlanc
$75
4
Joshua Iverson
$60
5
Bryan Zeutenhorst
$65
6
Ben Heisler
$40
7
Michele Westmorland
$40
8
Payton Bower
9
Jonathan Lorey
10
Rick Wiser
11
Kailee Wilcox
$15
12
Colt Jance
$19
13
Hilary Zuniga
14
Dayton Nickolson
15
Anna Gatlin
16
Dalton Mason
17
Kristen Blank
18
Sarah Trimble
19
Tyler Black
20
Jaadyn Humphries
21
Gabriel Potter
22
Guillermo Castaneda
23
Skyler Broussard
24
Lucas LeBlanc
25
Carter Humphries
26
Ruth Magana
27
Derek Haight
28
Aubrey Harding
29
JT Taylor
30
Paul Lemay
31
Trevor Wodesky
32
Catherine Carver
33
Clayton Benham
34
Taylor Wodesky
35
Lailani Wallin
36
Cadin Cervine
$10
37
Kristopher Mace
Qualifying Leaders
Scratch
Handicap
1
Yamasaki +128
Hooper +221
2
T Miller +86
S LeBlanc +173
3
H Bower +72
J Iverson +75
High Games
Scratch
Handicap
1
Dyck 275
S LeBlacnc 294
2
Maxwell 268
Hooper 274
3
A Ziegler 259
Hooper 262
4
Yamasaki 256
Hooper 254
5
Dyck, Moser-Hern. 252
Heisler 254
Girls Scratch side event
1
Smith +9
2
Holbrook -115
3
Kay -120
4
Blank -144
5
P Bower -212
U-17 scratch side event
1
Yamasaki +128
2
Bower +72*
3
S LeBlanc +27
4
Hooper +26
5
Smith +9
Round Leaders
Scratch
Handicap
1
Yamasaki
Hooper
2
Yamasaki
Hooper
3
Yamasaki
Hooper
4
Yamasaki
Hooper
5
Yamasaki
Hooper
6
Miller
Hooper
7
Yamasaki
Hooper
TOTAL AWARDED THIS EVENT: $1,569