KINGPINS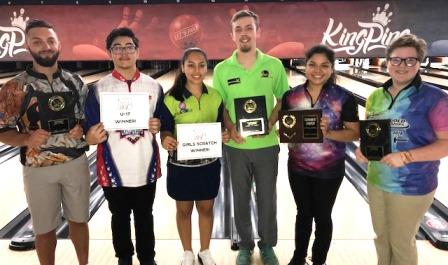 champs Tyler Boe & Hilary Zuniga; Tyger Miller, Ashton Yamasaki, Evan Smith, Abbie Kay
Tyler Boe and Hilary Zuniga claimed JBT titles in Pacific Northwest Conference action at the beautiful Kingpins Portland.
Bowlers competed in the exciting 'rising tide' format, where the lowest total pinfall bowlers are eliminated game by game, more every game, until the 'tide' washes away all but the champion. Twelve scratch semifinalists were carved down in six, and with four bowlers eliminated that round, it was anyone's game. Previous day's champion Tyger Miller stayed ahead of the field, while Tyler Coates used a huge game, and its lifeline bonus, to pull even with Tyler Boe and force a rolloff to advance. On a brutal lane pattern, each Tyler came up with two solid strikes, before Boe stopped Coates 10-9 on the third try, getting an ovation for both and a trip to the finals for Boe.
Miller was looking to match Ashton Yamasaki's feat from last month of sweeping the weekend, but could not find the look on the championship pair. Tyler, Meanwhile, got a late string to beat Tyger and earn the sixth title of his JBT career.
Hilary Zuniga and Abbie Kay, the only bowlers 'plus' after eight games, held on to their top two spots in the final rising tide round to advance and play for the title. Kay, in her debut JBT weekend, was hoping to bet her runner-up performance from the day before, but could not make up the handicap difference she was giving to Zuniga. Hillary filled frames and stayed ahead, claiming her second career JBT title with the win over Kay.
Yamasaki backed up his 4th place finish with a U17 win over Andrew Martin, blasting the high game of the whole tournament, a front-eight, 278 effort. Evan Smith made it four-for-four to open the Priority Girls scratch subdivision, beating Kay in that finale.
Big thanks to the team at Kingpins for hosting our Tour. Want in on the most fun and excitement for all ages and averages? Just check out the JBT schedule and come on down!
Kingpins- final results and scholarship winners
9/23/2018
Scratch Division
rank
bowler
prize
1
Tyler Boe
$264
2
Tyger Miller
$125
3
Tyler Coates
$75
4
Ashton Yamasaki
$79
5
Andrew Martin
$50
6
Hunter Bower
$14
7
Isaac Mailkoff
8
Makana Wong
9
Ethen Maxwell
$28
10
Evan Smith
$50
11
Michael Strothman
12
Alejandro Moser-Hernandez
13
Carlos Serrano
14
John Malone
15
Tyler Denune
16
AJ Hooper
17
Simon Dyck
18
Liam Hardman
19
Jacob Frazier
20
Alex Perini
21
Payton Edwards
22
Aidghan Ziegler
23
Cosmo Castellano
24
Lohrghan Ziegler
25
Brian DeLuisa-Anderson
26
Sam Gritzke
27
Kyle Adams
28
Jessica Holbrook
29
Samantha Strehle
30
Paul Rosales
Handicap Division
1
Hilary Zuniga
$200
2
Abbie Kay
$155
3
Sienna Stoner
$75
4
Kailee Wilcox
$60
5
Jackie Perrulli
$50
6
Lailani Wallin
$60
7
Dayton Nickolson
8
Hannah Hamilton
9
Kerissa Andersen
10
Bryan Zeutenhorst
11
Paul Lemay
$30
12
Jaadyn Humphries
13
Catherine Carver
14
Jesse Perrulli
15
Guillermo Castaneda
16
Nicole Hayes
17
Mackenzie Theophilus
18
Joshua Iverson
19
Madison Flatin
20
Sam Flaisig
21
Jonathan Lorey
$14
22
Carter Humphries
23
Aubrey Harding
24
Derek Haight
25
Emily Strehle
26
Caitlin Moore
27
Cadin Cervine
28
Colt Jance
$10
29
Dodge Miller
30
Ben Heisler
31
Payton Bower
Qualifying Leaders
Scratch
Handicap
1
Yamasaki +19
Kay +39
2
Boe +15
Zuniga +23
3
Mailkoff -31
Stoner 0
High Games
Scratch
Handicap
1
Yamasaki 278
Zuniga 241
2
Boe 268
J Perrulli 239
3
Coates 256
Nickolson 238
4
T Miller 243
Stoner 234
5
A Martin 235
Andersen 232
Girls Scratch side event
1
Kay -86
2
Smith -89*
3
Andersen -114
4
Stoner -230
5
Holbrook -242
U-17 scratch side event
1
Yamasaki +19*
2
Martin -34
3
Coates -71
4
Maxwell -78
5
Moser-Hernandez -82
Round Leaders
Scratch
Handicap
1
Boe
Kay
2
Yamasaki
Kay
3
Boe
Kay
4
Boe
Kay
5
Yamasaki
Kay
TOTAL AWARDED THIS EVENT: $1,339