KEARNY MESA BOWL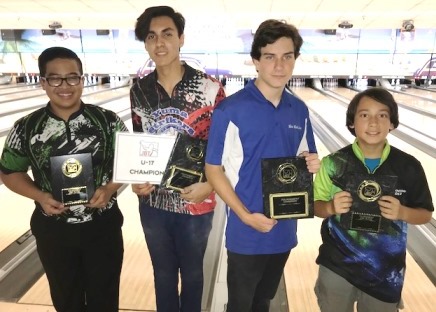 champs Marco Flores & Sterling Lopez with Cerell Cardines & Elias O'Hollaren
Marco Flores and Sterling Lopez opened the 2018-19 JBT Southern California Conference season with convincing wins at Kearny Mesa Bowl in San Diego.
Cerell Cardines began the scratch division stepladder finals with a 243-226 win over Anthony Schanen. Cerell then defeated Kevin Banaag 201-185 to reach the title game.
Top seed Marco Flores outstruck a talented field to earn the top seed, and continued to string them in the title match. He beat Cardines in the final for his third career JBT title.
Dillon O'Neil beat Emily Cheesman 191-174 to begin the handicap division stepladder finals. Elias O'Hollaren then stopped O'Neil 200-187 to reach the title match.
Sterling Lopez grabbed the top seed from Elias in the final semifinal game, and consolidated that lead with a big title match, beating O'Hollaren for the third title of his JBT career.
Flores' landmark day wrapped up with a 233-183 win over Louis Luna to win the U17 subdivision. Kaylee Am-Khong kept up the torrid pace she set last season, beating Avery Domaguin 184-148 to win the Priority Girls Scratch subdivision.
Big thanks to the team at Kearny for another great job hosting our Tour. Want in on all the fun for all ages and averages? Just check out our schedule and come on down!
Kearny Mesa-

final

results and scholarship winners
9/8/2018
Scratch Division
rank
bowler
prize
1
Marco Flores
$250
2
Cerell Cardines
$125
3
Kevin Banaag
$75
4
Anthony Schanen
$60
5
Zack Long
$50
6
Solomon Salama
$58
7
Harley Sweigart
$30
8
Kyle Gilbert
9
Louis Luna
10
Josh Mabry
11
Marquan Rivers
12
Daniel Hong
13
Sebastian Huffman
14
Dawson Reese
15
Tim Hill
16
Richard Paul III
17
Zach Greim
$14
18
Kaylee Am-Khong
19
Gael Egana
20
Nolan Am-Khong
$50
21
Kyle Reed
22
Lukas Wilcox
23
Joshua Abigania
24
Noah Dotterman
25
James McGough
$14
26
Brandon Lim
27
Renee Gentry
28
Alberto Bernal
29
Justin Phillips Jr
Handicap Division
1
Sterling Lopez
$200
2
Elias O'Hollaren
$100
3
Dillon O'Neil
$75
4
Emily Cheesman
$90
5
Silas Phillips
$50
6
Ryland Pimentel
$40
7
Nathan Ginsburg*
8
Avery Domaguin
$94
9
Zian Sasaki
10
Parker Templin
11
Braeden Phillips
12
Manuel Aaron Gonzalez
13
Hillari Hampton
$72
14
Ethan Chambers
15
Stephanie Hong
16
Preston Carrasco
17
Simon Ortega
18
Andrea Martinez
19
Kendall Bollea
$5
20
Raeden Pimentel
21
Aislinn Lubag
22
Yael Salama
$14
23
Emily Schrider
24
Gage Baker
25
Jasmia Alshamary
26
Yairi Lubag
$15
27
Brian Erickson
$15
28
Josh Karney
$29
29
Noah Hernandez
30
Katelyn Abigania
31
Caleb Rothstein
32
Brandon Criss
$15
33
Lindsay Greim
34
Ethan Ash
35
Cayden Hanson
36
Diego Lujan
37
Nathan Chambers
38
Gavin Holter
39
Flynn Iott
40
Cameron Criss
41
Elias Luna
High Games
Scratch
Handicap
Mabry 299
Domaguin 259
Cardines 245
O'Neil 254
Long 245
B Phillips 253
Sweigart 242
S Lopez 250
Banaag 239
Ry Pimentel 249
High Female
1
Am-Khong -67*
2
Domaguin -75
3
Cheesman -148
4
A Martinez -155
5
K Abigania -165
Qualifying Leaders
Scratch
Handicap
1
Flores +94
O'Hollaren +101
2
Cardines +87
Domaguin +44
3
Banaag +86
Sasaki +43
U-17
1
Flores +94*
2
L Luna +25
3
Rivers +24
4
Salama +23
5
Hong -11
Round Leaders
Scratch
Handicap
1
Mabry
Domaguin
2
Mabry
P Templin
3
Mabry
Sasaki
4
Cardines
Lopez
5
Flores
O'Hollaren
6
Banaag
O'Hollaren
7
Flores
Lopez
Total Awarded This Event: $1,510