KEARNY MESA BOWL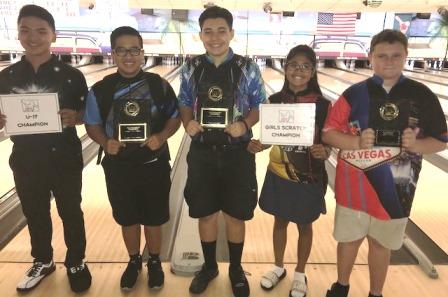 champs Cerell Cardines & Peter Ruiz; Garrett Lee, Katelyn Abigania, Brian Erickson
Cerell Cardines and Peter Ruiz earned JBT titles in terrific JBT Southern California Conference action at San Diego's Kearny Mesa Bowl.
After qualifying bowlers competed in two game head-to-head matches. In the scratch semifinal matches, Solomon Salama beat Gael Egana 232-207, and Cerell Cardines, who earlier fired the first 300 game of the new season, beat previous day's champ Marco Flores 180-175. That set up a title game we may well see a lot more of this season. The two greats put on a high quality show, but in the end Cerell squeezed by Solomon 223-215, good for the 11th title of his JBT career.
Four JBT non-winners made it to the handicap division final four, ensuring a new champ would emerge. In one semifinal, Brian Erickson got past Noah Hernandez 224-211, while in the other Peter Ruiz outscored Elias Luna 235-226. In the resulting finale, Ruiz came up with his best game of the day to beat Erickson 276-205, and earn that coveted first career title.
Garrett Lee won his first U17 event of the new season with a 244-203 win over Salama, while Katelyn Abigania, fresh off her Junior Gold U12 national championship, beat Jaclyn Azvedo 204-193 for the Priority Girls Scratch win.
Thanks as always to Nick, Johnny, and the team at Kearny for a great job hosting our Tour. Want in on all the fun for all ages and averages? Just check out our schedule and come on down!
Kearny Mesa- final results and scholarship winners
9/9/2018
Scratch Division
rank
bowler
prize
1
Cerell Cardines
$250
2
Solomon Salama
$170
3
Gael Egana
$75
4
Marco Flores
$60
5
Ricky Pollom
$50
6
Garrett Lee
7
Anthony Schanen
8
Joshua Mabry
9
Daniel Hong
10
Joshua Abigania
11
Kevin Banaag
12
Lukas Wilcox
13
Kyle Gilbert
$43
14
Kyle Reed
15
David Schneider
16
Harley Sweigart
17
Alberto Bernal
18
James McGough
19
Richard Paul III
20
Zach Greim
21
Renee Gentry
22
Dawson Reese
$15
23
Leoj Chin
24
Tim Hill
25
Louis Luna
26
Sebastian Huffman
27
Kaylee Am-Khong
28
Nolan Am-Khong
29
Avery Domaguin
Handicap Division
1
Peter Ruiz
$265
2
Brian Erickson
$125
3
Elias Luna
$100
4
Noah Hernandez
$95
5
Gage Baker
$70
6
Krystopher Martin
$90
7
Silas Phillips
$50
8
Brandon Criss
$70
9
Simon Ortega
$40
10
Sterling Lopez
11
Jaclyn Azvedo
$25
12
Ryland Pimentel
$15
13
Elias O'Hollaren
14
Katelyn Abigania
$80
15
Emily Cheesman
$45
16
Manuel Gonzalez
17
Nathan Chambers
18
Hillari Hampton
$30
19
Ethan Chambers
20
Gavin Holter
$5
21
Ian Fiel
22
Tre Mitchell
23
Raeden Pimentel
24
Jacob Heitmann
25
Maikayla Villa
$30
26
Kaitlinn Martin
27
Kendall Bollea
$5
28
Ezra Ganih
29
Lathan Chin
30
Aislinn Lubag
$15
31
Zian Sasaki
32
Tanner Ferguson
$15
33
Kaitlynn Yukihiro
34
Cameron Criss
$30
35
Lindsay Griem
$5
36
Ben Heitmann
37
Hailey Shepherd
38
Matthew Shelton
39
Shane Howard
40
Jasmia Alshamary
$30
41
Patrick Sablan
$15
42
Parker Templin
43
Josh Karney
44
Alexis Lee
45
Yael Salama
46
Autumn Barnes
47
Jace Barnes
48
Connor Steelmon-Hill
49
Maheleah Potter
50
Dante Villa
51
Miya Greene
52
Jazmine Wilson
High Games
Scratch
Handicap
Cardines 300
Erickson 308
Salama 289
S Lopez 288
Salama 279
Ortega 285
Cardines 278
Ortega 282
Salama 269
E Luna 281
High Female
1
J Azvedo +9
2
K Abigania -1
3
Gentry -26
4
Cheesman -46
5
Am-Khong -105
Qualifying Leaders
Scratch
Handicap
1
Salama +287
Ortega +235
2
Cardines +203
E Luna +215
3
Pollom +109
S Lopez +153
U-17
1
Salama +287*
2
G Lee +96
3
Egana +95
4
Hong +84
5
J Abigania +79
Round Leaders
Scratch
Handicap
1
Salama
Ry. Pimentel
2
Salama
Ortega
3
Salama
Ortega
4
Salama
Ortega
5
Salama
Ortega
Total Awarded This Event: $1,913