LET IT ROLL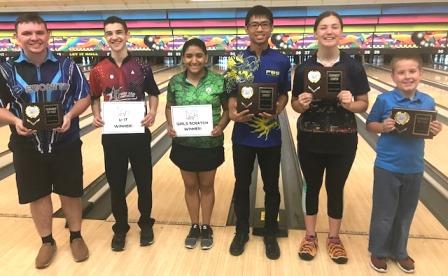 champs Justin Song & Miya Greene; Joshua Molloy, Solomon Salama, Aileen Linares, RJ Pointon
Justin Song and Miya Greene wrapped up the 2018-19 JBT AZ Conference regular season with big wins at Phoenix's Let It Roll.
Song climbed the ladder for a long awaited first career JBT title, beginning with a 201-184 win over Clifford Robbins. Song then escaped from KJ Martinez 205-202 to reach the title game. Top seed Josh Molloy was enjoying a fantastic event, but could not get the carry on the title pair until it was too late. The 214-192 final was good for the elusive initial win.
Cesar Padilla opened the handicap division stepladder with a 221-166 win over Ryan Zent. Greene then stopped Padilla 203-174 to reach the title game. Top seed RJ Pointon was extremely impressive in his first JBT event, taking over the lead in round two and not looking back. However, Greene bowled a fantastic title game, and earned her second career JBT title with a 241-219 win.
Aileen Linares won the Priority Girls Scratch subdivision with a win over Emily Cheesman, while in a fantastic U17 finale, Solomon Salama edged Padilla 235-234 for yet another win in that category.
Big thanks as always to the team at Let It Roll for hosting our Tour. The field is now set for the AZ Invitational, with $1,000 top scholarship prizes up for grabs!
Let It Roll- final results and scholarship winners
6/15/2019
Scratch Division
rank
bowler
prize
1
Justin Song
$265
2
Joshua Molloy
$125
3
KJ Martinez
$171
4
Clifford Robbins
$75
5
Harley Sweigart
$60
6
Lucas Rabb
$65
7
Brock Bivins
8
Josh Mabry
9
Keith Ylvisaker
$43
10
Aileen Linares
$50
11
Dawson Reese
$30
12
Solomon Salama
$44
13
Ryan Perry
14
Alex Seng
15
William Robbins
$15
16
Josh Fearing
17
Kyler Orosco
18
Kyle Perry
19
Abby Franklin
20
Tim Hill
21
Rachael Berg
22
Phillip Sauve
23
Hunter Mayes
24
Hayden Hull
25
Chris Mayes
26
Janelle Skalicky
27
Rashaad Jordan
28
Brady Cowin
29
Darin Thornton
30
Eric Gauna
31
Darren Fletcher
Handicap Division
1
Miya Greene
$273
2
RJ Pointon
$155
3
Cesar Padilla
$100
4
Ryan Zent
$90
5
Payton Workman
$65
6
Bailry Knight
$50
7
Max Premeau
$40
8
Emily Cheesman
9
Aiden Othic
10
Mackenzie Ickes
11
Kyle Lawrence
$14
12
Silas Phillips
$10
13
Zack Othic
14
Devin Thornton
15
Gavin Holter
16
Jason Gootzeit
17
Kendall Bollea
$20
18
Yael Salama
$15
19
Annalie Izzolo
20
Alisabeth Rich
21
CJ Todeschi
22
Noel Hernandez
23
AJ Imperial
24
Akayla Orosco
25
Jaden Workman
26
Jason Bardol
27
Josh Williams
28
Kaci Cowin
29
Mackenzie Hammer
30
Kaitlynn Hammer
31
Caden Melsika
32
Brandon Taylor
33
Jadeyn Mabry
34
Jacob Soulliere
35
Corbin Hirsch
36
Josh Brown
High Games
Scratch
Handicap
Linares 286
Z Othic 284
Bivins 280
P Workman 275
Sweigart 277
Padilla 271
R Perry 261
Greene 261
Martinez 260
Padilla 260
High Female
1
Linare s+117*
2
Cheesman +9
3
Franklin -23
4
Greene -44
5
Berg -60
Qualifying Leaders
Scratch
Handicap
1
Linares +117
Pointon +202
2
C Robbins +109
Greene +151
3
Molloy +106
Knight +142
U-17
1
Padilla +115
2
Salama +80
3
Ylvisaker +78
4
P Workman +40
5
Reese +19
Round Leaders
Scratch
Handicap
1
Sweigart
Gootzeit
2
Salama
Knight
3
Martnez
Knight
4
Linares
Green
5
Linares
Pointon
6
Molloy
Pointon
7
Molloy
Pointon
8
Molloy
Pointon