AMF McRAY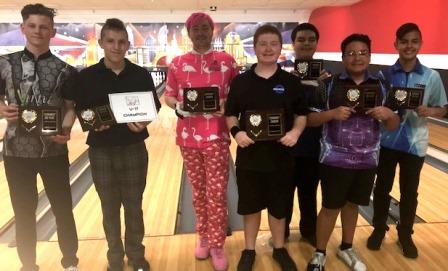 champs Tim Hill & CJ Todeschi with Hunter Mayes, Brock Bivins, Noel Hernandez, Payton Workman, Cesar Padilla
Tim Hill and CJ Todeschi captured JBT titles in exciting Arizona Conference action at AMF McRay Lanes in Chandler.
Noel Hernandez began the handicap division stepladder finals with a 227-215 win over Cesar Padilla. Todeschi then stopped Hernandez in a close one, 236-223. Top seed Payton Workman had led most of the event in his best performance to date on Tour, but CJ was determined to avenge a couple of close finals losses recently. With a 219-205 win over Workman, he did just that, earning the 3rd JBT title of his career.
Hunter Mayes put on an absolute clinic in the scratch division stepladder finals, and we STILL didn't give him a title. He outstruck fellow southpaw Harley Sweigart 257-227 in the first game, then fired the last eleven strikes in a 290-194 romp over Brock Bivins to reach the title match. In his way for the title stood (on one skinny pink leg) Tim Hill, who earned the top seed in a scratch JBT finals for the first time. Hunter fired off an excellent 244 game, but 'Bird' converted great shots and good carry into an even better 269 game, earning a very long awaited first scratch JBT title, while Mayes, blasting 791 for the stepladder, had to settle for the runner-up spot.
Bivins got a measure of revenge with a 266-234 win over Workman for the day's U17 title, while Kaylee Am-Khong edged Abby Franklin 183-181 to take the Priority Girls subdivision event.
Big thanks to the team at McRay for hosting us! Want in on the fun? Check out our schedule and come on down!
AMF McRay Lanes- final results and scholarship winners
2/16/2019
Scratch Division
rank
bowler
prize
1
Tim Hill
$264
2
Hunter Mayes
$125
3
Brock Bivins
$75
4
Harley Sweigart
$79
5
Josh Mabry
6
Kyle Perry
7
Mathew Adragna
8
Kyle Gilbert
$71
9
Kaylee Am-Khong
$50
10
Chris Mayes
11
Lucas Rabb
12
Zachary Lewandowski
13
Alex Seng
14
Abby Franklin
$25
15
William Robbins
16
Hayden Hull
17
Clifford Robbins
18
Dawson Reese
19
Josh Fearing
20
Mark Villalobos
21
Daryus Alo
22
Darren Fletcher
23
Eric Gauna
24
Rashaad Jordan
$5
Handicap Division
1
CJ Todeschi
$200
2
Payton Workman
$100
3
Noel Hernandez
$75
4
Cesar Padilla
$50
5
Payton Severe
$55
6
Josh Williams
$14
7
Rilee Severe
8
Ealisabeth Rich
9
Ryan Zent
$14
10
Madison Holman
11
Yael Salama
12
Kendall Bollea
$30
13
Mackenzie Hammer
14
Joseph Gonzalez
15
Michael McQuisten
16
Kyle Lawrence
17
Zackary Othic
18
Max Premeau
19
Aiden Othic
20
Bailey Knight
21
Seth Krich
22
Jadeyn Mabry
23
Corbin Hirsch
24
Jack Haines
25
Gavin Holter
$5
26
Jason Gootzeit
27
Mackenzie Ickes
$5
28
Kaitlyn Hammer
29
Donna Michaelson
Qualifying Leaders
Scratch
Handicap
1
Bivins +178
Workman +217
2
Sweigart +103
Todeschi +161
3
Mabry +83
P Severe +145
High Games
Scratch
Handicap
1
H Mayes 290
Padilla 284
2
Gilbert 279
Workman 283
3
T Hill 269
Workman 281
4
T Hill 258
Padilla 263
5
Sweigart 258
P Severe 260
Girls Scratch side event
1
Am-Khong +30*
2
Franklin -14
3
P Severe -30
4
M Holman -33
5
R Severe -74
U-17 scratch side event
1
Bivins +178*
2
Workman +142
3
Padilla +84
4
Todeschi +81
5
H Mayes +47
Round Leaders
Scratch
Handicap
1
Sweigart
Workman
2
Sweigart
Hernandez
3
Bivins
Hernandez
4
Bivins
P Severe
5
Bivins
Workman
6
Bivins
Workman
7
Bivins
Workman
8
Hill
Workman
TOTAL AWARDED THIS EVENT: $1,631