BZ MESA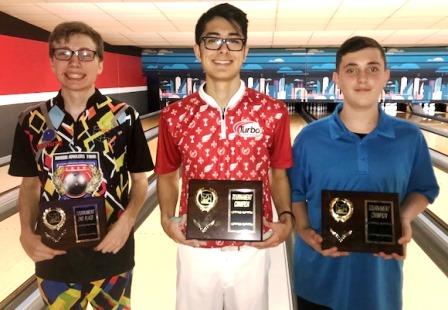 champs Cortez Schenck & Aiden Othic; Clifford Robbins, Brock Bivins, Jennifer Peterson
A new champion and our most decorated champion each earned JBT titles in exciting JBT Arizona Conference action at Brunswick Zone Mesa.
Clifford Robbins, continuing a smooth transition into the scratch division, began the stepladder finals with a 208-170 win over Harley Sweigart. Robbins then defeated reigning Bowler of the Year Lucas Rabb 193-172 to advance to the title match.
Clifford is very comfortable at Zone Mesa, having won the Invite here last season, but after beating two of our best in Harley and Lucas, he then had to take on our all-time best in top seed Cortez Schenck. Tez found a good look on the finals pair, and piled on strikes to cruise to a 235-195 win, good for the 93rd title of his JBT career.
Jason Gootzeit and Rilee Severe put on a great show to open the handicap stepladder finals, with Gootzeit escaping 239-227. Another newcomer, Aiden Othic, then beat Gootziet 248-176 to advance to the title game.
Top seed Raymond Gaiser was enjoying his best JBT performace ever en route to the #1 spot. The title match remained close throughout, and when Othic finished at 209, Raymond needed two strikes to win. When he couldn't quite get the hits, a relieved Aiden claimed a 209-206 win, good for his first career JBT title.
Brock Bivins claimed the day's U17 subdivision event with a win over Gaiser, while Jennifer Peterson claimed the Priority Girls Scratch crown with a victory over Aileen Linares.
Thanks as always to the team at Zone Mesa for hosting our Tour! Want in on the fun for all ages and averages? Just check out our schedule and come on down!
BZ Mesa- final results and scholarship winners
10/20/2018
Scratch Division
rank
bowler
prize
1
Cortez Schenck
$280
2
Clifford Robbins
$125
3
Lucas Rabb
$75
4
Harley Sweigart
$60
5
Joshua Mabry
$50
6
Christopher Mayes
$14
7
Ryan Perry
8
Rashaad Jordan
9
Joshua Molloy
10
Aileen Linares
$25
11
Brock Bivins
12
Tim Hill
13
Zach Harvey
$15
14
Kyle Perry
15
3lizab3th Rom3ro
$57
16
DJ Kneifel
17
Hunter Mayes
18
Joshua Fearing
19
Abby Franklin
20
Hayden Hull
21
Mathew Adragna
22
Cristian Roque
23
William Robbins
24
Michael Heath
25
Phillip Sauve
26
Keenan Swanson
27
Darren Fletcher
28
Zackary Othic
Handicap Division
1
Aiden Othic
$15
2
Raymond Gaiser
$200
3
Jason Gootzeit
$125
4
Rilee Severe
$75
5
Lexi Cassman
$60
6
Joshua Williams
$60
7
Silas Phillips
$45
8
Alex Thompson
9
Mackenzie Hammer
10
Elijah Melchor
11
Jennifer Peterson
$50
12
Katy Mace
$30
13
Mark Sauve
14
Kendall Bollea
15
Max Premeau
16
Jadeyn Mabry
17
Zachary Gonzalez
18
Ryan Zent
19
Madison Holman
$103
20
Gavin Holter
21
Kara Thompson
22
Kristy Mace
$5
23
CJ Todeschi
24
Kaitlyn Hammer
25
Cesar Padilla
26
Kyle Lawrence
27
Payton Severe
28
Elijah Bond
29
Alisabeth Rich
30
Alexiz Bustamante
31
Noel Hernandez
32
Asher Toberer
33
Jacob Soulierre
34
Bethanie Toberer
35
Payton Workman
36
AJ Imperial
High Games
Scratch
Handicap
L Rabb 274
Gaiser 292
C Robbins 267
A Othic 286
Sweigart 265
J Williams 282
Schenck 264
S Phillips 273
Schenck 253
Gaiser 270
High Female
1
J Peterson -30*
2
Linares -41
3
E Romero -56
4
R Severe -59
5
Holman -64
Qualifying Leaders
Scratch
Handicap
1
Schenck +165
A Othic +190
2
C Robbins +101
Gaiser +184
3
L Rabb +52
R Severe +81
U-17
1
Gaiser +4
2
Bivins -17*
3
J Williams -19
4
H Mayes -63
5
Hull -84
Round Leaders
Scratch
Handicap
1
Schenck
M Hammer
2
Schenck
A Othic
3
Schenck
A Othic
4
Schenck
A Othic
5
Schenck
A Othic
6
Rabb
Gaiser
7
Schenck
Gaiser
8
Schenck
Gaiser
Total Awarded This Event: $1,469